Local Nielsen ratings snapshot (Fri.-Sun., May 6-8) -- Lakers number is up, Mavs' numbers are w-a-a-a-y up
05/09/11 09:35 AM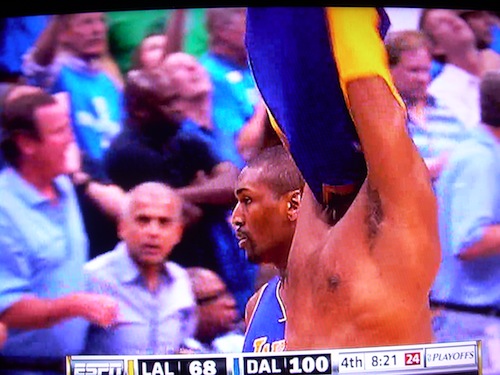 Stripped bare: The Lakers' Andrew Bynum, escorted by fellow punk Ron Artest, loses his shirt after being ejected for cheap shot, late-game foul against a defenseless, airborne J.J. Barea. Photo: Ed Bark
By ED BARK
The Dallas Mavericks' weekend twin killing of the Los Angeles Lakers ran up the D-FW ratings score, first on ESPN and then on ABC.
The closely contested 98-92 Friday night home win, which ran from 8:41 to 11:13 p.m. on ESPN, averaged 644,090 viewers with a peak crowd of 824,158 for the final 15 minutes.
Sunday afternoon's 122-86 blowout on ABC, which completed a shocking 4-game Mavs' sweep of the defending NBA champs, averaged 699,496 viewers. It drew a peak audience of close to one million -- 962,672 viewers -- for the celebratory closing quarter-hour.
ABC devoted a clear majority of its play-by-play commentary to the Lakers' demise and coach Phil Jackson's final game rather than the Dallas post-season rebirth. That's understandable to a point, but it probably didn't bear repeating time and time again. Could've been worse, though. Mike Tirico and Hubie Brown did this game after the increasingly aggravating trio of Mike Breen, Mark Jackson and Jeff Van Gundy handled Friday's Game 3.
The sparring between Jackson and Van Gundy isn't holding up nearly as well as the jawing between TNT's Charles Barkley and Kenny Smith. But I
would
like to have heard the Jackson/Van Gundy take on Lakers forward Andrew Bynum after he very purposefully aimed an elbow at an airborne J.J. Barea as the Mavericks' guard drove to the basket in the fourth quarter. Bynum was immediately ejected, and Jackson/Van Gundy would have been merciless in shredding him. Tirico/Brown were very pointed, too, but Jackson/Van Gundy would have administered a savory, double-strength Simon Cowell-like lashing. Otherwise they weren't missed.
Meanwhile, on what was supposed to be another big sports front, the Texas Rangers-New York Yankees series in Arlington never stood a chance. Nor did it help that the slumping, injury-ridden Rangers lost both the Friday and Sunday matchups while competing directly against Mavs-Lakers for portions of those games.
Friday night's defeat on TXA21 drew just 138,514 viewers. The Sunday Rangers loss on Fox Sports Southwest averaged 180,068 viewers.
On another sports front, Saturday's running of the Kentucky Derby on NBC -- preceded by a 25-hour buildup (well, not quite) -- drew a rather smallish 207,771 viewers for the actual race between 5:30 and 5:45 p.m.
Let's segue back to Sunday, where
60 Minutes'
latest exclusive interview with President Obama led all prime-time programming in total viewers with 290,879. But Fox's new 8 p.m. episode of
Family Guy
had the night's biggest haul of advertiser-craved 18-to-49-year-old viewers.
In Friday's local news derby results, CBS11 swept the 10 p.m. competitions with wins in both total viewers and 25-to-54-year-olds, the main advertiser target audience for news programming on most stations. Its latenight newscast featured a profile of Jerry "Mr. Peppermint" Haynes, the longtime former WFAA8 children's show host.
The bosses at WFAA8 are chapped about CBS11 using their former stars as ratings "sweeps" lures, which also was the case in February when ex-WFAA8 mainstays Tracy Rowlett and Troy Dungan reunited on CBS11 while the ratings meter nodded approvingly.
Still, there was nothing to stop WFAA8 from welcoming all three of them back. Except that Rowlett has been relegated to non-person status at WFAA8 since 1999, when he joined the CBS11 news department as its lead anchor. Plus, Dungan and WFAA8 had a falling out -- or maybe just a misunderstanding -- over his continued appearances on the Santa's Helpers Christmas drive after he retired as the station's longtime weathercaster. Dungan then probably severed his ties with WFAA8 irreparably after saying during February's profile that CBS11's Larry Mowry is now his favorite temperature taker. That pointedly excluded the man he helped to groom as his successor, WFAA8's Pete Delkus.
CBS11 could go to the WFAA8 well again if it chooses by hooking up with trailblazing former WFAA8 anchor Iola Johnson, who also went on to work briefly at CBS11. Verne Lundquist of CBS Sports, who was Dale Hansen's predecessor at WFAA8 as the station's lead sports anchor, likewise would make for a nice stroll down memory lane. Although Hansen got to him first a while back with a sit-down that included the obligatory reference to Lundquist's old
Bowling for Dollars
show on WFAA8. Hey, it never gets old.
Let's see, who else. John Criswell, maybe? He became famous for
Wednesday's Child
at WFAA8 before journeying over to Fox4, which was then a CBS affiliate. And if other rival stations are fair game, former longtime NBC5 sports anchor Scott Murray is ever-available and with a ready-made storyline, too. He's been talking about overcoming cancer in a commercial for a North Texas hospital. There's indomitable Bobbie Wygant, too. She's always always willing to spin a few yarns about all the show biz biggies she's interviewed during a career that dates to the dawning of time at KXAS-TV.
OK, let's wind this up with the other news derby results.
Fox4 again ran the table at 6 a.m. while also scoring in the early evening. It tied for first in total viewers at 5 p.m. with CBS11 and won outright at that hour in the 25-to-54 demographic.
Fox4 also tied WFAA8 for the top spot at 6 p.m. with 25-to-54-year-olds while CBS11 had the gold to itself in total viewers.