Local Nielsen ratings snapshot (Thurs., Oct. 27) -- euphoria interruptus, with more than two million viewers on receiving end
10/28/11 10:31 AM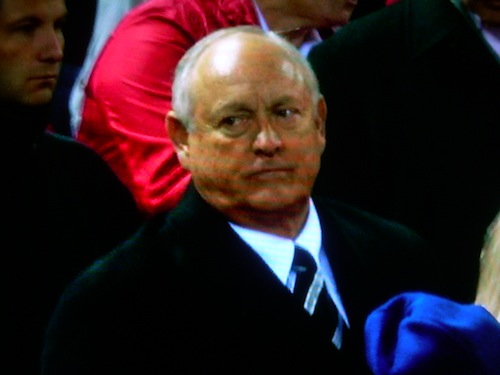 Suit him up Friday? Nolan Ryan does not believe what he just saw.
Photo: Ed Bark
By ED BARK
One of the most dramatic World Series games ever gave the Texas Rangers an all-time ratings high and their lowest moment on a national stage.
Game 6, in which Texas blew two-run leads in both the 9th and 10th innings, ended with the St. Louis Cardinals' David Freese punching his team's ticket to Game 7 with a walk-off 11th inning home run.
On the plus side, Fox now has the first seven-game Series since 2002. Hello revenues. And excitable Fox4, which
prematurely tweeted
a championship-clinching Rangers victory Thursday night, has both egg and an s-eating grin on its face. That's because Friday's ratings will be off the charts in D-FW -- and on Fox4.
OK, back to the scene of the crime. Rangers-Cards averaged 2,072,875 viewers locally Thursday for a four-hour, 32-minute marathon that ran from 7:07 to 11:39 p.m. It's the first time Texas has ever reached or exceeded the 2 million mark for an entire game. And the peak crowd of 2,499,643 between 10:45 and 11 p.m. likewise is a new Rangers record, topping Game 5's high point of 2,045,778 viewers.
Thursday's top draw opposite the Rangers, CBS' 7 p.m. episode of
The Big Bang Theory
, drew 277,738 viewers on opening night of the four-week November "sweeps" ratings period.
WFAA8's 10 p.m. newscast is listed as a "Road to the Championship" special in the preliminary Nielsen report. But the station says it in fact ended up running a regular newscast after the World Series ran past 10:35 p.m.
On the three-way late night news scorecard, CBS11 had the most total viewers for its late edition -- 81,289 -- while the Peacock was tops with 25-to-54-year-olds (45,140), the main advertiser target audience for news programming. WFAA8 tied for second in total viewers and finished third with 25-to-54-year-olds.
In the half-hour portion opposite late night newscasts, Rangers-Cards averaged 2,316,742 total viewers, with 1,245,850 in the 25-to-54 age range.
Thursday's other local news derby results gave NBC5 a narrow win at 6 a.m. in total viewers while Fox4 edged the Peacock in the 25-to-54 demographic.
The Peacock otherwise flew in the face of its network's overall dismal performance by running the table at both 5 and 6 p.m. It was a three-way news race in the latter slot, with Fox4 opting for another yoo rah-rah/Go Rangers "4 the Championship" edition.