Local Nielsen ratings snapshot (Fri.-Sun., Sept. 8-10) -- winning hand for Cowboys, on-field and off-
09/13/17 09:50 AM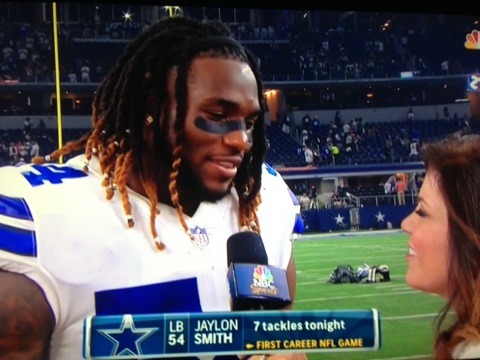 All the way back: rookie Jaylon Smith gets post-game showcase.
Photo: Ed Bark
By ED BARK
@unclebarkycom on Twitter
D-FW Nielsen ratings for the Dallas Cowboys' opener, delayed two days by Hurricane Irma-induced technical problems, proved to be belated good news in the money ball arena. The numbers were significantly up from last year in both key viewer measurements.
NBC's national
Sunday Night Football
stage helps. Still, the Cowboys' rather dull 19-3 home win over the punchless New York Giants was no match for both the excitement and disappointment of 2016's last second 20-19 loss to the G-Men.
This year's opener, which whisked by in well under three hours, averaged 1,635,998 total viewers and 715,183 in the advertiser-prized 18-to-49-year-old demographic. Last year's Game One, shown in the late afternoon/early evening on Fox, drew 1,444,810 total viewers and 600,207 in the 18-to-49 realm.
The 2015 Cowboys-Giants season-opener (which Dallas won 27-26 on NBC's
Sunday Night Football
), had 1,485,462 total viewers and 690,682 in the 18-to-49 age range. Apples-to-apples, the bigger numbers for this year's prime-time NBC game (compared to 2015's) are a very nice boost for the bean-counters at NBC5 and for Cowboys' owner Jerry Jones.
The Cowboys game also obliterated ABC's competing 8 to 10 p.m. Miss America Pageant, which was barely noticed with 101,795 total viewers and 25,657 in the 18-to-49 motherlode.
Earlier Sunday, Fox's Green Bay Packers-Seattle Seahawks matchup, won 17-9 by the mighty Pack, ranked as Sunday's runaway runner-up TV attraction with 676,212 total viewers and 272,604 of the 18-to-49 persuasion.
Fox's 7 p.m. premiere of
The Orville
, preceded by the network's
The OT
, managed to pull in 239,946 total viewers and 96,213 in the 18-to-49 measurement. That was good enough to beat CBS' opposing hour of
Big Brother
, which had 189,049 total viewers and 80,178 within the 18-to-49 demographic.
Saturday's college football parade was led by ABC's marquee, prime-time Oklahoma-Ohio State game with 261,760 total viewers. TCU's afternoon win over Arkansas on CBS ran second for the day with 196,320 total viewers.
On Friday, Fox4's 9 p.m. local newscast led all prime-time programming with 138,151 total viewers and 48,107 in the 18-to-49 age range.
Here are Friday's four-way local news derby results.
NBC5 won in total viewers at 10 p.m. while Fox4 ran first with 25-to-54-year-olds (main advertiser target audience for news programming).
The two stations split the 6 a.m. golds in the same way. NBC5 swept the 6 p.m. competitions and added a 5 p.m. win in total viewers. Fox4 drew the most 25-to-54-year-olds at 5 p.m.
Email comments or questions to:
unclebarky@verizon.net