This just in: a night in the lives of D-FW's late night local newscasts (Tues., Nov. 16)
11/17/10 02:00 PM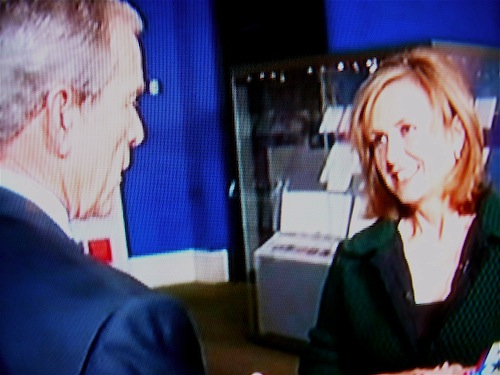 Ex-president George W. Bush with NBC5's Jane McGarry Photos: Ed Bark
By ED BARK
Groundbreaking ceremonies for George W. Bush's presidential library on the SMU campus provided one of the better photo ops of the year Tuesday.
Fox4 easily had the most extensive after-dark coverage on its one-hour 9 p.m. newscast while WFAA8 and CBS11 condensed their reports after heavier play on early evening editions. But NBC5 was the only station to make the groundbreaking its lead late night story after anchors touted Bush's "exclusive" backstage interview with
Jane McGarry.
Her access should hardly be surprising. She's not only a veteran anchor but a veteran Republican whose Facebook Fan page has posed pictures of McGarry with Condoleezza Rice, James Baker and earlier in the White House with Bush. There's now a new one up of McGarry and Bush grinning side by side. Might as well flaunt it.
Excerpts from McGarry's time with Bush were presented in two parts Tuesday. She first showed pictures of him posing with NBC5 staffer Cynthia Garcia, whose son was killed in Iraq. McGarry also brought his picture.
"You don't know what you mean to Cynthia, who lost her own son," McGarry told Bush. He replied in part, "It was the voices of the moms that kept echoing in my head" in times when he steeled his resolve to stay the course in Iraq.
In the second segment, Bush told McGarry that he's much happier back in Texas after the often "hostile and polarized and noisy" atmosphere in Washington.
She in turn wondered how he spends his day. "Do you make yourself a bowl of cereal in the morning," McGarry asked.
"I do," he said. "I'm a bran man at the age of 64. This prompted McGarry to pat Bush affectionately on his left arm while he added the now well-worn anecdote of how he also brings coffee in the morning to wife Laura. McGarry hung on every word.
Respect for the office of the presidency should still be paramount in this increasingly polarized land of ours. But I'm still old-school enough to add that reporters and anchors working for at least outwardly objective news organizations should find a way to cool it on the coziness. Asking Bush about his daily post-presidential routine is fine. Giving him a little love tap is not. It was reminiscent of the time that WFAA8 anchor/reporter
Debbie Denmon
asked former Cowboys receiver Terrell Owens for an on-camera hug, which he gave her. Journalism 101 isn't quite dead and buried yet. Is it?
Fox4's groundbreaking coverage in contrast was copious but balanced, with reporters
Natalie Solis
and
Peter Daut
both working the event. Solis ably handed the public speaking portions while Daut talked offstage to former high level Bush staffers Andrew Card, Ari Fleischer, Karen Hughes and Josh Bolten.
WFAA8 in contrast sent reporter
Jim Douglas
from Dallas to Washington, D.C. to cover the awarding of a Congressional Medal of Honor to Army Staff Sgt. Sal Giunta.
The local angle was a bit thin. Giunta is a native Iowan who has aunts, uncles and cousins living in Arlington. But Douglas did his usual thorough job, and had separate access to Giunta for an interview in which he said, "By no means am I special."
WFAA8 also had a nice human interest story by
Steve Stoler, who reported on a Hurst-based missionary who was shot in the face during an ambush in Africa but recently returned to a hero's welcome. Stoler didn't journey to Africa, but did have video of Joey Starling's return.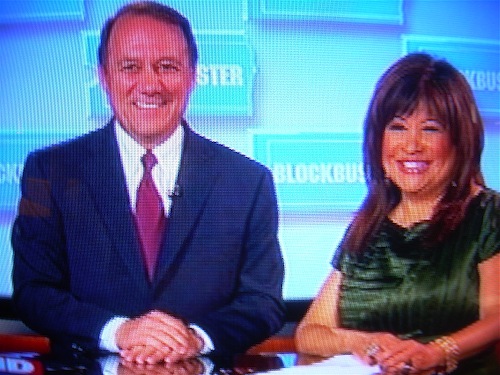 Fox4's Clarice Tinsley interviewed Blockbuster CEO Jim Keyes.
Over on CBS11, anchor
Karen Borta
broke away from the desk to do an intriguing story titled "Serial Killer Pen Pal."
She interviewed a North Texas woman named Norma (her last name wasn't given), who for years had corresponded with a woman prisoner who unbeknownst to her had murdered seven residents of her Sacramento boarding house. Dotty never discussed her crimes and until recently Norma never asked, Borta told viewers. Now she's feeling a little vexed.
CBS11 freelancer
Jane Slater also had an interesting report on a man who was bullied as a kid after being born without arms or legs. Now 27, Nick Vujicic is an inspirational speaker who packed a church during a recent engagement in North Texas.

"When the world says you're not good enough, get a second opinion," he told Slater.

Finally, longtime Fox4 anchor Clarice Tinsley made a rare appearance as an interviewer on the station's Tuesday 9 p.m. newscast. She talked live in-studio to Blockbuster CEO Jim Keyes, who thinks the once prosperous company is ready for another comeback.

Tinsley didn't exactly grill him. But she did deposit four pennies on a glass-topped table while telling him that Blockbuster's stock had dropped from $30 to 4 cents a share in the last eight years.

Keyes acknowledged the downspiral, but said that Blockbuster hopes to be prosperously back in the movie rental game via a new "early release" deal that will give the company a 28-day head start on some of its major competitors, including Netflix. As you can see in the above picture, the two grinned broadly together at interview's end. No need for that, really.