This just in: a night in the lives of D-FW's late night newscasts (Mon., Feb. 18)
02/19/08 01:50 PM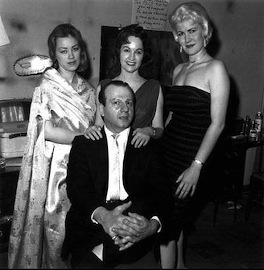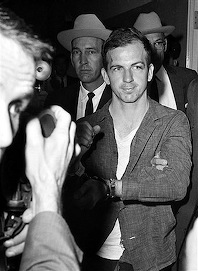 Jack Ruby and associates; Lee Harvey Oswald amid reporters.
By ED BARK
The enticing President's Day release of Kennedy assassination documents locked in a safe for more than 40 years remained a high priority Monday on three of D-FW's major late night newscasts.
But CBS11 mostly put the story to rest, dismissing it in a news brief read by anchor
Karen Borta
. There was reason for that. The station already had beaten its competitors to the punch with reporter
Kaushal Patel
's "exclusive sneak peek" Sunday night.
She indeed did get a big jump, at least in the TV world, after
The Dallas Morning News
broke news of the the impending release in its Sunday editions. Patel interviewed Dallas County district attorney Craig Watkins and also had excerpts from one of the prize finds, a printed exchange between Jack Ruby and Lee Harvey Oswald on the subject of killing President Kennedy. It turned out to be dialogue from a would-be $1 million movie that was never made, she reported.
Patel made no mention, however, of the racial invective repeatedly used by then district attorney Henry Wade. Nor did NBC5's
Ellen Goldberg
during her 10 p.m. report. But anchor
Mike Snyder
did urge viewers to "read
my blog
on the secret JFK files." I did. It's less than inconsequential.
That left WFAA8's
Brett Shipp
and Fox4's
Richard Ray
to at least briefly address this touchy area. Watkins, who is black, also went public in his Monday news conference by describing the documents' repeated use of "that racist tone that goes throughout our criminal justice system."
Ray, who has become Fox4's resident JFK expert, closed his 9 p.m. newscast story by telling viewers, "Lost in the fuss about the fake transcript are communications between Henry Wade and others that could easily be classified as racist. A window on a very different time in Dallas County. As D.A. Watkins said, a look at how far we've come, how far we need to go."
Shipp chose to be bracingly less benign. He speculated that Watkins might have decided to release the documents in large part because of their racial overtones. His closing standup had a serrated edge to it.
"Watkins also implied that the documents have been kept secret by
his
predecessors, hoping to protect Wade's reputation," Shipp said. "Now it's the public's turn to decide which is more plausible, a Ruby-Oswald assassination plot or '60s era officials making bigoted remarks."
And In Other News . . .
Early morning co-anchor
Brendan Higgins
, making an exceedingly rare appearance on NBC5's late nighter, had a lengthy piece on two professional cage fighters who each had turned 40 before recently learning they're brothers. The Peacock lately seems more willing to let at least one of its nightly stories stretch out, and Higgins did a very nice job with the extra time.
***
NBC5's veteran Night Ranger,
Scott Gordon
, also found himself in unusual circumstances. He reported live from the station's newsroom rather than alone out in the dark. And instead of another dollop of crime or tragedy, Gordon had a feel-good dispatch on a Good Samaritan foster mother who's taken multiple kids under her care during a "Foster Care Crisis."
***
Also, the Peacock's
Grant Stinchfield
had a not-bad lead story on pilots flying with little reserve fuel as part of a mandate to cut costs. Ergo, there supposedly have been more emergency landings and "unnecessary diversions" to other cities.
"The documents we uncovered are disturbing," Stinchfield said with a well-practiced dramatic flourish. "Airline pilots complaining to the FAA that their airlines are forcing them to put the cost of fuel above the costs of lives."
To conserve credibility, Stinchfield would have been wise to ease off the gas a bit.
***
Reporter
Jay Gormley
spelled out some particulars of an "exclusive" CBS11/KRLD-AM Texas presidential primary poll that showed Hillary Clinton with "very little breathing room" in her battle against Barack Obama. With the primary coming on March 4, she leads Obama by just 50 to 45 percent, with 5 percent undecided, he said.
Gormley also noted the crucial importance of Hispanics, who now make up one-third of the Texas electorate and still favor Clinton by a wide margin.
"If they fail to turn up at the polls, it could be devastating for Hillary Clinton," he said.
Obama has an overwhelming lead among black voters, who aren't as plentiful in the state. But D-FW's television reporters have yet to address the delicate racial element -- or even thinly veiled racism -- behind these respective strongholds. For a primer, they should look to a perceptive and fair piece Saturday by CNN's
Soledad O'Brien
, who asked for openers, "Are Latinos rallying for this white woman or against this black man -- just because he's black?"
***
All hope may be lost for CBS11's
Ginger Allen
, the once plucky investigative reporter who's turned to mush in recent weeks.
On Monday she weighed in with a story on
The Black Book of Hollywood Diet Secrets
after anchor
Doug Dunbar
teased, "We'll give you the skinny next."
We learned that actress Elizabeth Hurley "actually eats bacon" as a means of tempering her high-fat cravings. And that some celebs gorge on asparagus because it can be a laxative. A dietician named Robin Plotkin warned that some of these diets, including eating a cookie and skipping two regular meals, can be self-defeating and unhealthy. Perhaps you already knew that.
Maybe this is Allen's road by choice now that she's co-anchoring CBS11's early morning show. But she used to find time for some real reporting despite those hours. Now she's not even close.
***
WFAA8's
Rebecca Lopez
led the station's Monday 10 p.m. newscast with a close look at why 25 DISD teachers are being fired after their students logged unacceptably low state test scores. Fox4, the only other station to mention this, kissed it off with a news brief.
***
Fox4's
Jason Overstreet
, his station's leadoff hitter, focused on a "shocked" 16-year-old boy whose fight at his Little Elm school got him a police citation as well. This supposedly is happening more and more.
"I can't believe that they hit the parents in the pockets," said his Dad, who believes that disciplinary measures should be taken only by the school. They eventually agreed to a $60 fine and eight hours of community service. Interesting.
***
Also on Fox4, reporter
James Rose
hunted down a Mansfield woman charged with child abandonment after leaving her three children -- a 9 yr. old, a 4 yr. old, a 4-month old -- home alone with marijuana on the coffee table.
Rose knocked on her door and she peeked out as he told her, "We're just trying to talk to you, get your side of the story."
She apparently denied the charges, but not very audibly or in view. "You don't want to tell me that?" Rose persisted.
"No," she said. "I don't want to talk to you."
But the camera keep rolling as the woman emerged and headed for her car while Rose asked, "Did CPS take your kids? Do you have the children?"
You probably know where this is going.
Fox4 reporter
Rebecca Aguilar
is now in her fifth month of a paid suspension after being similarly aggressive -- but more soft-spoken -- while questioning an elderly, yet vigorous man who at first said he didn't want to be on camera. But property defender James Walton kept talking to her from the driver's seat of his car, while Aguilar questioned him about the two junkyard intruders he had killed with his shotgun in the space of three weeks. She found him outside a Mesquite sporting goods store after they talked on the phone. Walton had just bought a new shotgun.
That was a story of far more import than Rose's was. But no, he shouldn't be suspended. Nor should Aguilar still be in limbo -- or have been suspended in the first place. Clearly it's long past time to settle this one way or the other.
In the meantime, being a Fox4 reporter under such uncertain circumstances can't be much of a picnic. How far do you go in getting a story? How hesitant can you be without risking your job? Does anybody really know?