Local Nielsen ratings snapshot (Tues., Oct. 4) -- Rangers clinch, get ready for prime-time
10/05/11 11:15 AM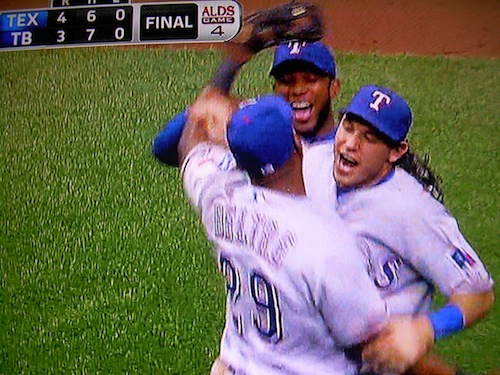 Afternoon delight. But relatively few saw Texas clinch. Photo: Ed Bark
By ED BARK
Good bye -- and good riddance -- to those daytime TBS games. The Texas Rangers now will mostly hit the prime-time stage for their ALCS series on Fox against either the Yankees or Tigers.
The North Texas 9 closed out the Tampa Bay Rays in comparative obscurity Tuesday afternoon. A total of 386,124 D-FW viewers were on hand for the closing 15 minutes of the 4-3 win, giving the Rangers a 3-1 series victory after their ignominious 9-0 opening game loss.
Game 4, which ended just before 4 p.m., averaged a fairly skimpy 257,416 viewers overall. Game 1, also played in daylight hours on TBS, had an identical average. Those were the two lowest totals, with Saturday's Game 2 on TNT drawing the biggest crowd (433, 542 viewers). Fox should be able to at least double those numbers with its higher-profile Rangers games.
A number of prime-time attractions had more viewers than Tuesday's Rangers clincher. CBS'
NCIS
as usual led all programs with 467,413 viewers. But the new season's darling continues to be Fox's
New Girl
, which again improved significantly on its
Glee
lead-in and easily beat all network programs in the key 18-to-49-year-old demographic.
In contrast, NBC's lineup of
The Biggest Loser
and
Parenthood
again ran fourth throughout the night in both audience measurements while ABC's sagging
Dancing with the Stars
took a pair of bronzes from 7 to 9 p.m.
ABC's
Body of Proof
swept the 9 p.m. Nielsens, with CBS' new
Unforgettable
second in total viewers and Fox4's local newscast taking the silver with 18-to-49-year-olds.
In the four-way local news derby results, WFAA8 ran first at 10 p.m. in total viewers and tied for the lead with Fox4 among 25-to-54-year-olds (the main advertiser target audience for news programming).
Fox4 and NBC5 shared the 6 a.m. top spot in total viewers, with Fox4 as usual ruling the 25-to-54 demographic. WFAA8, which perked up on Monday to outpoint the Peacock, fell back to a distant third in both measurements. CBS11 remained the doormat.
CBS11 registered its lone win at 6 p.m., where it led in total viewers. Fox4 otherwise controlled the early evening races, running the table at 5 p.m. and adding a 6 p.m. gold with 25-to-54-year-olds.