Aguilar vs. Barrs: That's the crux of reporter's "Charge of Discrimination" against Fox4
04/24/08 11:16 AM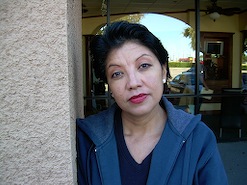 Fox4 news director Maria Barrs and former reporter Rebecca Aguilar
By ED BARK
Former Fox4 reporter Rebecca Aguilar's
"Charge of Discrimination"
against Dallas-based KDFW-TV (Channel 4) basically boils down to a battle between two strong-willed women with many years of experience in local television news.
Aguilar's two-page complaint to the Equal Employment Opportunity Commission, obtained Thursday by unclebarky.com, names veteran Fox4 news director
Maria Barrs
as her primary antagonist.
Under the "Summary of retaliatory conduct" segment, Aguilar says, "I have a documented history of complaining about the treatment of Hispanic and Latinos by Fox4 specifically, and Fox News, generally. Prior to the last incident (my termination) this has yielded little for me save frustration and generated considerable enmity from Maria Barrs, the Vice President of News for Fox4."
Barrs said Wednesday that it's station policy not to comment on personnel matters. "Fox4 looks forward to defending our decision in the appropriate forum," the station said in its official statement.
In her complaint, Aguilar says that in September 2007, "I proposed to Ms. Barrs that the station at least apply the Rooney Rule when it came to interviewing Latino and Hispanic candidates for management positions. My demands were ignored, and in a calculated rebuff to me personally, no Hispanics or Latinos were interviewed for an open management position. The next month the station, specifically Barrs, trumped up an incident that resulted in my termination."
(The Rooney Rule is named after Pittsburgh Steelers owner Dan Rooney, chairman of the NFL's diversity committee. It requires teams to interview minority candidates for head coaching positions.)
Aguilar's
much-debated, televised interview
with 70-year-old salvage yard owner James Walton, who had shot and killed two property trespassers in three weeks' time, led to a paid suspension from Fox4 on Oct. 16th. She was
officially terminated
on March 6th.
In the complaint, Aguilar says that her lengthy suspension from Fox4 was based on "completely pretextual and fabricated criticism" of the Walton story . . . I was ultimately terminated for bogus and retaliatory reasons."
Including the time she spent on paid suspension, Aguilar, 49, had a 14-year career at Fox4.
Barrs, 51, joined KDFW in 1994 when it was still a CBS affiliate. She became news director of the newly christened Fox4 in 1998.
"I'm not a yeller, shouter and kicker," Barrs said in a September 2006 interview that became the first story posted on unclebarky.com. "I mean, I've been known to, but that's real unusual. I don't like to intimidate or scare people into doing their jobs.
"I really try to encourage a democratic -- small 'd' newsroom. I'm real proud of the people here. And I like them."