Sarah Dodd: Happiness is a new pup and (for now) a respite from TV news
08/01/07 01:29 PM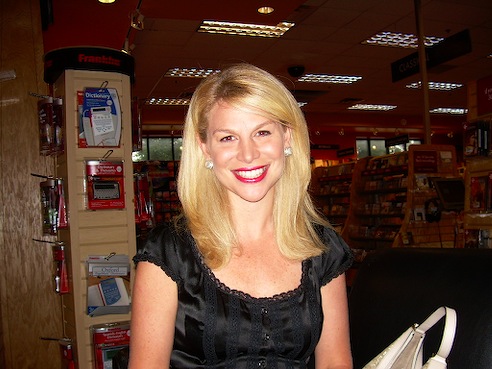 Reading between the lines: Ex-CBS11 reporter Sarah Dodd doesn't have to speak volumes in a Q&A at a Dallas bookstore. Photo: Ed Bark
By ED BARK
Resignations always happen for a reason, and Sarah Dodd is too good a reporter to pretend otherwise.
"Life is too short to be in a place where you're not completely satisfied and fulfilled," she says in her first face-to-face interview since leaving CBS11. "And you're the only person who can change that. So if you don't like what's going on, you have to leave . . . That was the bottom line. I wasn't happy anymore. I'm young enough to go do something else."
Her abrupt departure, effective July 14 but not officially announced until 12 days later, gave the clearest signal yet that all is not well under the "run 'n' gun" regime of new vice president of news Regent Ducas.
Dodd, who turns 33 next week, also is careful to praise CBS11 for the opportunities given her during a mostly gainful seven-year stay.
She was embedded with U.S. Army troops during the march into Iraq. Her six years of City Hall reporting were both distinguished and dogged. She went to Guantanamo Bay, South Korea and China on CBS11 assignments. And from 2005 until D-Day, she anchored the station's first weekend morning program.
"My whole life was my job," Dodd says. "And I loved it."
She then made news herself by marrying Dallas police chief David Kunkle in December, becoming his fifth wife. Tongues wagged, and Dodd left the City Hall beat because, in her words, "I didn't ever want there to be a perception of anything that was inappropriate."
That all happened before the earth began shaking in the CBS11 newsroom. Ratings had gone stagnant despite the critical praise the station had earned. Once close to the top spot at 10 p.m., CBS11 had dropped back to a distant third. Ducas arrived from the CBS station in Kansas City with the firm belief that news viewers were the same everywhere. And what they want, in his view, is a "more topical approach" that prizes news of the moment over "packages" that sometimes take weeks to report and prepare.
"It does make me sad to watch some of the things that pass for news right now," Dodd says. "There's no depth or substance."
The May "sweeps" ratings period brought an onrush of quick-hit, tragedy-spiked, mini-reporting on CBS11, with the 10 p.m. newscast's "First Five Minutes" segment designed to hook viewers on the feeling they're getting something piping hot and "urgent."
"It's all about the here and now of news," Ducas explained in an
April interview
with unclebarky.com. "That's one of the changes you'll feel, sense and hear on the air. A bit more urgency. Not so much the way it's been."
Or to put it another way, CBS11 seemed newly intent on becoming NBC5, where a like-minded approach had ruled the 10 p.m. Nielsen numbers for five years. Belo8 finally broke through by winning the prized 25-to-54-year-old ratings race in May.
Dodd and a number of her colleagues were privately appalled. But she's the first one to leave the building under her own power. Since then, "more than a dozen" station staffers have called with their congratulations.
"They've told me how happy they were for me, how I was the hero of the newsroom," Dodd says, laughing. "Some I know very well. Some I don't know well at all."
During her time at CBS11, Dodd regularly filled in on the evening and morning newscasts, but never anchored with the recently arrived Scott Sams. Colleague Ginger Allen recently got that job permanently after Shannon Hori left the station in June for an anchoring position in Miami. Dodd says she never applied or auditioned for the spot opposite Sams.
"My leaving had nothing to do with that. I'm very happy for Ginger," she says. "I don't want to work those strange hours anymore. I want to have a more normal life that meshes with my husband's."
Dodd joined CBS11 in 2000 after first discussing a position at Belo8. It would have made her a 38-hour-a-week reporter on the early morning shift, with Tuesdays and Wednesdays off and without any health benefits.
Instead she initially freelanced for CBS11, jumping at the chance to work with anchor Tracy Rowlett, who recently had left Belo8 after a quarter-century at the station.
"He epitomized to me what a real journalist is," she says, calling Rowlett both an icon and a mentor.
"There was so much pride in our newsroom at that time," Dodd says. "We had three consecutive ratings books where we were on fire."
But Rowlett abdicated his 10 p.m. news anchor slot earlier this year and plans to retire from CBS11 next summer if not sooner. The Ducas approach now is in full flower, even if the ratings still aren't.
"People come up to me and ask, 'What's going on with local news?' " Dodd says. " 'It's difficult to watch. Car crashes, petty crime. Everything's a 911 call or a surveillance video.' I don't disagree with them at all. If I do stay in television, I want to be at a place where they're ethical, they value in-depth reporting and they value enterprise reporting.
"For the first time in my life, I have the luxury of sitting back and finding the exact right job. Maybe that will be in television. Maybe it won't."
She agrees that this basically narrows the Dallas field to Belo8 or Fox4.
"Anybody called yet?" she's asked.
Dodd laughs, prompting her interviewer to interpret, "That's a yes."
She laughs again. Confirmed.
Furthermore, "Channel 8 is my favorite newscast to watch at 10 o'clock," Dodd says. "I don't think anybody is perfect, but certainly they are doing good work."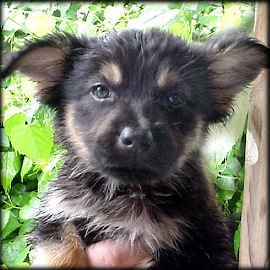 Soon to be a Dodd/Kunkle named Bella
Her immediate priority is finalizing the adoption of a three-month-old "pound puppy" who's a mix between a German Shepherd and a husky. It will be Dodd's first dog and she'll be naming it Bella.
"I hold her like a baby doll, so we'll have a little family," she says. Human offspring are "something we've talked about," Dodd says. "We haven't ruled it out, but we haven't decided yet either."
Her future career plans likely will be firmed up after she and her husband return in mid-August from a week's vacation.
Since high school, "this is the longest I've ever been without a job," Dodd says. "But for me personally, this was the best decision I ever made."