This just in: a night in the lives of D-FW's late night local newscasts (Wed., Nov. 17)
11/18/10 10:13 AM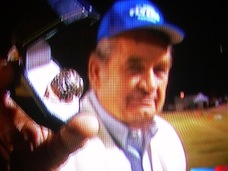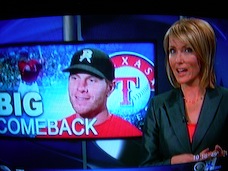 A retired high school football coach's happiness brightened WFAA8's 10 p.m. newscast Wednesday. And Rangers star Josh Hamilton talked about striving to conquer his demons on CBS11. Photos; Ed Bark
By ED BARK
Solid gold human interest stories are hard to come by, but WFAA8 definitely had one on Wednesday's 10 p.m. newscast.
Reporter
Gary Reaves
charted the journey of a 1976 state high school championship ring that found its way back from a river bottom to the finger of a revered, retired Victoria football coach.
Steve Tibiletti never thought he'd see the ring again. But Brad Bieler of Forney dug it up while searching for salable metal in the Blanco River. His metal detector put him in touch with a "big gray lump" that coated a gold ring inscribed with the names of Coach Tibiletti name and the undefeated St. Joseph High School team he helmed 34 years ago. He had lost the ring in 1977, and of course had long given up on ever wearing it again.
But Bieler was determined to return it, and the 70-year-old Tibiletti got the surprise of his life during a half time ceremony at a St. Joseph's football game. You might say he was thrilled, and WFAA8 captured it all.
"Yessir, boy! That's it, brother!" Tibiletti exclaimed. And a bit later: "You made my life!"
It was a terrific story all around.
CBS11 also scored, although not as resoundingly, with anchor/reporter
Tracy Kornet's
interview of Texas Rangers star Josh Hamilton, whose nearly fatal addictions to drugs and alcohol have been well-documented both locally and nationally.
Hamilton is "opening up to CBS11 and sharing stories you've not heard before," anchor
Doug Dunbar
told viewers.
That's debatable. But Hamilton did show Kornet some of his more fearsome tattoos while telling her, "When you become a child of God, the devil attacks you a lot harder."
Hamilton also spoke of recurrently seeing a "demon face" and of his determination to remain clean and sober.
"The guy just speaks from the heart all the time, you two," Kornet later told Dunbar and co-anchor
Karen Borta
.
Hamilton did likewise in his much-viewed
"I Am Second" video
. Still, his triumph over adversity remains a story worth re-telling -- even if CBS11 over-sold it as a full-blown "exclusive."
In contrast, CBS11 was the only station to show some restraint in its play of a science teacher's alleged sexual affair with a 16-year-old student at Fort Worth's Carter-Riverside High School.
The teacher, Jennifer Riojas, resigned three weeks ago and has been jailed. But there are some lurid details in newly available documents. So Fox4 and WFAA8 couldn't resist leading their newscasts with some of the juicier aspects while NBC5 played the story second after
Scott Gordon's
"Breaking News" report on a pilot who crashed into a tree in Roanoke but emerged unhurt. CBS11 waited until the nine-minute mark of its Wednesday 10 p.m. newscast to downplay matters via a brief anchor "reader" by Dunbar.
WFAA8 reporter
Jason Whitely
, no piker when it comes to on-camera theatrics, sold the Riojas story with over-stated hand gestures and over-cooked rhetoric. The "accusations against Jennifer Riojas are as salacious as they are sickening," he declared before telling viewers that the documents say she had sex with the student in a hospital bed while he recovered from a football injury.
Rival stations also had that particular detail. But their reporters, Fox4's
Brandon Todd
and NBC5's
Ellen Goldberg
, didn't act as though they needed a sedative.
Fox4 took at least a one-night break from its latter day spate of elongated, live in-studio interviews to present something of a throwback, nuts and bolts 9 p.m. newscast that was heavily stocked with video sniglets. Coincidentally or not, it won its time period Wednesday night among 18-to-49-year-olds while running a close second to CBS'
The Defenders
in both total viewers and 25-to-54-year-olds.
NBC5 had two interesting enterprise stories.
Scott Friedman
reported on the ongoing, dead-of-the-night construction of the DFW Connector in Grapevine. Comprised of 37 new bridges and a highway that will broaden to 20 lanes at some point, it's currently the largest project in the U.S. funded with federal stimulus money.
Later in the newscast, anchor
Brian Curtis
had an "Only on 5" piece about the Goss-Michael Foundation, which will open Friday in the Dallas Design district. Stocked with oft-provocative art work, it's helmed by Kenny Goss and his live-in partner, singer George Michael. Goss talked to Curtis about both the Foundation and Michael's repeated problems with drug and alcohol abuse. He recently served 27 days in jail for driving under the influence of drugs, but lately professes to be clean and sober again.
Meanwhile, your friendly content provider is feeling a bit punchy after watching eight consecutive weeknights worth of November "sweeps" newscasts on Fox4, NBC5, WFAA8 and CBS11. But the week is almost over, and some of the quality stories I've seen still make this an overall worthwhile endeavor. As evidence, here's the video of Reaves' aforementioned piece, which is well worth your time, too: