Veteran NBC5 anchor Jane McGarry free on bond after arrest for DWI
05/06/12 07:59 PM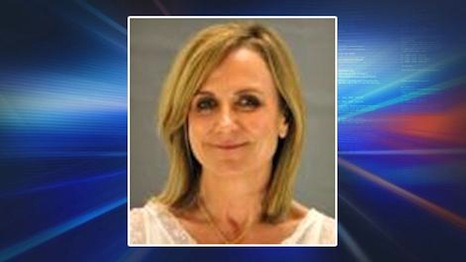 Jane McGarry's mug shot, courtesy of the Dallas County Sheriff's Office, was posted early Sunday evening on WFAA8's website.
By ED BARK
@unclebarkycom
Longtime NBC5 anchor Jane McGarry and her station so far are declining to officially acknowledge her arrest early Sunday morning for allegedly driving while intoxicated.
McGarry, who has no previous convictions or DWI arrests, was freed on bail at 6:45 a.m. Sunday after authorities booked her and took a mug shot.
As of this writing, only WFAA8 has reported the story among D-FW's rival TV stations. It originated late Sunday afternoon on
The Dallas Morning News crime blog
.
(Update: CBS11 had a brief McGarry story on its Sunday, 10 p.m. newscast, but has not put it on its website. Fox4, NBC5 and CW33 so far have not reported anything on McGarry.)
A call to McGarry's cell phone number, which is on file at unclebarky.com, elicited this response at about 7:45 p.m. Sunday after I identified myself and then asked, "Is this Jane?"
"No," said the voice at the other end, which sounded like McGarry's.
"It's not Jane McGarry?" she was asked. The woman at the other end then hung up. But an immediate call back to the same number got this recorded message: "Hi, this is Jane. Leave me your number and I'll call you right back."
Asked if NBC5 has any official statement on the matter, station vice president of programming Brian Hocker said via email Sunday night, "NBC5 station management is looking into the matter this evening and has no further comment."
Meanwhile, news of the arrest has spread to the point where commenters are weighing in on
McGarry's Facebook Fan
page even though she's said nothing about it so far.
Most are defending McGarry.
Commenter Cathrine Hatcher (which is the way she spells it), says in part, "WE ALL make mistakes. We get to make our mistakes privately. Someone like Jane can't even slip up without the whole world knowing about it. I'm sure she feels TERRIBLE. I know Jane . . . do you?"
The only critical comments, from Julie Riddle Caldwell, include her rebuttal that "you guys can rationalize drinking and driving all you want. I am saddened by it . . . You can make a mistake but not when risking the lives of others."
According to her arrest report, portions of which are quoted on
The News
crime blog, McGarry was driving a 2007 Porsche when a state trooper pulled her over on the Dallas North Tollway (around 1:35 a.m. Sunday) after she failed to signal a lane change.
The arrest report says that McGarry had bloodshot, droopy eyes, swayed while standing and "used a loud tone of voice when talking," according to
The News
.
McGarry reportedly admitted to drinking three glasses of wine, but refused to take a breathalyzer test. The arrest report also says that McGarry failed a number of sobriety tests, including the "walk and turn," the "one-leg stand" and the alphabet. She was checked into jail around 3 a.m. and released after bonding out almost four hours later, according to
The News'
account of the official arrest report.
McGarry joined KXAS (Channel 5) as a weekend anchor in 1982 long before the station was bought by NBC Universal and re-christened NBC5. In 1991, she began co-anchoring the 10 p.m. weeknight newscasts, partnering with both Brad Wright and Randall Carlisle before her best known desk mate, Mike Snyder, joined her in April 1992.
They endured until July 2009, when Snyder gave way to Brian Curtis before parting ways with the station a year later. McGarry was taken off the 10 p.m. newscasts, in favor of Meredith Land, in February of 2010. She now co-anchors NBC5's weekday 5 p.m. newscasts and also has been the solo anchor of the 6:30 p.m. "DFW Nonstop" on the station's digital Channel 5.2 since May of 2011.
"Yeah, change is scary,"
McGarry told unclebarky.com
after her long tenure as 10 p.m. co-anchor came to an end. "But change can be exciting, too. I'm a person who gets bored easily. I need energy, action, all that stuff. For me,this is the beginning of something new. And I'm not B.S. 'ing you here in any way."