Tuesday's late afternoon/early evening weather coverage pits a coat and tie guy for all seasons against three jacket-less juniors
04/26/11 06:10 PM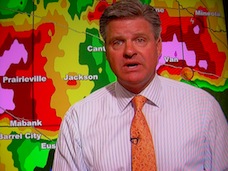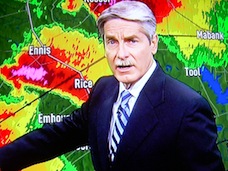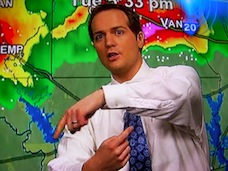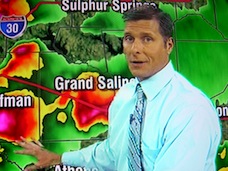 Clockwise from top left: WFAA8's Pete Delkus' NBC5's David Finfrock; Fox4's Dan Henry and CBS11's Larry Mowry during Tuesday's early evening tornado/storm coverage. Photos: Ed Bark
By ED BARK
NBC5's David Finfrock, dean of D-FW weathercasters, is a quiet, unassuming guy who probably would just as soon not stand out in a crowd.
But he can't help himself whenever NBC5, Fox4, WFAA8 and CBS11 break into regularly scheduled programming for continuous coverage of severe weather threats. That's because Finfrock invariably is the only one to keep his jacket on while competitors Dan Henry, Pete Delkus and Larry Mowry strip down to shirtsleeves.
It's supposed to communicate the urgency at hand and their willingness to work up a sweat for viewers on the receiving ends of loudly colored weather maps and warnings that danger lurks. And indeed this is serious business, with tornados being sighted and multi-sized hail falling in some parts of the North Texas viewing area.
Still, did Finfrock look less up to the task by keeping his coat in play throughout the Tuesday pre-emptions that knocked out late afternoon editions of the Oprah Winfrey and Judge Judy shows, plus the 5:30 p.m. network evening newscasts on NBC5, WFAA8 and CBS11? Or did Finfrock in fact look "presidential" in comparison to his competitors?
All of this coat-shedding pretty much started with Delkus before Mowry and Henry followed suit by junking their jackets. Perhaps it all originally began with news consultants' advisories in other markets before spreading to these parts. Whatever the case, what's next? Take off the ties? Unbutton the shirt collars? Don suspenders?
Maps and other visuals obviously matter under these circumstances. But olden guys such as Harold Taft, Troy Dungan and Mike Burger never saw any need to undress for such occasions.
Once one guy starts doing it, though . . . well, Finfrock is still gamely holding out. And whether coincidental or not, NBC5 had the most viewers during Monday's late afternoon, continuous severe weather coverage on all four stations.
It no doubt helps that Finfrock still oozes credibility and has been at this game a whole lot lot longer in this market than Henry, Delkus or Mowry. So he's earned the right to still do it his way -- in full mettle jacket -- while the other guys visually gang up on him.