Local Nielsen ratings snapshot (Wed., Feb. 2) -- boom box numbers for Idol's hour in Austin
02/03/11 11:07 AM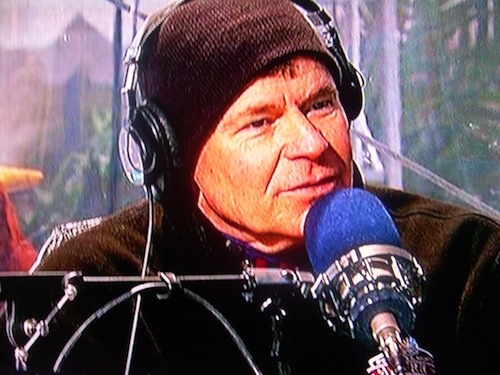 Dan Patrick was all hat, no cattle in Victory Park. Photo: Ed Bark
By ED BARK
Fox's
American Idol
easily amassed its biggest D-FW audience of the new season with Wednesday's audition hour from Austin.
Airing from 7 to 8 p.m., it drew 768,753 viewers on another frigid night tailor made for TV watching.
Idol
's Fox followup act,
Human Target
, then nose-dived to 263,177 viewers, still good enough to edge the second hour of NBC's
Minute to Win It
. But
Minute
won with advertiser-coveted 18-to-49-year-olds.
At 9 p.m., CBS'
Blue Bloods
nipped the first half-hour of Fox4's local newscast in total viewers. But the news in turn edged NBC's
Law & Order: SVU
in the 18-to-49 demographic. Hardly anyone in that key age group watched
Blue Bloods
, which plummeted to fifth place and even finished well behind CW33's 9 p.m. newscast.
Fox4's locally produced
XLV Live
, which again ran from 9:30 to 10 p.m., fell well behind the second half-hour of
Blue Bloods
in total viewers. It ran second to
SVU
with 18-to-49-year-olds while ABC's new
Off the Map
doctor series ran a close third.
XLV Live
also ran at 6:30 p.m., this time directly against a WFAA8 Super Bowl special with sports anchor Dale Hansen.
XLV Live
, helmed by anchors Steve Eagar, Heather Hays and Mike Doocy, beat the Hansen half-hour in both ratings measurements. But in total viewers, CBS11's competing
Wheel of Fortune
thumped both Super Bowl shows.
All four major local TV news providers again battled from 7 to 9 a.m. with extended foul weather coverage. Fox4 easily led the way in both total viewers and 25-to-54-year-olds, the main advertiser target audience for news programming on most stations. Here's how it looked:
TOTAL VIEWERS
Fox4 -- 277,028
NBC5 -- 193,920
WFAA8 -- 180,068
CBS11 -- 145,440
25-to-54-YEAR-OLDS
Fox4 -- 177,082
WFAA8 -- 105,628
NBC5 -- 86,988
CBS11 -- 52,814
Over on ESPN2 and Fox Sports Southwest,
Mike and Mike
and
The Dan Patrick Show
respectively braved the sub-freezing outdoors Wednesday morning from their locations in Sundance Square and Victory Park. Both drew exceedingly small D-FW audiences for their efforts, with ESPN's
M and M
averaging 4,848 total viewers and
Dan Patrick
, 2,770.
In the day's other local news derby results, NBC5 romped to 10 p.m. wins in total viewers and 25-to-54-year-olds while tying arch rival Fox4 for first place in both measurements in the 6 to 7 a.m. faceoff.
CBS11 entered the winners' circles with a 6 p.m. sweep and also took the 5 p.m. gold among 25-to-54-year-olds. WFAA8's lone victory came at 5 p.m. in total viewers.
POSTSCRIPT
The four-week February "sweeps" ratings are underway as of today (Thurs., Feb. 3). In a memo to staffers Thursday, Fox4 celebrated the January performance of its 9 p.m. local newscast, which beat rival late night local editions for the first time ever among both 25-to-54-year-olds and 18-to-49-year-olds, the station said.
Fox4's 9 p.m. news, launched in July 1995 when it became a Fox owned-and-operated station, edged WFAA8's 10 p.m. newscasts among adults 25-to-54 by a score of 80,774 to 77,978, according to Nielsen Media Research data cited in the memo.
In the 18-to-49 demographic, Fox4's 9 p.m. news beat its 10 p.m. news by a score of 72,722 to 60,876, with WFAA8 in third place (58,573).
Billing itself as "the little station that could" in the memo, Fox4 management also said its 9 p.m. edition "holds the honor of also being the only late newscast in the market not to suffer year-to-year losses in viewers."
Let the February sweeps begin, when all four major TV news purveyors will be armed with first-run prime-time programming from their respective networks.