KTXD's The Broadcast is home to big gaffe involving two Michaels -- Sam and Irvin
02/11/14 04:58 PM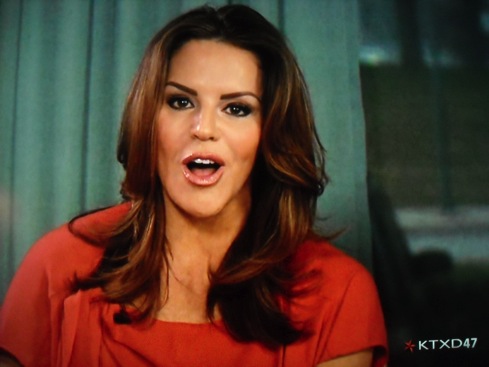 Lead host Lisa Pineiro during Tuesday edition of The Broadcast.
By ED BARK
@unclebarkycom on Twitter
Everyone has a slip of the tongue now and then.
Still, on-air TV and radio personalities in particular are mostly well-paid to minimize them. Which didn't stop Lisa Pineiro, lead host of KXTD-TV's (Ch. 47)
The Broadcast
, from contributing an instant classic Tuesday.
Pineiro, former co-anchor of CBS11's weekday early morning newscasts, was earnestly leading a discussion of star University of Missouri defensive end Michael Sam's decision to publicly state he's gay.
Pineiro took her cue from WFAA8 sports anchor Dale Hansen's support of Sam and denunciation of the NFL during a Monday night
"Unplugged" commentary
.
"I think that anybody who doesn't agree with what he's saying, there are issues there," Pineiro said in further support of Hansen after effusively praising his commentary. Unfortunately for her, she then said more.
"When we come back, No. 88 himself is here," Pineiro told viewers. Cowboys Hall of Flamer -- Famer -- Michael Irvin."
Pineiro laughed briefly, as did some of her co-hosts. Irvin, seated off to the side of the anchor desk, could be seen grinning gamely. A commercial break then took everyone away from it all.
The Broadcast
airs from 9 to 11 a.m. weekdays on Dallas-based KTXD and is repeated from 4 to 6 p.m. The program also is carried on other London Broadcasting stations in Texas.
The good news for Pineiro and her station, in this case at least, is that both editions of
The Broadcast
seldom register more than "hashmarks" (no measurable audience) in the D-FW Nielsen ratings. That again was the case on Monday; the program's Tuesday ratings will come in on Wednesday.
The bad news is that no one bothered to fix anything for the show's 4 p.m. replay, which is where I saw Pineiro's flub first-hand after being tipped to it by several sources.
Irvin, in KXTD's Dallas studios on behalf of the upcoming seventh annual
Sky Ranch
Christian children's camp fundraiser, was later asked about Sam by co-host Dawn Neufeld.
"I appreciate him for coming forward," he said. "I can't wait 'til he hits somebody and knocks him out" in order to shatter any stereotype that a gay man can't play in the NFL trenches.
Irvin said that Sam, who's eligible for this year's NFL draft, is setting a good example by openly being who he is. "Because that's the only person you can be the best one of."
Email comments or questions to:
unclebarky@verizon.net