Three D-FW news personalities shake 'em for charity
07/07/11 11:54 AM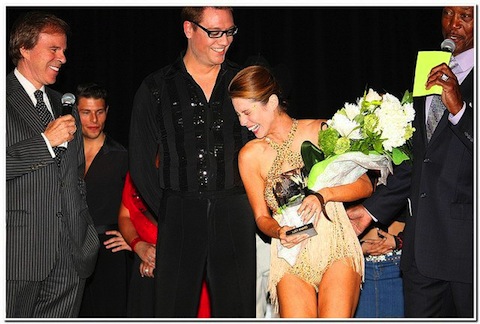 Fox4's Fiona Gorostiza and dance partner Ian Kelley beam while ubiquitous former NBC5 sports anchor Scott Murray (left) approvingly basks in their victory at the recent Top Hat & Tails charity benefit.
Photos are from the contestants' Facebook pages.
By ED BARK
NBC5 "Gridlock Buster" Tammy Dombeck gamely sought to stop traffic in a bared midriff, bright red dress previously worn by
Dancing with the Stars
pro Cheryl Burke.
CW33 meteorologist Rebecca Miller tried to get temperatures rising in a fetching purple ensemble with plenty of spangles.
But Fox4 weathercaster/roving reporter Fiona Gorostiza ended up the night's big winner with her skimpy outfit and sizzling rumba/samba at the recent
Top Hat & Tails
charity benefit.
They were the three local TV personalities among the eight celebrity dancers. With a surname like mine -- and with all proceeds benefiting the very worthy
Paws In the City
-- I'm simply going to roll over and pant my approval.
For an extended account of these proceedings, go to Jeanne Prejean's
"My Sweet Charity" blog
. Before clicking, though, here's a picture of Dombeck (and partner Justin Brown) in a dance costume suitable for r-r-r-rush hour.