This just in: A night in the lives of D-FW's late night newscasts (Tues., May 22)
05/23/07 02:11 PM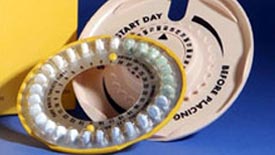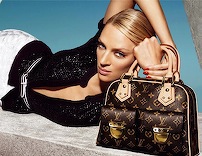 By ED BARK
Pandering to women. It's standard operating procedure on D-FW's two 10 p.m. ratings leaders. Why so? Let's look at Tuesday night's numbers before getting to the games stations play.
Night after night, Nielsen Media Research numbers show that many many more women than men watch late night newscasts. This is of most import in the key 25-to-54-year-old sales demographic. Tuesday night went like this:
A total of 296,234 women aged 25-to-54 watched the 10 p.m. newscasts on Belo8, NBC5 and CBS11, plus the 9 p.m. program on Fox4. A heavy majority of them -- 223,599 -- were tuned to either Belo8 or NBC5.
The figures for 25-to-54-year-old men aren't nearly as imposing. A grand total of 175,014 watched those same four late night local newscasts. Only Fox4's 9 p.m. news had more men than women on hand -- but just barely. For the others, it obviously wasn't even close.
Given those numbers, is it any wonder that Belo8 anchor
Gloria Campos
was instructed to tease these two stories during the final hour of ABC's
Dancing with the Stars
finale?
"The pill to stop your period for good!" she exclaimed shortly after 9 p.m. "Watch News 8 at 10."
And at 9:26 p.m.: "Fake designer handbags and how to spot the knockoffs! Watch News 8 at 10."
NBC5 uses the same tactics. Women are very much in the Peacock's crosshairs, too. So its Tuesday night news menu made room for the period-preempting pill, yet another facial wrinkle treatment story and "the secret to never wasting another minute in checkout lines."
Regent Ducas, CBS11's new news director, so far isn't playing this game. He told unclebarky.com last month that he wouldn't know how to do a "female newscast." And Fox4 hardly ever hypes stories that clearly are targeted at women. Maybe they're both paying a price for that.
The pill story turned out to be one of Belo8's briefer of the night, despite all that heavy promotion. Anchor
John McCaa
spent all of 18 seconds touting the new, FDA-appoved Lybrel birth control pill.
Rival stations also brought news of Lybrel, with CBS11 deploying anchor
Karen Borta
to read a much lengthier video report. But no one flogged it the way Belo8 did.
The "Real . . . or Replica" story on Belo8 had reporter
Shelly Slater
on the scent of high-priced handbags. Some "purse parties" apparently sell cheap knockoffs instead of the real thing. But at least one seemingly well-to-do young woman apparently got lucky enough to purchase a genuine designer tote for a mere $450.
"You actually have a real bag," she was told by a saleswoman at a rich people's retailer.
"I do!" she exclaimed. "Yay!"
You can imagine how much male appeal that one had.
Over at NBC5, correspondent
Meredith Land
got an exclusive "first look" at a new facial injection that supposedly can make Grandma Moses look like an Olsen twin. One grateful beneficiary had "been working to get a plumper pucker," Land told viewers. Cry me a river.
Then came
Brian Curtis
with a complete fraud of a story on how to spend less time standing in checkout lines. After all, "my time is very, very valuable," a woman told him.
OK, so what's the secret to waiting less? Go to stores on weekday mornings, but never during lunch, Curtis told viewers.
That's it? Yep. Epilogue: women sure are treated as imbeciles by some stations.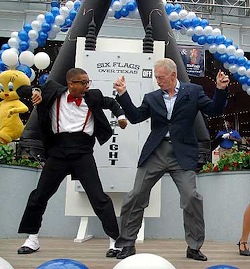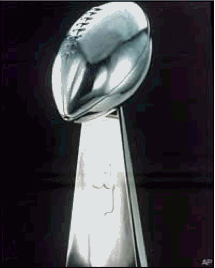 Tuesday's big story otherwise was the successful bid to host the 2011 Super Bowl at the Dallas Cowboys' eventual new stadium in Arlington.
It must have been really important because CBS11 scrapped its "urgent" new "First Five Minutes" crime-a-thon to offer a series of live reports on "the big play that has all of North Texas cheering," as anchor
Doug Dunbar
put it.
One citizen said he'd even think about driving to the game, but only after a reporter goosed him.
"Yeah, I might consider doing that," he then revealed. "I would."
Fox4's parent network will be telecasting the 2011 Super Bowl, a Fox spokesman confirmed Wednesday. Amazingly, the station forgot to mention this during its extensive 9 p.m. news coverage of the successful bid. Commendably, though, it offered some respite from the rampant cheerleading.
First came a woman's sour outlook: "I hear some people are excited about it . . . We're not, frankly," she told reporter
Brandon Todd
. "I don't know how it (the new stadium) got voted in in the first place."
Reporter
Scott Sayres
later looked at the often inflated claims of economic booms for cities that host the Super Bowl. A projected $400 million will be pumped into the North Texas economy, supporters say. But some surveys contend that Houston's hosting of the 2004 game netted the city only $913,397 in net profits after all the pre-game expenditures were subtracted.
Still, the big game can bring priceless amounts of free publicity while also generating civic pride, Sayres said. We'll have a three-and-a-half year wait before being able to make cents and sense of it all.
Fox4 otherwise threw itself into post-
American Idol
coverage, with the station's
Maria Sotolongo
putting on an embarrassing display from the show's media area.
"We love you in North Texas," she told finalist Jordin Sparks after the 17-year-old phenom walked up and hugged her. Sotolongo later hugged her back before brandishing a "Team Jordin" t-shirt.
"Ya know what, I'm allowed to give my opinion," she old viewers.
It got worse.
Sotolongo also was intent on interviewing co-finalist Blake Edwards live.
"He might come to me in a few seconds," she said while otherwise narrating highlights from Tuesday night's sing-off. "I feel like I'm in the Super Bowl. C'mon, Blake. C'mon! Come to mama!"
He finally came, with Sotolongo hugging him, too. That makes her ready-made for
Extra, Access Hollywood
or
Entertainment Tonight
. But you just don't pull that kind of piffle when you're on an otherwise mostly respectable newscast.
Fox4 then segued to an actual news report from
Jason Overstreet
, who said that many McKinney residents are upset about their city's continued once-a-week watering restrictions.
Too bad he couldn't have hosed off Sotolongo at report's end. She really needs to look at her Tuesday night performance, and then take it way down for Wednesday's
Idol
finale.