This just in: A night in the lives of D-FW's late night newscasts (Wed., Feb. 23rd)
02/24/11 12:30 PM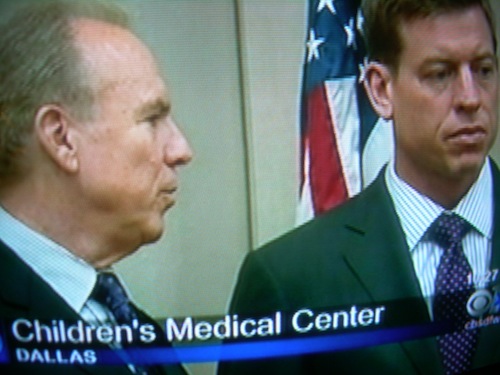 CBS11 sportster Steve Dennis managed to get a Super little story out of former Cowboys quarterbacks Roger Staubach and Troy Aikman.
Photos: Ed Bark
By ED BARK
Maybe it would be best to begin like this: What you read in the following paragraphs may shock or surprise you. Reader caution is advised.
That's slightly tailored TV news-ese for stories that often aren't all that shocking, surprising or graphic. And in truth, Wednesday's late nighters on Fox4, NBC5, WFAA8 and CBS11 weren't all that much to write home about -- let alone dissect in these spaces.
Unclebarky.com is a gamer, though. And there in fact were some points of interest along with a few curiosities.
All four stations predictably led with the firing of a Dallas police officer for using dashboard cam-documented excessive force on a motorist who had been stopped for a minor traffic violation. (*CBS11 first threw in a weather blip from Larry Mowry, who said it was going to rain on Thursday.)
Police dashcam images are starting to replace convenience store robbery cams as providers of action video that can be used over and over by TV news operations large and small. And on Wednesday, the pictures of Dallas cop Quaitemes Williams wailing on suspect Rodarick Lyles were supplemented by oft-used previous footage of a Dallas officer savagely beating a motorcyclist with his billy club last year.
It otherwise wasn't much of a night for engaging enterprise reporting. Even Fox4's ever-experimental 9 p.m. newscast seemed a bit pooped out, with co-anchor
Steve Eagar
laboring to make a Facebook stress-out study come alive during an in-studio chat with "dating and relationship coach" Nina Atwood.
CBS11 had the most eventful newscast, but its oddities equaled its plusses.
Voluble veteran sports reporter
Steve Dennis
, an acquired taste for some, turned a pro forma Children's Medical Center appearance by Roger Staubach and Troy Aikman into a good little story about the prospects for a Super Bowl L in North Texas after XLV thoroughly soiled itself.
Dennis spring-boarded off sports anchor
Babe Laufenberg
's previous interview with Staubach, in which he championed Aikman to replace him as point man in the effort to land another Super Bowl at Jerry's Palace.
Aikman wasn't exactly enthusiastic. "I think the push for 50 is going to be very tough," he told Dennis. But would he spearhead such an effort? "I hope I'm not asked right now," Aikman said.
Staubach again acknowledged the problems with Super Bowl XLV before game-facedly saying that Aikman "hasn't said no for sure" regarding Super Bowl L.
Dennis asked Captain America why he shouldn't be the man for the job again. "I would be glad to help Troy any way I can," said Staubach, who might as well have added, "Our ass is (artificial) grass as far as getting this thing again any time soon."
The earth didn't shake. But Dennis got more out of these two than anyone else has. And all because he asked.
Earlier in the CBS11 newscast, reporter
Jay Gormley
had an interesting look at whether the emergency room at Arlington's JPS Diagnostic and Surgery Hospital in fact is as advertised. Eight different surrounding signs point would-be patients in its direction. But what they encounter is a padlocked door and a call-in box.
JPS CEO Robert Earley told Gormley that this doesn't constitute "false advertising." But the reporter also had previous public hearing testimony from Earley in which he said, "I don't feel comfortable at all with people having on their GPS system to go to that emergency room . . . It's not a full-fledged emergency room."
End result: the signs directing people to the facility are in the process of being taken down.
CBS11 also had a lengthy teenage "sex slavery" story in which reporter
Tracy Kornet
journeyed to Phoenix for a look at a safe house "campus" recently opened by the Street Light organization. Co-anchor
Karen Borta
said it "could become a model for North Texas." But the director gave no real indication that this would or could happen anytime soon. It seemed like a long way to go for a story that just didn't hit that close to home.
The station also had a curious dispatch from reporter
Carol Cavazos
, who extolled the virtues of a six-year-old kid preacher whose video from the Dallas-based Potter's House had -- guess what? -- gone "viral" on youtube.
"God tells me what to pray," said the kid, who really doesn't need so much attention at this age. His beaming mother confirmed that her son is "definitely God-sent." Let's hope he doesn't grow up to be yet another crooked or philandering TV evangelist. But this is how it all starts.
"That's a sweet child," anchor Borta said nevertheless. "Nothing sweet about Larry Mowry's forecast." Groan.
Luckily, the station had anchor
Doug Dunbar
to sprinkle a little vinegar on a closing blip about Kim Kardashian's Dallas appearance on behalf of her new lip plumper-upper product.
"Really?" Dunbar asked when Borta said she had met with fans. "That was awesome of her to do that," he added when Borta noted that Kardashian was only contractually required to shake 150 hands, but stayed a little extra.
Borta duly noted Dunbar's "sarcasm," which she in fact likely appreciated. In gratitude from this writer, Dunbar gets an unclebarky.com Man of the Year award, which of course has no intrinsic value or accompanying plaque or statue.
AND IN OTHER NEWS . . .
Well, there just really wasn't much else to grab onto Wednesday night. But this postscript in fact might shock or surprise you: WFAA8 weathercaster
Pete Delkus
had absolutely
nothing
to say to sports anchor
Dale Hansen
-- or vice-versa.