Idol seems out of step this season, says former producer and current mainstay of So You Think You Can Dance
03/15/10 11:39 AM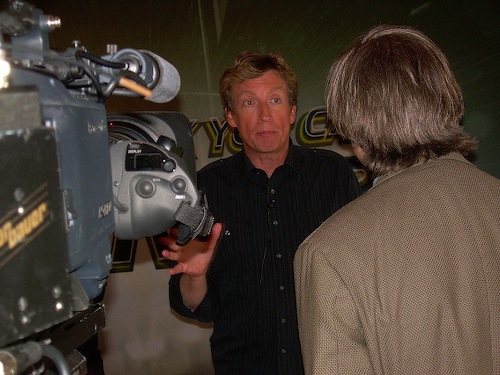 Executive producer/judge Nigel Lythgoe at last week's So You Think You Can Dance auditions on the SMU campus in Dallas. Photo: Ed Bark
By ED BARK
Opinions run rampant about
American Idol
, particularly during a season in which Ellen DeGeneres has supplanted Paula Abdul while Simon Cowell is halfway through his departure flight.
Nigel Lythgoe's critique carries more weight than most. He was
Idol
's co-executive producer for the Fox blockbuster's first seven seasons before leaving in August 2008 to become fully engaged with the network's
So You Think You Can Dance
as both a producer and judge.
Season 9 of
Idol
so far is leaving him a bit cold, though, Lythgoe tells unclebarky.com during a break from last week's Dallas auditions for
Dance
. He still thinks four judges are one too many. And in his view, Cowell seems disengaged while DeGeneres needs a confidence boost as the show begins single eliminations of its final 12 contestants this week.
"I'm sort of watching it not work now," he says of the four-judge format, which was instituted after he left. "At this moment in time, I think Simon looks very bored. I don't think he's there. I think he's off and running and doing
The X-Factor
(which Cowell will bring to Fox as both a host and judge in fall 2011)."
Lythgoe has no problems, however, with adding DeGeneres as a judge. So he mounts a spirited defense of her, and thinks Cowell should be more supportive, too.
"I hope we'll see Ellen get more confidence and start to enjoy herself with it, because I love her to death," he says. "I think she's great.
"I don't know that Ellen needs to apologize for her opinions. As far as I'm concerned, Ellen is a
really
good spokesperson for the public. She knows what the public likes, she knows what she likes. That is what she's there for. The public are the ones who make the Idol and the public are the ones who buy the records. So she's in a
perfect
position to be their voice.
"She need not apologize for her lack of knowledge in music or anything else. She has more knowledge probably than the other three (judges) because she is a member of the public. She's got to get more confidence in herself and relax a lot more. It seems to me that Simon turns his back every time she talks. So it's frustrating to see some mistakes being made. I've never liked four judges, though. There's no time for it."
Lythgoe looks back fondly on the triumvirate of Cowell, Abdul and Randy Jackson.
"The judges are part of the show. They are not
the
show," he says. "The show is those talented kids. And when they don't work, then the judges come into play. And what was always there was the chemistry between Simon and Ryan (host Ryan Seacrest), or Simon and Paula, with Randy being the flux between the three of them. And that sort of chemistry has been lost now. And I'm very sad about that."
Part of the problem is this year's crop of talent, which has underwhelmed many
Idol
observers despite the show's annual pronouncement that it's the best group ever. Last week's eliminations of change-it-up stylists Lilly Scott and Todrick Hall didn't help matters.
"This year it's been tough," Lythgoe says, "because their voices were exposed a great deal at the beginning. The sound mix wasn't good, so the voices were out in the front and the band was in the back. And they're so nervous at this stage that they are not necessarily going to sing as well as they will in the future. And it taints your opinion of the talent the show's got. I think we'll see it grow in the future."
Lythgoe obviously will be keeping an eye on his old show during the ongoing nationwide auditions for
So You Think You Can Dance
. lt launches Season 7 on May 27th, just a few days after
Idol
ends its ninth.
"Obviously this is far more satisfying to the soul for me," says Lythgoe, a former dancer and choreographer. "I'm really, really happy, as I was for seven years on
American Idol
."