This just in: A night in the lives of D-FW's late night newscasts (Wed., April 30)
05/01/08 01:17 PM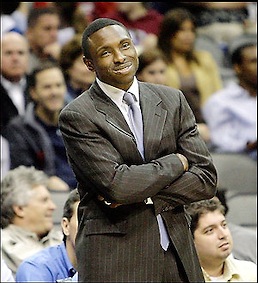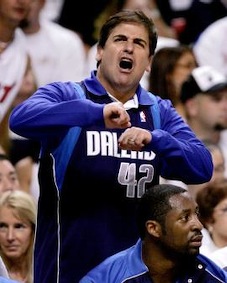 By ED BARK
Owner Mark Cuban's firing of Dallas Mavericks' coach Avery Johnson easily qualified as Wednesday's biggest North Texas tongue-wagger.
Three of D-FW's four major TV news providers played it prominently on their late night newscasts. You probably already can guess which one didn't. Let's go to the videotape.
Fox4's 9 p.m. edition gave the story second billing after ill-advisedly leading off with reporter
Lari Barager
's dispatch on the latest SUV to smash through a home. No one was injured. It made for another of those show 'n' tell TV picture stories, but not to the point of putting it first in line..
Sports anchor
Mike Doocy
then took center stage after news anchor
Steve Eagar
sniped, "The team is now known more for being a punch line than a basketball powerhouse."
Doocy, as did WFAA8 and CBS11, played audio of Johnson's no-hard-feelings remarks earlier in the day on ESPN radio. He eventually added a brief commentary of his own after terming the late-season trade for point guard Jason Kidd "a disaster."
"Avery Johnson's the type of guy you'd love to have leading your franchise for years," Doocy said. "But he seemed to have lost this team, and it appeared to me Avery was more than ready to move on. He knows he can immediately move into a situation better than the one he left."
WFAA8 topped its late-nighter with "Au Revoir Avery," which also served as a staging area for sports anchor
Dale Hansen
's later "Unplugged" commentary.
Hansen at first said it wasn't a "scorched earth" successor to last week's demolition of Dallas Cowboys owner Jerry Jones and his signing of controversial cornerback "Pacman" Jones. "Well, yeah it is, too," he then added.
Actually it was considerably tamer, with Hansen this time using an air rifle instead of a howitzer. Not that he thinks much more of Cuban than Jones.
"One Jerry Jones in this town is enough," he began. "Now we've got two."
Cuban, who quickly blew town to attend a Chicago Cubs game, risks being too impatient with a coach who won big in the regular season but lately bombed in the playoffs, Hansen said. Legendary coaches ranging from John Wooden to Tom Osborne to Tom Landry endured the agony of defeats for several years before getting to the promised land, he noted.
During most of Cuban's nine years as owner, the Mavericks at least seemed potentially close to winning an NBA title, Hansen said. But with this season's revolting developments, "the hope this team had, that's gone, too."
CBS11 played Johnson's firing second, following a lengthy top-of-the-newscast investigation of more seemingly wasteful spending by the North Texas Tollway Authority. More on that later.
Sports anchor
Babe Laufenberg
had the night's only video/audio of Cuban telling an ESPN reporter at the Cubs game that "the pieces just weren't fitting together." Asked about possible replacements, Cuban said, "There's a long list" before cackling unbecomingly.
The Babe's regular sports segment included more on the story, but no commentary from him. That's a shame. Let the guy air it out once in a while. Or maybe it's just Laufenberg's choice to keep his opinions to himself.
That leaves NBC5 sports anchor
Newy Scruggs
, who wasn't allowed to intrude beyond his regularly scheduled, truncated sports segment at the butt-end of the newscast.
Scruggs said he spoke earlier Wednesday with Johnson, whom he characterized as being "glad" to be leaving the Mavericks. After a brief report from
Derek Castillo
, Scruggs urged viewers to get "my take" on his
blog
.
"The blog blew up today," Scruggs said. "A lot of you are mad at Mark Cuban."
That's overstating it a bit. As of early afternoon Thursday, Scruggs' "take" had just seven comments, four of them taking aim at Cuban. But he had some interesting information in his commentary, some of which should have made it onto the air.
Scruggs said he reached Johnson on his way home to the Woodlands to see his son, who was "taken off on a stretcher" after getting hurt playing football at school.
"He (Johnson) wanted to check in on his kid," Scruggs wrote. "That is more important than having a press conference with the DFW media."
These two blog passages also should have been on NBC5's Wednesday sports segment:
"Avery didn't say it, but I know him and his pride says this, 'See how good the Mavs are without me. Let's see if the next coach will win 60, 67 and 51 wins (sic) and make the NBA Finals."
"Avery Johnson did not want to trade Devin Harris for Jason Kidd. He didn't say it, but he said, 'Devin was like a son to me. He's my second son.' Read the tea leaves. This was a move Dirk (Nowitzki) wanted. It was a move Mark Cuban wanted and Avery played the good soldier."
That's some pretty good stuff. And on a big story like this, it's just not nearly enough to send viewers to NBC5's Web site. Many of them obviously never got there.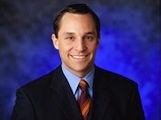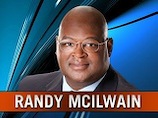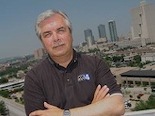 Reporters Bennett Cunningham, Randy McIlwain and Fil Alvarado
AND IN OTHER NEWS . . .LET THEM EAT CAKE (AND DONUTS)
-- CBS11 gumshoe
Bennett Cunningham
had another fine time with expense accounts filed by the North Texas Tollway Authority.
He again found its board members blowing lots of taxpayer dollars on restaurants and caterers. Or as Cunningham put it up top: "Toll officials don't like meeting without eating." Or snacking. In the past two years, one official spent $2,000 in public funds on donuts, Cunningham found.
The Authority's executive director, Jorge Figueredo, promised to put the clamps on wining and dining when he was appointed to the post last summer.
"But does he really mean it this time?" Cunningham asked somewhat rhetorically after showing video of Figueredo making that pledge in a CBS11 interview last November.
To his credit, Cunningham confronted him again about the Christmas parties, big dinner tabs and other outings billed to taxpayers since last fall.
"It's embarrassing to me, personally and professionally, yeah," said Figueredo. Cunningham said that the Authority's policy on employee credit card use is being "thoroughly reviewed" in light of CBS11's latest findings. Meanwhile, the reporter had better be sure to pay all of his tolls on time. Because somebody's going to be watching -- perhaps while eating a taxpayer-funded Moon Pie.
CHECKMATE
-- All four major news providers reported Wednesday night on the aborted attempt by Charles Ray Fuller to cash a $360 billion dollar check at a Fort Worth bank. But NBC5's
Randy McIlwain
easily had the most fun with it.
McIlwain occasionally gets a little nutty with a story, as he did a while back during a report on grackle poop. This time he was the only reporter to interview the man's girlfriend and her mother, on whose account the check was drawn.
Crusty old momma was pretty colorful, saying she'd be drinking margaritas somewhere if she had that kind of money. But McIlwain outdid her.
"Charles Ray had a Ray Charles moment," he told viewers. "Because you have to be blind not to realize the check police say he'd stolen from (girlfriend Andrea) Greer's mother and tried to cash was made out for $360 billion dollars."
Fuller purportedly intended to use the money to start his own record company. But now he's doing the jailhouse rock. Back to McIlwain: "If convicted, Fuller will have his record. It just won't be a hit. And certainly not playing well with a key demographic -- women who know him best."
That pretty much beat the stuffing out of CBS11 anchor
Doug Dunbar
's rejoinder to desk partner
Karen Borta
. "A for effort. Gotta hand it to him," Dunbar cracked. Let's send him to Randy McIlwain Finishing School.
GAS CAP
-- Longtime Fox4 reporter
Fil Alvarado
journeyed to Wise County for a good gas price story on ancient "mechanical style" pumps that won't work when the per gallon charge hits $4. Diesel fuel already has climbed above that mark, with some station owners trying to sell it for $3.99 for as long as possible, Alvarado said. Others have simply stopped selling it.
The dust-crusted old pumps looked as though they were from the Paleolithic Age. But Alvarado found 'em, and his story was a nice little eye-opener.
MISSING PART
-- WFAA8 reporter
Bob Greene
had his station's second-billed story on the delayed response time to a 911 call by a man who discovered a man lying motionless in the street.
Police chief Roy Minter told Greene that a "full investigation" is forthcoming because "it does not appear that we handled this matter appropriately."
But what was wrong with the man? Greene never said a word about that before anchor
Gloria Campos
told viewers they could read more on the story in Thursday's
Denton Record-Chronicle
, which like WFAA8 is owned by Belo Corp.
The newspaper said that the man eventually was treated by a police officer and paramedics, who found him to be heavily intoxicated. He later was jailed on a charge of public drunkenness.
Viewers shouldn't have to take this extra step to learn about a basic fact that Greene should have included in his story.
TAKING A HARDLINE
-- All four stations also covered a shooting in Mesquite during which a man killed his wife and wounded his two stepchildren before turning himself in. But Fox4's
Jeff Crilley
had details the others missed, plus a provocative quote from Mesquite police lieutenant Steve Callarmann.
People are always looking for reasons why these things happen, Callarmann said. But in his view, "This is a despicable, evil act perpetrated by an evil man. And whatever his motive is, quite frankly, I don't care."
WAXING POETIC
-- Yes, that indeed was your friendly unclebarky.com proprietor appearing briefly on Fox4 Wednesday during reporter
Brandon Todd
's followup story on
American Idol
judge Paula Abdul's Tuesday night meltdown.
Assessment: I shouldn't be seen in public, let alone on a television screen.
Fifteen nights to go.