This just in: a night in the lives of D-FW's late night newscasts (Fri., Feb. 15)
02/17/08 04:06 PM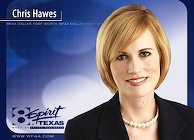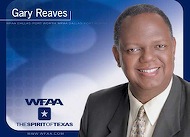 WFAA's Chris Hawes, Gary Reaves flank Fox4's Jason Overstreet.
By ED BARK
Who got there first?
This matters very much in the local TV news eco-system, or in some cases ego-system. Emails and reader comments, some from local reporters, definitely attest to that.
So let's look at some recent scoops and mop-ups, with the proviso that we're only looking at the featured late night newscasts in the D-FW market. In those arenas, Fox4 has been several steps slow of late.
Friday's 9 p.m. newscast brought two stories that rivals had earlier. So did Thursday's Fox4 edition. Here's how it shook out.
Fox4's
Jason Overstreet
reported Friday on a Frisco law enforcement officer who spent a very uncomfortable night in jail after being wrongly arrested in a case of mistaken identity. It didn't help that Leonides Ramos was wearing a "Department of Justice" T-shirt at the time.
The same story originated a night earlier on WFAA8, with
Gary Reaves
delivering the exclusive.
On Wednesday's 10 p.m. WFAA8 newscast, reporter
Chris Hawes
had the first story on an 80-year-old World War II vet from Granbury who fought off two punk brothers trying to rob him in his home. His face, head and right arm bore the after-effects of the scuffle. But the scummy thugs who thought they had an easy mark are now both in jail.
Fox4's
Lari Barager
had the same story, but not until Friday's 9 p.m. newscast. That's a two-day gap, a k a an eternity in the news business.
On Thursday night, Fox4 trailed all three competing stations in its reporting on an eight-year-old girl whose bedroom had been invaded by a would-be child molester who apparently has struck before. The station's
Melissa Cutler
did the story a night after NBC5, WFAA8 and CBS11 had it on their Wednesday, 10 p.m. newscasts.
Fox4's
Brandon Todd
had an affecting piece Thursday on efforts to help pay the medical bills of four-year-old Haley Hart of Mansfield, whose cancerous tumor on her kidney had spread to her lungs. CBS11 reporter
Nerissa Knight
first introduced viewers to Haley on Feb. 6th, although the little girl's story certainly bears repeating.
All of the aforementioned Fox4 reporters are generally solid. And everyone gets whipped on a story now and then. Still, the station seems to be behind the curve more often than its rivals when it comes to nuts-and-bolts spot news. It would be one thing if Fox4 decided that the above four stories simply weren't worth reporting. Clearly that wasn't the case, so leftovers were served.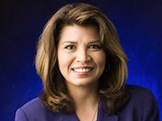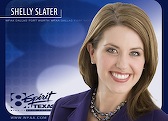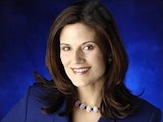 CBS11's Carol Cavazos, WFAA8's Shelly Slater, CBS11's Gina Miller
And In Other News . . .
CBS11's
Carol Cavazos
had Friday's best story on a Fort Worth police officer and former Methodist minister who tries as best he can to play Good Samaritan to the homeless. Sgt. Richard Morris is no patsy, but clearly has compassion for drunks and drug addicts with a seeming desire to get straight. He regularly reaches into his own pocket, with help from a minister friend, to help them toward a better path. Cavazos brought this story home without getting maudlin about it.
***
WFAA8's
Shelly Slater
did double duty Friday with two stories in the same newscast. Her best effort brought viewers into the trying life of Dr. Don Bauer, who's trying to recover from a cancerous tumor in his throat. He's found bottled breast milk to be something of an elixir, but is low on the priority list because of a substantial increase in teen pregnancies. The teary-eyed doc is trying alternative supplements while also vowing, "I came into this world screamin' and kickin', and that's exactly how I'm goin' out."
Slater also had her station's lead story on a Plano neighborhood whose Homeowner's Association is willing to pay $$8,000 to expedite the sale of a register sex offender's house. Some neighbors want him out, but don't want to enrich him in the process.
The story's bottom-of-the-screen printed shorthand managed two mistakes in just one sentence. It read: "Neighborhood willing to pay $8,000 to sale sex offenders house." Upon further review, that should be "Neighborhood willing to pay $8,000 to sell sex offender's house." You're welcome.
***
CBS11 sportswoman
Gina Miller
was the only local reporter in New Orleans for the NBA's All-Star game weekend. This paid off when Dirk Nowitzki and would-be Maverick Jason Kidd wound up on the same team for a largely symbolic "NBA Cares" outing that had them trying to fix up a dilapidated house. The visuals were terrific, with Kidd talking to Miller while working as best he could on a window.
***
Fox4's
James Rose
likely set a modern-day record for use of the word "scary" during his piece on a photographer who supposedly was with MTV but wanted SMU students to pose nude for him.
NBC5, D-FW's grand master of scare tactics, could only look on with awe and envy as Rose warmed up with a male student who dubbed it "scary." Then a female student said it was "really scary." An SMU official chimed in with "really scared" before two more university co-eds dropped the "scary" word. Rose might still be toweling off.
The Peacock's
Ashanti Blaize
did get one SMU student to say, "It's creeping me out a little bit." But that ain't going to cut it at NBC5.
***
WFAA8 investigator
Brett Shipp
had an interesting story on a South Dallas retail district fouled with copious trash by its street people. "Hey, everybody," he said jauntily while walking past a small group of the homeless. Left carrying the bag -- and the empty Colt 45 bottles caught in closeup -- is a woman who owns 19 acres of property in the area. The city has cited her 16 times for littering, she told a clearly sympatico Shipp.
***
WFAA8 weatherman
Pete Delkus
joined his fellow forecasters in saying he'd be on top of the lousy weather that in fact materialized on Friday night and all-day Saturday.
This prompted co-anchor
John McCaa
to note that poor Pete again wouldn't be getting much sleep.
"That's too bad," sports anchor
Dale Hansen
mocked, sending the usually temperate McCaa into nearly convulsive laughter.
Eight more nights to go.