Local Nielsen ratings snapshot (Wed., May 15) -- audience numbers for five hours of head-to-head storm coverage/competition
05/16/13 10:20 AM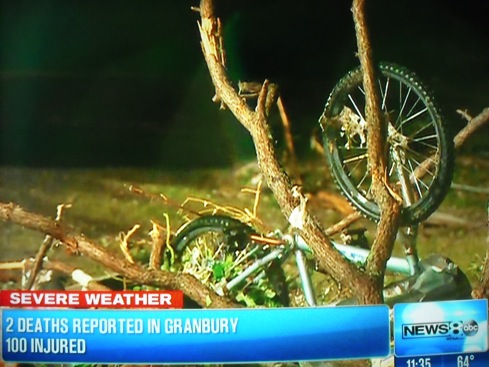 A telling image on WFAA8 late Wednesday night. Photo: Ed Bark
By ED BARK
@unclebarkycom
Network entertainment lineups were largely obliterated -- and rightly so -- by continuous coverage of the lethal tornadoes and storms that caused heavy damage and left at least half a dozen dead in North Texas Wednesday night.
Fox4, NBC5, WFAA8 and CBS11 all provided continuous coverage from 8 p.m. to 1 a.m. before Fox4 and WFAA8 went to entertainment programming. We're going to give you an hour-by-hour breakdown of the viewing totals for that period.
But first let's note that local television news can be a very valuable asset in times like these. This is difficult, demanding coverage, with storms hitting and missing over a wide viewing area while weathercasters, anchors and reporters keep up as best they can.
On Wednesday, I thought NBC5 had the best and most vivid overall coverage, with the market's newest chief meteorologist, Rick Mitchell, making his first major imprint as a steady and knowledgeable hand who looks to be a very able successor to D-FW weather dean David Finfrock.
WFAA8 and CBS11 were at worst just a step behind NBC5 while Fox4 lagged in terms of both pictures and visible reporters on the ground. Much of Fox4's coverage during the key breaking moments was via telephone, with the same grainy storm footage recycled over and over throughout the night. TV isn't radio, but Fox4 too often seemed more audio than visual -- at least in comparison with its three rivals. Still, all four stations put their heads down and went to work. That's commendable and it's also the main takeaway from all of this.
Yes, some viewers will carp about missing their favorite entertainment shows. On Wednesday, they included new episodes of ABC's
Modern Family
and
Nashville
, NBC's
Law & Order: SVU
and
Chicago Fire
, Fox's
So You Think You Can Dance
and CBS'
Criminal Minds
and
CSI: Crime Scene Investigation
(which were re-routed in whole or part to sister station TXA21). But Fox4, NBC5, WFAA8 and CBS11 were right to turn their full attention to a very significant weather emergency. Imagine the outcry -- let alone the blow to a newsroom's morale -- if one of them had stuck with regular programming while tornadoes were tearing up Hood County.
Now here are the D-FW ratings in total viewers for each of the five hours of head-to-head coverage:
8 to 9 P.M.
Fox 4 -- 357,978
CBS11 -- 337,326
WFAA8 -- 309,789
NBC5 -- 234,063
9 to 10 P.M.
WFAA8 -- 364,863
Fox4 -- 330,442
CBS11 -- 296,021
NBC5 -- 254,715
10 to 11 P.M.
WFAA8 -- 309,789
Fox4 -- 247,831
CBS11 -- 240,947
NBC5 -- 206,526
11 P.M. to Midnight
WFAA8 -- 172,105
Fox4 -- 110,147
NBC5 -- 103,263
CBS11 -- 96,379
Midnight to 1 A.M.
WFAA8 -- 117,031
Fox4/NBC5 -- 75,726 each
CBS11 -- 68,842
Email comment or questions to:
unclebarky@verizon.net