This just in: A night in the lives of D-FW's late night newscasts (Tues., May 6)
05/07/08 03:26 PM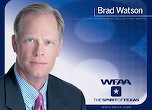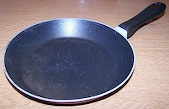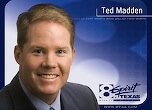 Brad Watson into the frying pan and Ted Madden into the fire.
By ED BARK
Tuesday's late-night newscasts mostly were a dull group indeed. But WFAA8 had its moments, good and bad.
Veteran reporter
Brad Watson
presided over a story with the foreboding title of "Lurking In the Sewers." It wasn't about giant rats or TMZ, though. Instead grease was the word.
Watson and a city inspector visited the Happy Year restaurant in northeast Dallas until its unhappy owner told the reporter he didn't want WFAA's cameras inside his building.
No matter, said Watson, because the eatery's still-deficient grease trap was outside. Faulty grease traps can allow all kinds of gunk to eventually clog city sewer lines. "And just like an artery, something bad happens," said Watson. Namely an unsightly, polluting overflow.
Watson then took his case to WFAA8's anchor desk. He occasionally enjoys using props, and Tuesday night's gambit worked much better than the dolls Watson once deployed to represent candidates in the 2006 Texas gubernatorial race.
This time he had a frying pan, a coffee can and one of "these cool little grease bags" provided by Dallas Water Utilities.
"Homes put more grease in sewers than restaurants," Watson said. So an environmentally friendlier alternative is to pour the stuff into a coffee can or bag, which he demonstrated without wearing an apron or seeming to be too much like Rachael Ray. Grease-filled cans or bags eventually end up in landfills, which are better are better alternatives than sewer lines, Watson said.
"Yeah, that's what my mother always did," anchor
Gloria Campos
chimed.
Show-and-tell can be risky business, but Watson pulled this one off to the overall benefit of a story that otherwise wasn't exactly teeming with drama despite its B-movie title.
Later came WFAA8 sports reporter
Ted Madden
, who usually does a pretty nice job. But his attempt to cast Dallas Stars captain Brenden Morrow as a comic book superhero played lamer than Josh Howard's playoff jump shot.
Stars play-by-play announcer Ralph Strangis tried to play along while Madden went to a comic book store before dumping this on poor Morrow: "You played super in Game 6. You were the hero of Game 6. Does that make you a super hero?"
Rather than getting a two-minute penalty for slashing Madden, Morrow stammered a bit before saying that goalie Marty Turco is the real hero.
This is what happens when local stations all but ignore hockey during the regular season and then look for tortured angles when it's suddenly the only game in town. Leave the real puckster talk to Bob Sturm and Dan McDowell on "The Ticket's"
BAD radio
. They've been covering the Stars from the start.
AND IN OTHER NEWS . . .***
Fox4 reporter
Lynn Kawano
had an interesting story on Chrysler's efforts to ramp up sluggish SUV and truck sales with a "Price Lock Card." It allows buyers of new vehicles to lock in at a $2.99 per gallon fee for the next three years. Rival auto companies so far are holding back with any similar come-ons.
***
Fox4's
Steve Noviello
had an extended "On Your Side" look at a grandstander whose company promises to protect against identity theft. As proof, the owner foghorns his business by putting his Social Security number in full view on advertising trucks. The story had promise, but never hummed. Instead it got bogged down with too many facts and figures to digest and comprehend.
***
NBC5, which still has a shot at winning the early morning news race, put another of that show's anchors,
Brendan Higgins
, in charge of a 10 p.m. story.
On Monday night it was
Deborah Ferguson
on yogurt. Higgins' "Allergy Answer" piece alerted viewers to yet another new cure that might be cheaper in the long run than pills and nasal sprays. Higgins shot up his own beak on-camera with a spray that he said costs him $11 per nostril per month. Guess he has a nose for nose, although this is really more about increasing the profiles of NBC5's early morning team.
***
CBS11's "Private Workout" story, by reporter
Katherine Blake
, took viewers inside a smaller-scale exercise joint whose patrons get to work out mostly behind closed doors in private instead of amid all those other sweaty bodies. Frankly, the whole thing was nonsense from start to finish.
***
CBS11 reporter
J.D. Miles
had a far more telling story on two young kids left for days by themselves in a filthy, broken-down home without any edible food or drinkable water. The father of at least one of them has been arrested while Child Protective Services tries to pick up the pieces. Some human beings are nothing of the sort.
***
WFAA8 weatherman
Pete Delkus
and sports anchor
Dale Hansen
came up sub-empty in their nightly banter.
Hansen wondered whether Delkus had taken a nap on the sports portion of the anchor desk.
It's like a grease pit over here," he protested.
"Is that all you could come up with?" Delkus asked.
Pause, one-two: "Can you imagine the drains in his neighborhood?" Hansen asked in turn, triggering another prototypical hootie toot from Campos.
Where's that damned frying pan?
Eleven nights to go.