Cable/network wars are good business for print news neutrals (and other D-FW news updates)
01/03/10 12:09 PM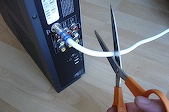 By ED BARK
Well, it was fun while it lasted, particularly for newspapers on the receiving end of an unexpected holiday season windfall.
Inevitably and predictably, the Fox Networks Group and Time Warner Cable settled their showy distribution dispute in eleventh hour fashion on New Year's Day. But the agreement, which will keep Fox's broadcast and cable programming available to Time Warner's 13 million subscribers, came only after a barrage of pricey, back-and-forth full-page ads in major market newspapers, including
The Dallas Morning News
.
"Pay Fox's Price Or You'll Never See Your Shows Again," barked Time Warner. Fox reportedly was holding out for payment of $1 per subscriber while Time Warner had 30 cents in mind.
Fox fought back with "No Fox? No Way!" full-pagers that envisioned a desultory life without NFL playoff games, some of college football's BCS bowl games,
American Idol
, etc. "Get tough with Time Warner Cable," the ads trumpeted, providing horrified viewers with a 1-866 number and a website to vent.
Some of Time Warner's rivals smelled blood. Full-page ads for DISH network warned, "You may lose more than 40 of your favorite channels! Don't risk missing your favorite shows. Switch to DISH network now!"
Time Warner had an immediate answer for that. "Fox is threatening to squeeze every cable operator -- so switching is not a real solution," its updated ads contended.
The rhetoric downshifted to bland when the two sides announced their New Year's Day pact in a joint statement after likely meeting each other halfway on subscriber fees. Terms, of course, weren't announced.
"We're pleased that, after months of negotiations, we were able to reach a fair agreement with Time Warner Cable -- one that recognizes the value of our programming," Fox said demurely.
"We're happy to have reached a reasonable deal with no disruption in programming for our customers," Time Warner curtsied.
The increased costs eventually will be passed on to Time Warner customers. And the pinch likely will be felt again and again as other networks seek compensation for their old-line broadcast properties rather than allowing free retransmission.
Fox was publicly backed in its war with Time Warner by Disney-owned ABC, which likewise owns an array of cable networks (most notably ESPN) in addition to its longstanding over-the-air broadcast network. Declining ratings and ad revenues, at both the local and national level, have emboldened semi-desperate broadcasters to seek the same dual revenue streams enjoyed by their cable counterparts.
It's a tricky business, though. Fox had a lot to lose if Time Warner cut it loose. But Fox also had ample leverage, given the impending season premieres of
American Idol
and
24
among its high-profile attractions. This time it was far better for both sides to blink rather than continue to bluster.
But newspapers wouldn't mind a continuing series of cable company/network soap operas. In a lower profile fight, Cablevision subscribers recently found their menus without Food Network and HGTV, which were dropped during an ongoing distribution fee dispute.
A subsequent full-page ad in Sunday's
New York Times
depicted an overturned Food Network cooking pot and an upended HGTV paint can.
"Cablevision customers: Your best Friends In Food and Home Have Been Dropped," the ad said, providing a 1-866 number and a website for viewers to demand an end to this outrage.
The
Times
and other beneficiary newspapers wouldn't mind a prolonged spat between the two media companies. It's a revenue stream from heaven, and 2010 could be a very good year in that respect.
WFAA8 PETITIONS FCC FOR STRONGER DIGITAL SIGNAL
-- Acknowledging ongoing complaints from viewers in the still fledgling post-digital age, Dallas-based WFAA8 has asked the Federal Communications Commission to
increase its signal power
from 45 to 55 KW.
In its December 17th filing, the ABC affiliate says that after the June 12th transition from analog to digital, it "began to receive a deluge of calls from viewers that could no longer receive the station's digital signal via their indoor antennas. Despite attempts to walk callers through the process or resetting and/or re-scanning their equipment, station personnel were unable to resolve many indoor reception issues."
Belo Corp., which owns WFAA8, says the station is "not attempting to increase the coverage of WFAA, as the proposed power increase will only result in the station coverage increasing by 1.6 percent . . . Rather, Belo is proposing the power increase to improve service to its existing viewers by providing them with a more robust signal."
As previously reported on unclebarky.com, rival CBS11 petitioned the FCC earlier this year for an
enhanced digital frequency
. The request was quickly approved.
SUBTRACT ANOTHER BODY FROM CBS11's NOW BARREN INVESTIGATIVE UNIT
-- Aaron Wische, executive producer of Special Projects and Investigations at CBS11, is leaving the D-FW station to take a similar post at Phoenix's ABC station, KNXV-TV. His last day will be Jan. 15th, news director Scott Diener said in a memo sent Sunday to staffers.
Wische spent two and a half years with CBS11. His departure is on the heels of the station's former chief investigator, Bennett Cunningham, who
left in early December
over a salary dispute.
That nominally leaves weekday early morning co-anchor Ginger Allen as the last member of "The Investigators," although she's long since shifted to periodic lifestyles reporting on the station's late night newscasts. CBS11's
outdated web page for "The Investigators"
still pictures Cunningham and Allen as the remaining two team members.