This just in: a night in the lives of D-FW's late night newscasts (Thurs., Nov. 8)
11/09/07 01:20 PM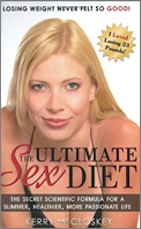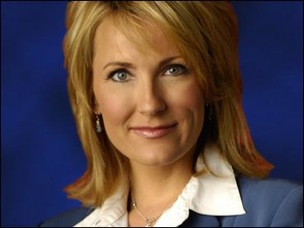 CBS11's Tracy Kornet shouldn't have been put in this position.
By ED BARK
TV news operations sometimes just can't help themselves -- especially during the sweeps.
CBS11 mostly had been taking a high road toward recently rejuvenated ratings for its 10 p.m. newscasts. But then it fell off the wagon on a night when big ratings -- and a bountiful lead-in -- were assured for Thursday's
CSI/Without A Trace
crossover stunt.
The station repeatedly teased "The Sex Diet" during commercial breaks because, well, sex sells. And sure enough, CBS11 finished first Thursday night in the total homes Nielsen ratings after inheriting almost three times the audience of any of its three rivals.
The elongated "story" by sister station TXA21 anchor
Tracy Kornet
, finally arrived after CBS11 anchor
Doug Dunbar
applied a little lubricant.
"What if we told you tonight that you could lose weight and spice up your sex life at the same time?" he asked viewers.
An unseen Kornet then narrated a story that she obviously didn't report. Basically it was a canned piece plugging
The Ultimate Sex Diet
, a 2004 book by the above-pictured Kerry McCloskey. She was on
Oprah
back in 2005, but hey, it's never too late to get it on -- CBS11.
The author says you can burn 200 calories having a half-hour's worth of sex. Furthermore, "if you spend more time in bed, you'll spend less time at the table," Kornet said at her story's climactic end. That's food for thought only if you're a complete moron.
CBS11 should be above this. But since it opened the door, here's a little like-minded news about Dunbar. A reader who knew him in his formative years says that Dunbar enthusiastically posed for
Playgirl
sometime in the 1980s during his radio deejay days in Miami.
Sure enough, it's true. Google research didn't yield the picture -- Dunbar reportedly deployed a towel in strategic places. But it did uncover the
May, 1988
issue, which had former
Family Ties
heartthrob Scott Valentine on the cover. On top it says, "See What America's Sexiest DJs Look Like!" Dunbar is listed along with 13 other posers.
Hey, we all have interesting back stories, and Dunbar is 19 years removed from this particular one. But stations that succumb to heavily hyped "Sex Diet" stories have to be willing to wear that shoe if it also fits them. And Dunbar's youthful exploits are a much better story anyway.
Later in the CBS11 newscast, investigator
Ginger Allen
looked at the dangers posed by wrong prescriptions. In her principal case, an elderly man received someone else's medication at a Wal-Mart pharmacy.
Allen touched on mistakes at other pharmacies as well, but her report will be better remembered in these spaces for picking up the Wal-Mart baton after NBC5 finally dropped it. Yes, after six consecutive weeknight newscasts, the Peacock shockingly made no mention of the retail giant on Thursday's show.
CBS11 also had the only sit-down interview with First Lady Laura Bush, who visited Dallas Thursday to speak at a "Helping America's Youth" rally. Anchor
Karen Borta
, who looked awed in her presence, learned that the Bushes plan to move back to Dallas after his presidency is over.
"We expect probably to come back to Dallas," Mrs. Bush said. "This is where we lived when George was elected governor."
That's a pretty good little nugget, actually.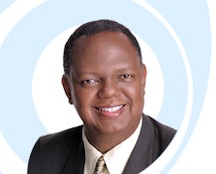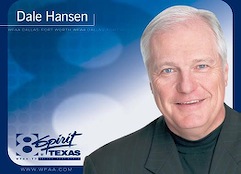 Belo8 reporter Gary Reaves and you-know-who.
Over on Belo8, two veterans double-teamed controversial Cowboys defensive lineman Tank Johnson, who was dropped in the off-season by the Chicago Bears after numerous run-ins with the law. He'll suit up for the first time with Dallas in Sunday's big game against the New York Giants.
Reaves went to Chicago to paint a less harsh picture of Johnson. The player's jailing for having guns without a permit in Chicago wouldn't have been a crime at all in Texas, Reaves noted.
"I didn't think he was a bad person," said state attorney Michael Waller, who put Johnson behind bars. "He just used bad judgment, and he did it several times."
Reaves also went to the player's Gary, Indiana birthplace, where his Aunt Crissandra displayed a picture of Johnson being bathed in the kitchen sink. He looked pretty cute back then.
Even Waller wouldn't mind welcoming Johnson back in the Windy City. "I would rather see him on the Bears than with the Cowboys," he said.
Hansen took the hard line in a later "Unplugged" segment. Star athletes are coddled too much, he said, while America's Joe Blows have a hard time getting second chances after committing crimes.
"When you can play, the rules don't apply," said Hansen, who owned up to agreeing with at least one aspect of Reaves' story.
"I wish Tank Johnson played in Chicago, too," he concluded.
Anchor
Gloria Campos
choked off any trademark cackles for that one, but later helped stir the drink after a closing thumbsucker on British recommendations that Santa Claus be given veggies and fruit instead of milk and cookies.
"Insert Pete Delkus-makes-fun-of-Hansen-joke right here," Dale said in reference to the fun-poking weatherman.
Campos then wondered what the problem was, noting that a sweets-eating Santa can still "squeeze himself" down the world's chimneys.
"Can you get down a chimney?" Delkus asked Hansen. Then he asked him again.
"Can I get down a chimney?" Hansen responded with more than a little edge this time. "I know I'm gonna jump down somebody's throat . . ."
He voice then downshifted to a mumble, but no blows were exchanged.
Let's see, what else?
NBC5's
Scott Gordon
found a young mother whose 17-month-old son had ingested the China-made Aqua Dots beads a few days before they were recalled for inducing behavior associated with the "date rape" drug. Doctors couldn't figure out why the child was acting so "goofy," and wrote it off as a stomach ailment.
"I'm not crazy. And it's such a great feeling that I'm not crazy!" the mother told Gordon. The intrepid Night Ranger regularly gets interviews that others don't, and sometimes they're worth it. This was one of those times.
NBC5 lately seems to be shucking its heavy emphasis on crime in favor of more human interest stories and health alerts. That's what happens when you're sinking like a rock in the Nielsen ratings.
But the station still needs a far more substantial makeover coupled with much sounder news judgment. What it didn't need Thursday night was
Brian Curtis
' very labored treatise on the dangers of household cleaners or newcomer
Lindsay Wilcox
's look at a so-called "Gotta Have It" weight loss stimulant called the Body Bugg.
The strap-on-your-arm calorie counter costs $399, Wilcox noted. Then anchor
Jane McGarry
again gummed things up, telling viewers, "And as Lindsay said, the Body Bugg is typically priced at just over $300 dollars." No, that's not what she said.
NBC5 closed the 'cast with viewer-sent still pictures of a lone cat watching Jane, Mike and weathercaster
David Finfrock
. So that's what it's come to. Our two cats, Cookie and Snickers Bark, are afraid of Delkus' sometimes projectile weathercasts, but hypnotically watch him anyway.
Fox4 topped its 9 p.m. newscast with a good get from
Brandon Todd
. He was the only reporter to interview a Palestine man whose wife's fugitive past supposedly had been hidden from him. Debra Ann Gavin, who became Debra Ann Murphey, was convicted of armed robbery in 1972 and incarcerated in a Georgia prison. She was 17 at the time, and escaped two years later. Authorities finally caught up with her this week.
The station later had an overlong story by
Natalie Solis
on the Hannah Montana craze, but an interesting piece from
Lynn Kawano
on Highland Park's intent to ban cell phone use by motorists driving through school zones.
Good Day
co-anchor
Tim Ryan
, making a rare nighttime appearance, looked at the fine line between bribing kids and rewarding them for good behavior. No great revelations, but good enough for government work.
Finally, Fox4 sports anchor
Mike Doocy
unveiled Randy White as No. 7 on the station's irresistible
Greatest Cowboy
feature. It also had a nice selection of vintage footage that showed White crunching various quarterbacks during his Hall of Fame career. No. 6 won't be unveiled until Monday on a list that so far also has Don Meredith, Mel Renfro and Rayfield Wright in the No. 10 through 8 spots.
They need to lose that overlong intro, though, or at least cut it way back. It's the same every night, and cuts into the time available for footage showing why these Cowboys made the cut.