WFAA8 welcomes another early morning male -- and Ron Corning just might deliver
04/27/11 01:14 PM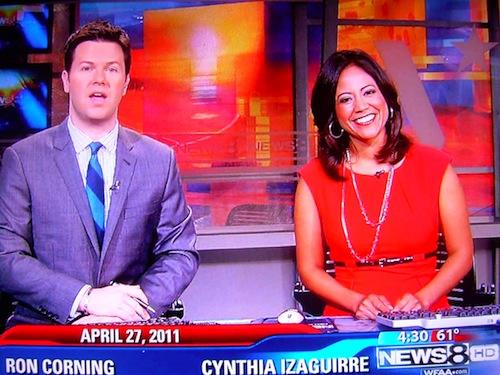 Cynthia Izaguirre and latest co-anchor Ron Corning. Photos: Ed Bark
By ED BARK
The
Ron Corning
era dawned Wednesday on WFAA8's
Daybreak
, with the New York import spending his first full-immersion day on the show after briefly being introduced earlier this week.
The Dallas-based ABC affiliate, currently running third in the early morning ratings race, hopes against hope that this time it will amount to considerably more than a cup of coffee for its latest male co-anchor. Incumbent Cynthia Izaguirre, regularly called "Izzy" by her on-air colleagues, is experiencing her fifth partner since July of 2008. That's when Justin Farmer left for Atlanta's WSB-TV, to be followed by Brad Hawkins, Jeff Brady (neither of them with the station anymore) and Chris Flanagan, who on Monday was sent to WFAA8's 9 a.m.
Good Morning Texas
.
Corning clearly has got some game, which he quickly demonstrated Wednesday with flawless readings of his news copy and an ability to give
Daybreak
the conversational tone and quick-on-the-draw wit that station management sorely wants to cement in place.
In fact, Corning got off a modern-day classic near the 7 a.m. close of the two-and-half-hour show after messing around with cameraman Rob Horning, who was shown on-camera. Viewers also saw Horning's silver-colored name plate before Corning joked that WFAA8 had almost got it right in welcoming him to the station.
Standing outside the Victory Park studios with Izzy, meteorologist Greg Fields and traffic reporter Alexa Conomos, he then noted that "they called me 'Corny' in school. I wonder if he (Horning) had a similar issue with his name."
Seemingly unaccustomed to such verbal derring-do, Izzy's distancing mechanism immediately kicked in. "You've gotta be careful," she said while still maintaining a grin.
"Watch out there now," Fields added.
Charitably put, Flanagan simply had no ability to throw out a line like that. Which is one of the reasons why he's no longer part of the ratings-challenged
Daybreak
team.
Corning seemed like a natural from the very start, immediately prompting an Izzy giggle after she welcomed him at the 4:30 a.m. open of the show. "How do you feel?" she inquired. "Ready for this?"
"I'm still asleep. Thank you for asking," he rejoined. Not bad for starters.
Corning was duly serious when the occasion demanded, but couldn't resist messing around a bit with WFAA8's longtime Washington, D.C. presence, Dave Cassidy, after interviewing him about a possible end to oil company subsidies.
"We have to let you go, because we have much more important news coming up here," he said before segueing to a brief story on Charlie Sheen's scheduled "Torpedo of Truth" tour appearance Wednesday night at a far less than sold-out American Airlines Center in Dallas.
The newcomer did make one mistake -- and made it twice. But it wasn't really his fault because few self-respecting men, other than your friendly content provider, should be expected to know the ins and outs of ABC's
Dancing with the Stars
. Izzy says she always watches and pretty much worships the show. Her latest fave is celeb contestant Ralph Macchio
Anyway, a WFAA8 graphic, which was never corrected in two subsequent showings, correctly identified wrestler Chris Jericho as the show's latest evictee. But it named his pro partner as Cheryl "Burton."
It's actually Cheryl Burke, who's been with the show for all but one edition and helped take former Dallas Cowboys running back Emmitt Smith all the way to the finish line in
Dancing
's third edition while WFAA8 covered it like a blanket. Corning parroted the "Burton" surname twice. Izzy, who should know better by now, neither corrected him nor told anyone the graphic was wrong. So
Daybreak
kept repeating the mistake throughout the show. It's almost as bad as mis-identifying
American Idol
judge Randy Jackson as Randy Ginseng.
But the worst was yet to come. Not that Corning could in any way be blamed.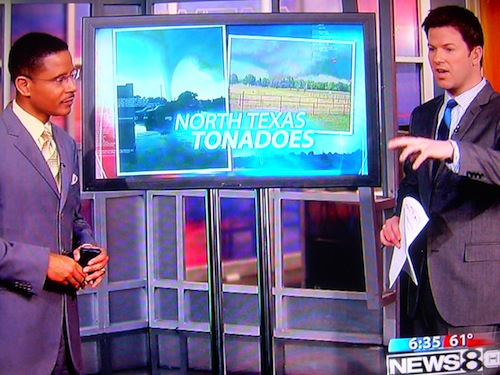 Fields' treatise on severe Texas weather had a big on-screen hiccup.
During the closing half-hour of
Daybreak
, Corning dropped over to Fields' area of the studio for a little chat on North Texas tornadoes. Except that the big graphic between them read "Tonadoes." That's a real amateur hour mistake, no matter how early in the morning it is.
The program also was compromised by problem-plagued Shon Gables' two live reports on an apartment complex fire in which two male roommates were found dead. But police suspect a double homicide, with the fire possibly set by the killer or killers to cover their tracks. Or as Gables ungrammatically put it, "Their deaths is not being attributed to the fire."
Gables also referred to a " 'handiclapped' license plate" before quickly correcting herself. Her delivery throughout the report was halting and uncertain at best. And it didn't get any better during a second live dispatch, when she puzzlingly told viewers that the two deceased men had a car "with a potential license plate tag that has a handicapped sticker on it or a handicapped decal inside the car." Huh?
At any rate, the bad guy(s) may have used the car to escape after they "tried" to kill the two victims, Gables said before re-stating that they in fact
had
killed them.
All of which suggests that the
Daybreak
program may need more help than the incoming Corning, who seemed to fit right in. He even survived a bottom-of-the-screen graphic that read "Meet Ron Corning. Named One of
People
Magazine's Most Beautiful People in 2006." And another one that read, "Ron has interviewed dozens of politicians and celebrities." Is this the country's fifth-largest TV market -- or Terrytown?
Asked by Izzy about the
People
citation, Corning said he was merely the "2 a.m. guy" in a segment titled "Beauty Around the Clock."
This guy potentially is a first-rate fit for
Daybreak
, which needs its own entrenched version of Tim Ryan, the longtime quipster/curmudgeon/agitator of Fox4's No. 1-rated
Good Day
waker-up. Corning is no curmudgeon, and he's without a doubt cuter than Ryan. But Fox4 knows how to put on a show, and
Daybreak
is still learning.
Maybe the new guy will be the messiah who helps lead the show out of its ratings desert. Corning made a winning first impression Wednesday, but who knows if he'll at last be a difference-maker for WFAA8 in the ongoing pitched battle for early morning eyeballs.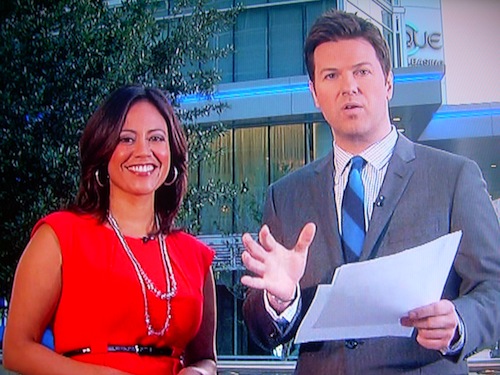 Izzy and "Corny" hope you'll be back for much, much more.