Strange but true happenings in D-FW television news (updated)
02/06/13 02:17 PM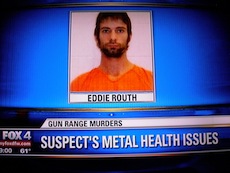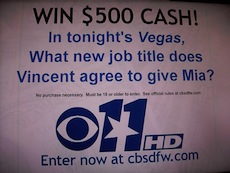 Seen during Tuesday 10 p.m. newscasts on Fox4/CBS11. Photos: Ed Bark
By ED BARK
@unclebarkycom
on twitter
We all make mistakes, but the above graphic certainly wasn't an ideal way to lead off Fox4's 9 p.m. newscast Tuesday.
The "Metal" Health Issues tag accompanied a story on Eddie Routh, who is charged with the heavily publicized Texas gun range murders of former ace Navy SEAL sniper Chris Kyle and his friend, Chad Littlefield.
Over on CBS11, prime-time promos urged viewers to watch that station's 10 p.m. Tuesday newscast for a question tied to the 9 p.m.
Vegas
episode. A $500 cash prize is being dangled, as you can see in the above graphic. It aired late in the newscast during a commercial break.
CBS11 lately is linking trivia questions to all of its network's 9 p.m. drama series in hopes that more viewers will be enticed to watch both the lead-in and the newscast.
Judging from the early returns, CBS11 and WFAA8 will be locked in another tight battle for total viewers supremacy in the 10 p.m. February ratings "sweeps." The four-week competition ends on Wednesday, Feb. 27th.
WFAA8 might want to cry foul, if only it had a leg to stand on. But the station's early morning
Daybreak
program offered free food to prospective viewers during the February 2012 sweeps. The vehicle -- literally -- was a bright yellow traveling "Daybreaker" truck affixed with pictures of the four anchors and the logo, "Breakfast. All Day."
This time around,
Daybreak
's "You Can Count On Us" campaign is offering, among other things, free babysitting services by co-anchor Ron Corning.
Later, via Twitter, Corning said he's not actually going to babysit. "It's a 'farcical' take on the standard 'count on us' local news branding," he said.
In that context, the long-running CBS11 news slogan is "Coverage You Can Count On." Read into it what you will.
Your friendly content provider also received a reader tip that the anchors of NBC5's early morning show were being required to attend some sort of "comedy school" to punch up their deliveries.
But Brian Hocker, the station's vice president of programming, said via email, "No plans for any type of comedy school that news management or I am aware of."
Still, he didn't fault me for asking. After all, these are the times we live in.
unclebarky@verizon.net