Fox4's Doocy will wing it this time to Cowboys training camp
07/18/13 01:20 PM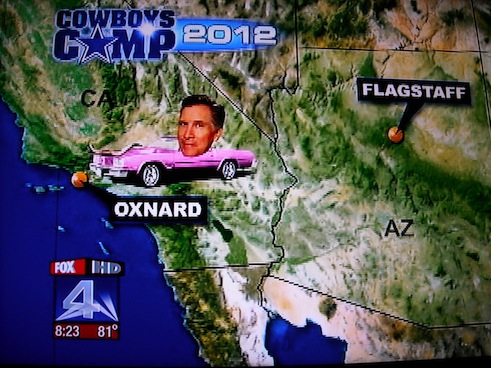 Put an X through this graphic. He gets to fly this time. Photo: Ed Bark
By ED BARK
@unclebarkycom
Last year at this time, Fox4 sports anchor Mike Doocy and photographer Chris Hanks were about to embark on a management-mandated, cost-cutting 1,500 mile
road trip to the Dallas Cowboys training camp in Oxnard, CA
.
So what's the mode of travel this time?
"I'm flying!" Doocy replied gleefully via email, seeming like one of Peter Pan's ecstatic new recruits the first time they got airborne. "I couldn't possibly hope to duplicate last year's life-changing journey across the Great Southwest. So why even try?"
Doocy and Fox4 tried to turn his lampoon-able highways and byways jaunt into a promotional plus last July. All of his competitors were allowed to go by plane, of course.
"You waste an opportunity by actually flying over all these states on the way to California," Doocy gamely told
Good Day
co-anchor Lauren Przybyl during a live segment. "Let's drive through and get a little feel for the nation . . . It's all about America. It's all about loving America. That's why we're driving to Cowboys training camp."
In reality, he pretty much had a choice of loving it or leaving it. Either go by ground or be grounded. But that was then, and the Fox4 piggy bank apparently is a little fatter this time around.
During last year's 22-hour, one-way jaunt from Dallas to Oxnard, Doocy and Hanks experienced the joys of the Cadillac Ranch in Amarillo and the Lizard Lounge in Tucumcari, NM before making the stretch run from Flagstaff, AZ. They rode in a Fox4 company car for Doocy's 19th Cowboys training camp.
But his 20th anniversary jaunt should be considered a little more special. So this time, Doocy will get to touch down instead of pulling in. More power to him. -- and safe travels to all.
Email comments or questions to:
unclebarky@verizon.net