Local Nielsen ratings snapshot (Mon., Oct. 10) -- Rangers Cruz into prime-time, soar past the million mark
10/11/11 10:21 AM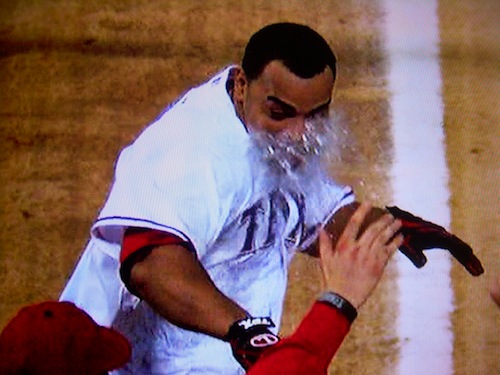 Nelson Cruz gets an unexpected mini-shower before pouncing on home plate after his game-winning grand slam. "That's a new one," Fox analyst Terry Francona said of the waterworks. Photo: Ed Bark
By ED BARK
Deprived of some plum prime-time exposure after Sunday's rainout, the Texas Rangers retaliated Monday by extending Game 2 of their ALCS series into what became a glorious night.
Nelson Cruz's walk-off grand slam, which gave Texas a 7-3 win over the Detroit Tigers in Game 2, capped a marathon 11-inning game that ran from 3:20 to 7:45 p.m. on Fox. The closing 15-minute segment was witnessed by 1,341,272 D-FW viewers, giving Dallas-based Fox4 a massive ratings boost before its network's dinosaur-driven
Terra Nova
began almost an hour past its scheduled start.
The game averaged 772,247 viewers overall after beginning with just 325,157 in its initial mid-afternoon segment. The prime-time portion of Game 2 -- 7 to 7:45 p.m. -- drew 1,246,434 viewers, many of whom were just getting home from work and activating their picture boxes.
ESPN's
Monday Night Football
game between the Lions and Bears, with a smidgen of it airing opposite the Rangers, had a smaller than usual 345,479 viewers. On the four major broadcast networks, CBS'
Two and a Half Men
again led all comers with 406,466 viewers after the Rangers had subsided.
NBC again ran out of the money all night with its fourth place lineup of
The Sing-Off
and a
Prime Suspect
repeat in place of its canceled
The Playboy Club
.
In Monday's local news derby results, WFAA8 capitalized on another strong lead-in from ABC's
Castle
to win at 10 p.m. in total viewers. But Fox4 won with 25-to-54-year-olds, the main advertiser target audience for news programming. A big dose of Rangers excitement and delayed starts for both
Terra Nova
and
House
certainly didn't hurt.
Fox4 also swept the 6 a.m. Nielsens before its early evening newscasts yielded to baseball. CBS11 won a downsized three-way 6 p.m. competition in total viewers, with WFAA8 tops among 25-to-54-year-olds. The 5 p.m. golds were split between NBC5 in total viewers and WFAA8 in the 25-to-54 demographic.
The Rangers and Tigers are scheduled to play Tuesday's Game 3 in prime-time on Fox.