Oklahoma City's KOCO-TV and WFAA8's Shelly Slater talk about a possible move
03/09/12 12:14 PM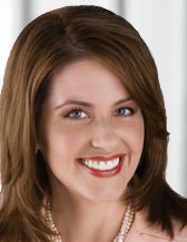 Shelly Slater in wfaa.com photoBy ED BARK
Nothing may come of it. But WFAA8 anchor-reporter Shelly Slater and Oklahoma City's KOCO-TV have had discussions about her becoming one of the station's main evening and nighttime anchors, several sources with close knowledge of the situation confirm.
The station initiated contact with Slater, who joined WFAA8 in September 2006 and currently co-anchors the Dallas-based station's weekday 5 p.m. newscasts. And Slater responded by going to KOCO for a meeting with station management. That's the extent of it so far.
Slater, who is married with a young son, has other strong family ties in North Texas that may make it difficult to leave WFAA8. Her brother, sister and parents all live in the area, according to Slater's wfaa.com bio. She arrived at WFAA8 from WDAF-TV, the Fox station in Kansas City. KOCO is an ABC affiliate.
Slater has not responded to several requests for comment. And WFAA president and general manager Mike Devlin currently has a standing "No comment" response to any inquiries from unclebarky.com.
WFAA8 lately is in a transitional period, with a new news director, Carolyn Mungo, in the early stages of assessing both the staff and the station's newscasts.
As previously posted in these spaces, longtime WFAA8 sports anchor Dale Hansen recently
signed a three-year contract extension
that also will require him to take a 32 percent pay cut when it takes effect in 2014. Veteran 6 and 10 p.m. co-anchors John McCaa and Gloria Campos also anticipate significant salary reductions tied to any contract extension agreements with WFAA8.
Campos, who has expressed an interest in cutting back her hours, may anchor only the 10 p.m. newscast as part of any new deal with WFAA8. That presumably would open the 6 p.m. door for Slater, although just about anything is possible at a station that emerged from the February ratings "sweeps" period with no wins in any of the four-way local newscast competitions in the early morning and at 5, 6 and 10 p.m.
WFAA8 is, however, showing strong momentum in the most-watched 6 to 7 a.m. early morning segment, particularly among advertiser-favored 25-to-54-year-olds. And several of the February competitions were extremely close, with WFAA8 in the thick of them.
Slater's talks with KOCO may end up being a one-shot deal. But that might well depend in large part on what WFAA8 might offer her to stay.
Oklahoma City is a considerably smaller television market, currently ranking 45th while Dallas-Fort Worth is No. 5. But it's not Podunk. Not with a thriving NBA franchise and a booming refurbished "Bricktown" area among its plusses. And Slater certainly would be a bigger fish as a featured anchor.
Whatever happens, we'll do our best to keep you informed.
ADDENDUM
-- Sources say that WFAA8's early evening traffic monitor, Jane Slater, also has interviewed for the KOCO anchor spot. But it's unclear whose initiative that was. Slater also was a freelance reporter at CBS11.
And to add a further layer of intrigue, the word circulating at WFAA8 is that current KOCO 5, 6 and 10 p.m. anchor Jessica Schambach, a Texas Christian University graduate, has expressed interest in coming to the Dallas-Fort Worth market.