Woods/Rangers start new seasons in tandem
04/05/10 04:22 PM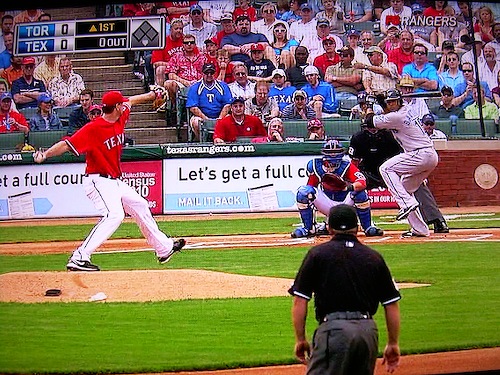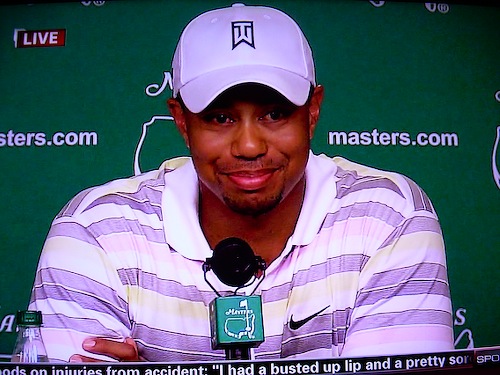 The Texas Rangers and Tiger Woods simultaneously opened their new seasons Monday afternoon. He seemed to be a hit while the Rangers went hitless for the first six innings. Photos: Ed Bark
By ED BARK
Tiger Woods wore a white hat with a dark blue "TW" and a Nike polo in honor of the one major sponsor that hasn't dropped him. The Texas Rangers sported bright red jerseys and matching caps with white Ts.
Both had their home openers shortly after 1 p.m. Monday, with Woods holding his first post-scandal press conference after a practice round at The Masters while the Rangers met the Toronto Blue Jays in Arlington.
It was an odd confluence of sports events -- the Rangers on Fox Sports Southwest and ESPN News carrying Woods because ESPN and ESPN2 both had major league baseball games scheduled.
Woods, by ESPN's count, took 34 questions in 34 minutes, with 206 media tickets distributed and five cameras capturing the action. The Rangers initially looked helpless at the hands of Toronto starter Shaun Marcum, going hitless through the first six-and-one-third innings and trailing 3-0 before -- BOOM!!! -- Nelson Cruz tied the game with a three-run homer while 50,299 watched.
Woods, sporting a goatee and a wisp of a mustache, smiled fairly frequently while seated next to green-jacketed Craig Heatley, chairman of the Masters Media Committee. The Rangers erupted into a big group smile/grin/laugh after Cruz finally put them on the scoreboard in a big way.
Pledging to be more fan-friendly and less demonstrative on the golf course, Woods again handled his inquisitors on his terms. He hopes that the media now will concentrate on golf and also stop questioning his fellow pros on what it's like to have him back in their midst again on the sport's grandest stage.
"There's a tremendous relief off his shoulders," said ESPN analyst and former pro Curtis Strange after Woods advanced the ball a little more by disclosing he had "a busted up lip and a pretty sore neck" after crashing his motor vehicle on Thanksgiving night. It took five stitches to close the wound, he said, declining to elaborate further.
And oh yeah, his wife, Elin, "is not coming this week, no" he succinctly told a woman with a British accent who likely reminded him of the tabloid media types that had participated in "the constant harassment of my family."
While ESPN News regurgitated Woods throughout the day, the Rangers quickly gave the lead back to Toronto after last year's phenom, Neftali Feliz, was ineffective out of the bullpen. Ancient former Ranger, Darren Oliver, at 39 almost twice as old as Feliz, came in to get a key strikeout to end the eighth.
Woods tees off anew at The Masters on Thursday, with the whole world supposedly prepared to watch him super-inflate the PGA tour's ratings, which had been moribund without him. The Rangers will go to bat in another 161 games this season, with 25 of them to be played weekly on Friday nights as part of a new package on TXA21.
And in the end, what a way to start! The Rangers rallied for two runs in the ninth to beat the Blue Jays 5-4 on a clutch hit by catcher Jarrod Saltamacchia. Ballgame! Happy days are here again.