The scoop -- and the poop -- on Kaley O'Kelley's impromptu CBS11 anchoring debut
01/26/15 10:15 AM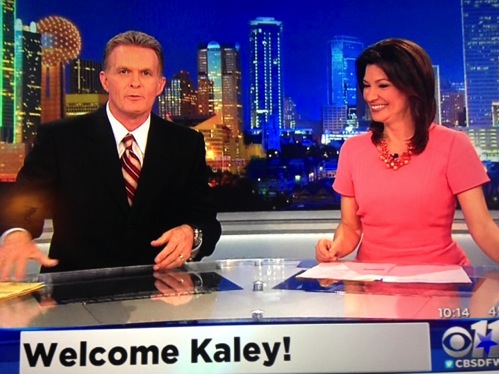 Incumbent Doug Dunbar and newcomer Kaley O'Kelley teamed up for the first time on Friday's 10 p.m. CBS11 newscast. Photo: Ed Bark
By ED BARK
@unclebarkycom on Twitter
CBS11 opted to sneak preview new anchor Kaley O'Kelley Friday night during a 10 p.m. newscast that might best be remembered for her touting of a "glowing toilet seat."
The
saucy import from Phoenix
wasn't scheduled to make her on-air debut until Monday, Jan. 26th, when she'll officially succeed Karen Borta on the D-FW station's 5, 6 and 10 p.m. weekday newscasts.
But to hear Dunbar tell it, "We couldn't wait . . . It came down to rock, paper, scissors. You lost -- and you're on the air right now."
Wearing a salmon-colored dress for the occasion, O'Kelley made it through her impromptu maiden voyage without stumbling through any news copy or mis-pronouncing any North Texas cities within CBS11's viewing area. But she teamed with Dunbar for a memorable exchange after both anchors termed the impending demise of SkyMall "a bummer."
Dunbar chose the Litter Robot as his spotlight SkyMall product, saying it would help keep his cat's leavings from smelling quite so much. Then O'Kelley went with SkyMall's glowing toilet seat, which likewise was shown on screen. It would be a nice plus for those late night returns home, she explained.
Meteorologist Larry Mowry quickly pounced at the outset of his segment. "It's rather telling that both of your items had something to do with poop," he jabbed. Kelley later joked, "I've got class with a capital K."
Dunbar, who was
all atwitter on Twitter
both before and after O'Kelley's debut, hugged his new desk partner at newscast's end, telling her, "We love you, buddy. Welcome to CBS. Welcome to Texas."
This came after he had joked, "Better bring a better effort, though."
Neither Dunbar nor O'Kelley mentioned Borta, who now is CBS11's early morning news co-anchor after nearly two decades of working the P.M. shift. It would have been nice had Dunbar said something on the order of, "You have big shoes to fill, Kaley, but I know Karen is rooting for you." You know, just a bone.
O'Kelley is the first major hire by CBS11 news anchor Mike Garber, who joined the station in July with an eye toward improving some pretty dismal ratings among 25-to-54-year-olds (the main advertiser target audience for news programming). In that respect, Borta's addition to the early mornings has improved CBS11's standing in this key demographic -- at least in the battle for third place with Gannett8.
Garber has a number of other anchor vacancies to fill, including a replacement for longtime 6 and 10 p.m. sports anchor Babe Laufenberg, who left CBS11 earlier this month after the two sides couldn't agree on a new contract.
O'Kelley looks like a live wire addition who will ratchet up the anchor banter with the jab-throwing Dunbar. Glowing toilet seat notwithstanding, "You guys have been so warm," she said on Friday's newscast. And so have he viewers." So it's been a "much easier transition than I figured it would be."
The four-week February "sweeps" ratings period fires up on Thursday, Jan. 29th, with CBS11 hoping to pack a stiffer punch at 10 p.m. after running second in total viewers and fourth with 25-to-54-year-olds in the November sweeps. Stiffer punchlines also seem to be in the playbook, although the bathroom humor perhaps will have to be flushed.
Email comments or questions to:
unclebarky@verizon.net