Local Nielsen ratings snapshot (Mon., July 18) -- Night One numbers for GOP convention
07/19/16 10:42 AM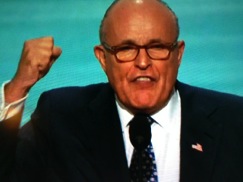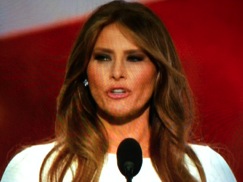 Rudy Giuliani raged before Melania Trump served as the centerpiece on Night One of the Republican National Convention from Cleveland.
Photos: Ed Bark
By ED BARK
@unclebarkycom on Twitter
Monday's most-watched prime-time attraction, on a single network at least, turned out to be NBC's 7 to 9 p.m. edition of
American Ninja Warrior
with 198,307 D-FW viewers.
But by 9 p.m., ABC, CBS and NBC had joined CNN, Fox News Channel, MSNBC and PBS for their "window" into the Republican National Convention. During that magic hour, FNC drew the most total viewers but NBC reigned among 25-to-54-year-olds (main advertiser target audience for news programming).
The GOP's featured attraction, Donald Trump's wife, Melania, coasted fairly smoothly through her 15-minute presentation but later found herself in the middle of a plagiarism controversy after it was discovered that two paragraphs of her speech basically were lifted from Michelle Obama's 2008 convention address. It's always something with the Trump campaign.
Before the 9 p.m. witching hour, FNC led its cable news network rivals in both the total viewers and 25-to-54 ratings. But from 9 to 10 p.m., CNN jumped ahead of FNC in the key 25-to-54 news demographic. Fox4 aired its regular 9 p.m. local newscast instead of convention coverage. The station ran fourth in total viewers among the Big Four broadcast networks, but moved up to second place among 25-to-54-year-olds.
Here are the 9 to 10 p.m. convention coverage results in both total viewers and 25-to-54-year-olds.
Total Viewers
FNC -- 134,566
NBC -- 127,483
ABC/CNN -- 77,906 apiece
CBS -- 63,742
PBS -- 28,330
MSNBC -- 14,165
25-to-54-Year-Olds
NBC -- 71,431
CNN -- 38,670
ABC -- 29,763
FNC -- 26,787
CBS/MSNBC -- 5,953
PBS -- 2,976
In late night, Stephen Colbert's live convention-themed show on CBS tied NBC's
Tonight Show Starring Jimmy Fallon
in total viewers (63,742 apiece). But Colbert trailed Fallon among 18-to-49-year-olds (main advertiser target audience for entertainment programming by a score of 22,230 viewers to 15,879.
On Fox Sports Southwest, the slumping first place Texas Rangers' late night road loss to the Angels averaged 120,401 total viewers.
Here are Monday's local news derby results in the four major four-way competitions.
TEGNA8 had the most total viewers at 10 p.m. while NBC5 won among 25-to-54-year-olds.
Fox4 ran the table at both 6 a.m. and 5 p.m. and also drew the most 25-to-54-year-olds at 6 p.m. NBC5 nipped TEGNA8 for the most total viewers at 6 p.m., with Fox4 and CBS11 both close behind.
Email comments or questions to:
unclebarky@verizon.net