Heading West: CBS11 president/GM Steve Mauldin takes top job at KCBS/KCAL-TV in Los Angeles (updated)
12/10/09 01:07 PM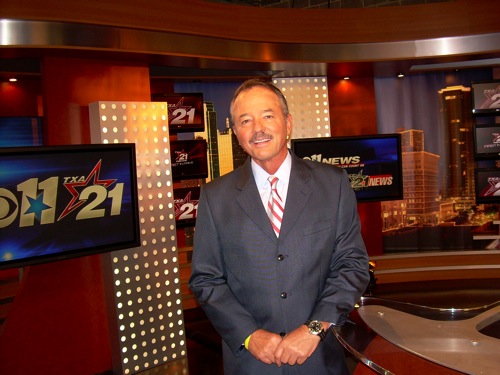 Steve Mauldin in recent pose at CBS11/TXA21 studios. Photo: Ed Bark
By ED BARK
Two weeks after CBS11 topped the 10 p.m. news ratings for the first time ever, president and general manager Steve Mauldin is leaving the station to assume the same position at CBS-owned KCBS/KCAL-TV in Los Angeles.
Mauldin, who also headed sister station TXA21 in D-FW, said in a telephone interview that he's already in place and has met his new staff.
"I'm here. I've started," he said. "It was a quick move and I'm excited about it. Things happened very quickly."
Mauldin was tabbed by CBS Television Stations president Peter Dunn, who was named to the position on Nov. 9th.
"He (Dunn) thought we needed a new direction in Los Angeles and knew that I had a history here," said Mauldin, who previously worked at the city's KABC-TV. "It's an important piece of CBS real estate."
KCBS ranked third in late night local news for the November sweeps. CBS11 was in the same position when Mauldin arrived at the station nearly seven years ago.
"It's really not fair to make an assessment or comparison. I just got here," Mauldin said. "It's safe to say there's a lot of room for growth. I've been around meeting people today. It's just a really solid group, but it's going to be a lot of work here."
Mauldin, a native of Odessa, said it was difficult to leave North Texas.
"Very much so," he said. "Great roots there, and I look forward to coming back a lot."
Mauldin also is quoted in the official CBS corporate statement.
"I'm very excited to return to the Los Angeles market and embrace this terrific opportunity," Mauldin said. "The past six years in Dallas have been the most fulfilling years in my career and I'm so proud of everything we've accomplished together. But I'm looking forward to this new challenge, and Los Angeles is such a huge, diverse market with unlimited opportunities for growth."
Mauldin is replacing Patrick McClenahan, termed a former "valuable member of our team" in the CBS release. His interim replacement at CBS11/TXA21 will be
Gary Schneider
, currently the senior vice president and station manager for the two stations.
Schneider, in a telephone interview, said he hopes to be more than a fill-in.
"My objective would be to be the permanent general manager," said Schneider, 50, who previously ran TV stations in Houston, Austin and Seattle. "In due time, CBS will determine when to get the permanent person here. And hopefully that'll be me."
Schneider said he "didn't really have any inkling until the last day or two" that Mauldin would be leaving. "So it wasn't long in the works. It was a pretty quick deal."
He intends to fill the recent vacancy left by investigative reporter Bennett Cunningham, who left the station last week over a salary dispute.
"It's a seamless transition," he said. "It's a continuation of the momentum we've got here. So I'm not looking to make big changes. I'm just looking to keep the momentum going and keep the train on the right track."
Dunn, in the CBS release, praised Mauldin as "one of our most experienced executives running major market duopolies, having done so in both Dallas and Miami to great effect -- both in terms of driving sales growth and leading his stations to first place in late news. He is a local TV veteran who was successful in Los Angeles earlier in his career, knows the intricacies of our business very well and brings purpose and vision to every assignment he's given. Los Angeles is a huge market for CBS and we're privileged to have one of our strongest operators leading the charge."
In a separate memo to CBS11 and TXA21 staffers, Dunn said that Mauldin will "be making the move shortly" to KCBS/KCAL. It turned out that "shortly" meant the same day.
"You all know Steve as well as anyone," Dunn said in the memo. "There are few executives working in local television today who bring the track record, experience and vision that Steve does, and it's only natural we'd call on him for such an important leadership role."
Mauldin, 60 and a survivor of Stage 4 tongue cancer, joined CBS11/TXA21 in February 2003 from WFOR-TV in Miami. Despite substantial lead-in advantages from CBS prime-time programming, CBS11 remained in second or third place at 10 p.m. until the November sweeps, when the station nipped WFAA8 in total viewers in a down-to-the-wire photo finish. WFAA8 retained its 10 p.m. crown by a narrow margin with 25-to-54-year-old viewers, the main advertiser target audience for news programming.
In a profile I wrote for the current issue of
D CEO magazine
, Mauldin said, "Have I been as successful as you think I should have been? You'd have to be on the inside to get a better sense of that. We have made more money every year I've been here until we faced the economic issue. But we still do better than most . . . Being a critic, as you know, is not that tough a job. Walking the walk is the tougher part."
Mauldin, a hands-on executive, tended to provoke strong likes -- or dislikes -- among station personnel. Former CBS11 anchor Tracy Rowlett, interviewed for the
D CEO
article, said of his old boss: "Steve doesn't lack confidence. I think he would tell you that TV is a business, and that news content should include specific stories for the key demographic -- women 25 to 54 years old.
"While we might disagree on newscast content and presentation, I have always liked him. And as with everyone, I always knew who set station policy. Every employee and department head is well aware of who manages CBS11."
Mauldin said, "I don't try to be intimidating. People who are in a leadership role and are aggressive sometimes have to make tough decisions. And not everybody understands those decisions or agrees with them."