Local Nielsen ratings snapshot (Fri.-Sun., Dec. 19-21) -- Cowboys clinch but blowout keeps numbers at bay
12/22/14 08:48 AM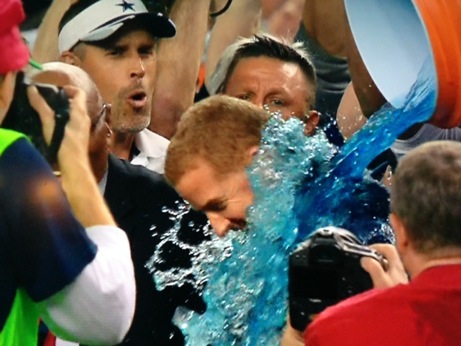 Coach Jason Garrett finally gets to take a shower. Photo: Ed Bark
By ED BARK
@unclebarkycom on Twitter
The Dallas Cowboys' division-winning, playoff-clinching win over the Indianapolis Colts fell a bit short of joining this season's exclusive 1.5 million D-FW viewers mark.
A 42-7 blowout will do that to you on a Sunday when late Christmas shopping excursions also might have factored in. Running from 3:25 to 6:15 p.m. on CBS, Cowboys-Colts still averaged a jumbo-sized 1,450,592 viewers. Six of this season's 15 regular season games have drawn 1.5 million viewers or more.
Among advertiser-coveted 18-to-49-year-olds, the game pulled in 611,837 viewers. The highest-scoring game of the season, the Cowboys' big Dec. 14th road win over the Philadelphia Eagles on NBC's
Sunday Night Football
, had respective totals of 1,666,786 and 791,604 viewers.
NBC's latest
Sunday Night Football
matchup, the Seahawks' demolition of the injury-riddles Cardinals, had 543,972 total viewers.
Earlier Sunday, Fox's Lions-Bears game averaged 376,660 viewers to take the bronze among the day's locally televised NFL match ups.
On Saturday, the lowly Washington's Redskins' upset of the Philadelphia Eagles had 271,986 viewers on the NFL Network. The Eagles' 27-24 loss gave Dallas the chance to clinch, which they did.
Saturday night brought Rajon Rondo's debut as a Dallas Maverick on TXA21 while Fox Sports Southwest had a commitment to high school football championship games. The Mavs' narrow win against a rag tag bag of San Antonio Spurs reserves averaged a decent-sized 181,324 viewers, beating the Allen-Cypress Ranch game but narrowly losing to CBS' prime-time San Diego Chargers-San Francisco 49ers game, which also was carried on NFL Net.
TXA21 also inherited a Friday night Dallas Stars game from Fox Sports Southwest. But the home hockey team's fourth straight win, 6-5 over Edmonton, drew just 48,818 viewers while ABC's competing
Shark Tank
ranked as prime-time's biggest draw with 174,350 viewers.
Here are Friday's local news derby numbers.
CBS11 had the most total viewers at 10 p.m. while NBC5 ran first among 25-to-54-year-olds (main advertiser target audience for news programming).
Fox4 swept both the 6 a.m. and 5 p.m. competitions, and added a 6 p.m. win with 25-to-54-year-olds. CBS11 had the most total viewers at 6 p.m.
Email comments or questions to:
unclebarky@verizon.net