Can Yu's debut outscore the Big Four broadcast networks' powerhouse Monday night lineups?
04/09/12 03:03 PM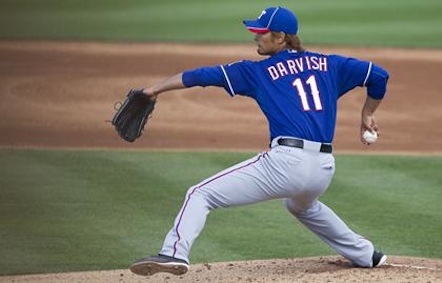 By ED BARK
It might be, it could be, but will it be done?

Can Yu Darvish's Monday major league debut with the Texas Rangers win its D-FW Nielsen ratings matchup with some of network television's heaviest hitters?

The visiting Seattle Mariners are one thing, but here's what else Yu is up against when he takes the mound at 7:05 p.m. on Fox Sports Southwest:

***A live two-hour Dancing with the Stars performance edition on ABC.

***A live two-hour performance edition of The Voice on NBC.

***New episodes of CBS' potent sitcom bloc of How I Met Your Mother, 2 Broke Girls, Two and a Half Men and Mike & Molly.

***New episodes of Bones and House on Fox.

So how will Yu do?

Expect him to get off to a fast start and at least win the first 15-minute increment from 7 to 7:15 p.m. Because who doesn't want to see him throw that first historic pitch?

After that it's pretty much up to Yu. He'll stay on a ratings high as long as he pitches well and stays in the game. And six innings of shutout ball -- with a nice number of strikeouts mixed in -- just might be enough to overpower the wall-to-wall hits he's facing on rival broadcast networks.

I'm thinking that the Rangers possibly could hit the half-million viewers mark for at least some parts of Monday's game. But in the overall 7 to 9 p.m. bloc, I'm going to go with Dancing followed by Yu, The Voice, CBS' sitcoms and Fox's dramas.

But if Yu is pitching really great . . . well, I wouldn't want to be in Dancing's shoes when the ratings come out on Tuesday. We'll of course have a complete report.