WFAA8 has a Corona -- as a freelancer for now after she lost previous lawsuit against Houston TV station
09/11/12 09:19 AM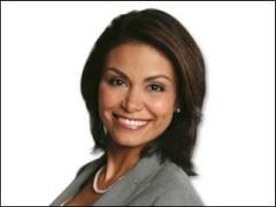 By ED BARK
@
unclebarkycom
Wendy Corona, who two years ago lost a $3.2 million wrongful termination suit against a Houston television station, has landed at WFAA8 as a freelancer.
A station representative did not return an email Monday asking for confirmation of Corona's status. But sources at WFAA8 say that for now she is a part-time hire working weekend shifts. Corona had a report on Sunday's 10 p.m. newscast (see video below) on the murder of a 16-year-old Carrollton high school girl.
Corona previously worked for Houston's NBC affiliate, KPRC-TV, but was dropped by the station in 2009. She then filed a lawsuit alleging breach of contract, defamation, intentional infliction of emotional distress, misrepresentation and fraud.
But in July 2010, a Harris County judge ruled against Corona and in favor of KPRC-TV, according to a
published report in the Houston Chronicle
. At the time, an attorney representing one of the KPRC news directors sued by Corona said that a counterclaim against her remained pending before the court.
The Corona lawsuit is interesting in light of WFAA8's experiences with former anchor-reporter Debbie Denmon, who
lost a discrimination suit
against the Dallas-based ABC affiliate while still employed at the station. In mid-July, WFAA8
declined to renew Denmon's contract
and let her go after a 12-year tenure.
Denmon last month
took a position as director of communications
for the Dallas County District Attorney's office.
WFAA8 has a growing number of holes to fill, with the recent departures of Denmon; early morning reporter Cynthia Vega (now with Dallas/Fort Worth International Airport); reporter Craig Civale (now with Dallas-based Baylor Health Care System); and weekend anchor/reporter Casey Norton. The latter anchored Sunday's late night newscast on WFAA8. But as previously reported, he's leaving to take a public relations position with the Dallas-based Weber Shandwick firm.
WFAA8 reporter Marcus Moore, who
joined the station in December
of last year, is replacing Vega as the principal reporter on
Daybreak
.
Here is Corona's Sunday night story for WFAA8: