This just in: a night in the lives of D-FW's late night newscasts (Tues., Nov. 9)
11/10/10 01:10 PM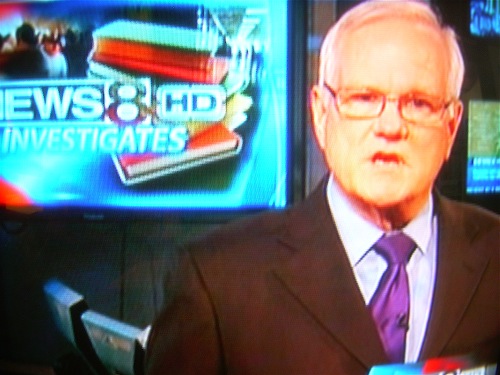 WFAA8 gumshoe Byron Harris stood out Tues. night. Photos: Ed Bark
By ED BARK
Longtime WFAA8 investigator
Byron Harris
doesn't mess around. When he has you in his crosshairs, he pulls the trigger. In the bullseye Tuesday night was a seemingly hapless spokeswoman dispatched in place of her bosses. She didn't fare all that well as the lengthy report's designated deer-in-the-headlights.
Harris probed a Dallas-based ATI "career college" and the Texas Workforce Commission that supposedly regulates both how it operates and the taxpayer money coming its way.
Detractors of ATI claimed it's a sham operation whose students pay big tuition money in return for promised high-paying technical jobs that often never materialize. They're then supposedly left with dashed dreams and big debts.
One former student, named Randy Mathis, told Harris that the school basically is an "irresponsible" dump with decrepit facilities, a disinterested faculty and students who regularly show up drunk or high.
ATI officials declined to be interviewed, as did Texas Workforce Commission higher-ups. Harris instead was stuck with TWC spokeswoman Ann Hatchitt. He feasted on her evasive answers, including "I'll have to look into that, Byron."
"What you're telling me," he snapped back, "is you don't know the answer and you won't let me speak to the people who do."
"No, I was saying the exact opposite," she said rather weakly.
The Texas Workforce Commission also refused to release job placement records for ATI, saying that graduates' names are protected under federal law.
Harris had a spicy comeback. "Using that logic, every high school yearbook in history would be illegal," he told viewers while thumbing through one.
WFAA8 news anchors
John McCaa
and
Gloria Campos
added their editorial comments after Harris summed up his findings.
"Pretty pathetic," McCaa opined after Harris said, "The big schools appear to be immune to unilateral action by the Texas Workforce Commission."
"That's bad news. That's right," Campos added.
There seems to be more of this going around lately.
On Fox4's Tuesday 9 p.m. newscast, news anchor
Steve Eagar
commented on the firing of a Connecticut woman after she complained about her boss on Facebook.
"What she did was dumb," he said as a way to break the ice with a job recruiter he interviewed live in the station's studios.
Eagar also appreciated a trick play that led to a tying touchdown in a middle school championship football game. Basically, the quarterback took a sideways snap from the center and strolled into the opponent team's off-guard defenders before suddenly breaking into a run.
"I think it was great," he told co-anchor
Heather Hays
after reporter
Sophia Reza
raised the sportsmanship aspect of the play by showing video to football fans outside Clark Stadium in Plano.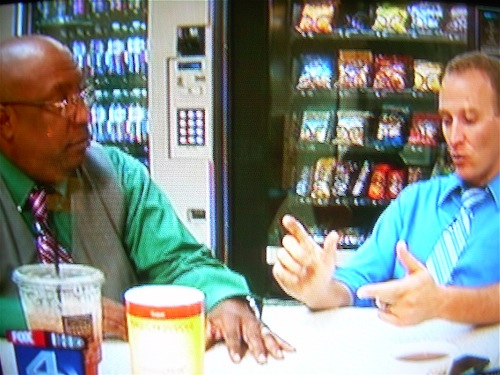 Fox4 reporters Shaun Rabb and Matt Grubs bat around the plusses and minuses of George W. Bush's new book and attendant tour.
Fox4 reporters also were encouraged to make their feelings felt in an exceedingly odd little taped segment from the station's lunchroom.
Sitting in front of a pair of vending machines,
Shaun Rabb
and
Matt Grubs
discoursed on George W. Bush's book tour in support of his new memoir
Decision Points
.
Rabb said he didn't know Bush all that well, but was on a plane with him during his 2000 campaign for president. Bush sat down next to him while "I was reading my little bible," Rabb recollected. The two ended up discussing the value of religious faith.
Grubs said of Bush: "I think he does want to be seen at the very least as a guy who did his job." He then blurted, "Well, let's hit it."
Grubs presumably meant that they should return to the streets to have more action-reporter adventures. But slaps alongside their heads also would have been welcome. What the hell's going on here? And whose idea was this? Anchor-reporter "involvement" is spreading like wildfire among Fox owned-and-operated stations, of which Fox4 is one. But they really need to towel off and cool it a bit.
It should be noted that Fox4 also had a really good story about a 12-minute
Glee
-inspired music video produced by Martin High School of Arlington. It incorporated the entire 3,500-member student and faculty body as a means of instilling unity and school pride. Reporter
Natalie Solis
energetically reported the story, had some fun with it and was aided by some very inventive editing. A fine job all around.
Fox4's
James Rose
also first reported Monday night on a prosecutor in the Dallas County District Attorney's office who claimed he was fired by DA Craig Watkins after being spotted attending an election night rally for Republican opponent Danny Clancy. NBC5 and CBS11 both piggybacked on that story Tuesday night.
Neither of those two stations had any standout stories Tuesday night. But NBC5 Night Ranger
Scott Gordon
just couldn't resist saying "some people are crying foul" while reporting on a proposed Fort Worth ordinance that would limit the number of roosters a resident can own.
It's a good thing that Robert Cluck is the mayor of Arlington -- not Fort Worth.