Nutritive news takes another kidney punch with NBC5 "story" on one-woman "Twitteratzi" brigade
08/24/10 11:45 AM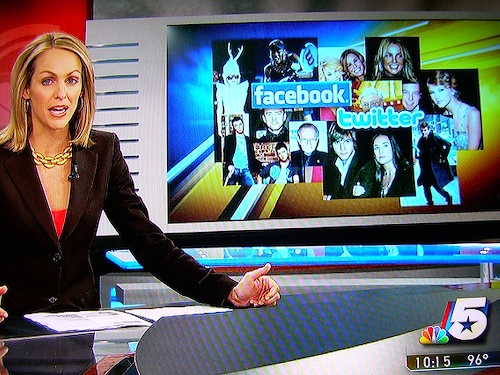 Meredith Land introduces story on lone "Twitteratzi." Photo: Ed Bark
By ED BARK
It doesn't take much to be a television "newsmaker" these days.
As NBC5 reporter Grant Stinchfield proved on Monday's 10 p.m. newscast, it takes less than nothing.
In a story with nary a speck of irony, Stinchfield introduced viewers to star-struck Ashley Stanley after NBC5 co-anchor Meredith Land said the intrepid reporter "has the secret to chatting with the stars."
"For the first time in history, the untouchables are now within reach," he then told viewers. "That's right. Chatting with a star one on one."
Imagine that. Stanley describes herself as a "Twitteratzi," a k a "Paparazzi on Twitter." Stinchfield was all ears.
"So you've chatted with some pretty famous people?" he asked her.
"Absolutely," crowed Stanley, who further described herself as "a nobody. I'm just a real estate broker in Dallas."
"But now," Stinchfield deduced, "even a self-described nobody can mix it up with the rich and famous."
Perhaps you've heard of one of the three "rich and famous" people cited by Stanley. That would be Joe Jonas of The Jonas Brothers. She's also supposedly gone one-on-one, via Twitter, with Shontelle Layne (huh?) and Shannon Elizabeth (oh wow).
Layne's brief wikipedia entry describes her as an R&B singer from Barbados whose "mildly successful" debut album, "Shontelligence," was released in November 2008. Elizabeth, a veteran of two
American Pie
movies and a contestant on
Dancing with the Stars
, lately has fashioned a second career as a high-stakes poker player.
Stanley spoke glowingly of actually getting a Twitter response once from Layne: "I said something that just made her laugh and she told me happy birthday."
This put Stinchfield on the scent, probing for more tips on technique while at the same time leading Stanley along.
"Be engaging," he told her.
"Very engaging," she agreed.
"Witty."
"Wit helps. Yeah."
Stinchfield, husband of WFAA8
Good Morning Texas
co-host Amy Vanderoef, did note near the end of this "story" that "there is a warning in all of this." Some celebrities, he said, hire PR people to do most of their tweeting and FaceBook posting.
Gee, I thought he might say there's a serious danger of having no life at all if you continue along Stanley's path of gushing with excitement at "connecting" with a peripheral celebrity. But instead of introducing Stanley to a life coach, he gave her the last words.
"It's great!" she enthused. "It's one on one. It's you and them."
There are
eight million stories in the Naked City
. Urp, this has been one of them. The video follows.