Local Nielsen ratings snapshot (Fri.-Sun., Jan. 31-Feb. 2) -- Supie blowout doesn't stop game from being most-watched since Jerry's Palace edition
02/03/14 10:09 AM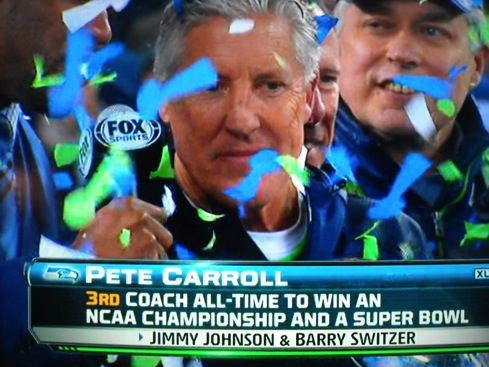 Giddyap: Pete Carroll joins pair of Cowboys coaches. Photo: Ed Bark
By ED BARK
@unclebarkycom on Twitter
Seattle's stunning 43-8 blowout of Denver in a game that wasn't that close didn't deter Super Bowl XLVIII from swamping last year's much closer game while also approaching the 2011 Super Bowl XLV at Jerry's Palace.
The Fox presentation, which ran from 5:32 to 8:55 p.m., averaged 2,591,975 D-FW viewers with a peak crowd of 2,769,507 between 6:30 and 6:45 p.m. That easily outdrew last year's 34-31 Baltimore Ravens win over the San Francisco 49ers, which had 2,258,018 viewers with a peak of 2,457,659.
Super Bowl XLVIII also whipped the 2012 game, in which the New York Giants edged the New England Patriots. That one had respective totals of 2,404,477 and 2,635,125.
A closer game Sunday night might well have given Fox a Super Bowl that surpassed the numbers for the Green Bay Packers' 2011 win over the Pittsburgh Steelers at Jerry's Palace. It averaged 2,791,057 viewers with a high point of 3,068,085 viewers.
The storybook 2010 Super Bowl, in which the New Orleans Saints beat the Indianapolis Colts, also drew a bigger crowd than Seahawks-Broncos. An average of 2,599,153 viewers partook, with a peak crowd of 2,911,323.
In the past six years, the least-watched Super Bowl in D-FW is still the 2009 edition in which the Pittsburgh Steelers nipped the Arizona Cardinals. It had 2,125,760 viewers and reached an audience high of 2,431,338.
Of some concern to the NFL is the fact that less than half of Sunday night's Super Bowl XLVIII crowd -- 1,142,125 viewers -- fell within the advertiser-prized 18-to-49 age range. On the other hand, that's still a mammoth turnout.
The TV crowd for Bruno Mars' entertaining, high energy halftime show did not fall off. Running from 7:09 to 7:22 p.m., it drew roughly 2,691,393 total viewers. (Nielsen Media Research measures in 15-minute increments.)
The closing minutes of Super Bowl XLVIII were another story, with the total audience drooping to 2,272,416 viewers. It was the first big Super Bowl blowout since the Tampa Bay Bucs destroyed the Oakland Raiders 48-21 in the 2003 game.
Fox's first of two post-game attractions, a special episode of
New Girl
with a guest appearance by Prince, got underway at 9:23 p.m. after sharing the 9:15 to 9:30 p.m. quarter hour with the Super Bowl post-game show. From 9:30 to 9:45 p.m.,
New Girl
drew a comparatively paltry 660,421 viewers after the 9:15 to 9:30 p.m. segment pulled in 1,256,930 viewers.
Brooklyn Nine-Nine
kicked off at 9:54 p.m. In its 10 to 10:15 p.m. increment, the first-year Andy Samberg sitcom had 369,268 viewers. Those are major diminishing returns for both comedies, but still far more than their usual D-FW audiences. The last regularly scheduled new episodes of
New Girl
and
Brooklyn Nine-Nine
, on Tuesday, Feb. 21st, respectively averaged 92,317 and 71,013 viewers.
The most-watched attraction opposite Sunday night's Super Bowl, PBS' 8 p.m. episode of
Downton Abbey
, had 127,823 viewers.
On Saturday night, NBC's
Best of Jimmy Fallon
special collided with Fox's
NFL Honors
show from 7 to 9 p.m. The NFL won by a score of 71,013 viewers to 56,810.
Friday's prime-time winners were CBS'
Blue Bloods
in total viewers (255,677) and ABC's
Shark Tank
in the key 18-to-49 demographic (140,038).
Here are Friday's four-way local news derby results on the second day of the February "sweeps" ratings period.
WFAA8 won at 10 p.m. in total viewers but NBC5 ran first with 25-to-54-year-olds, the main advertiser target audience for news programming.
Fox4 again swept the 6 a.m. competitions. CBS11 had the most total viewers at 6 p.m., with WFAA8 taking the 25-to-54-gold.
At 5 p.m., NBC5 won in total viewers and tied with CBS11 for the top spot among 25-to-54-year-olds.
Email comments or questions to:
unclebarky@verizon.net