This just in: A night in the lives of D-FW's late night newscasts (Tues., May 12)
05/13/09 02:34 PM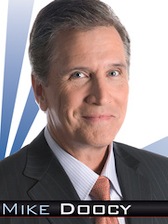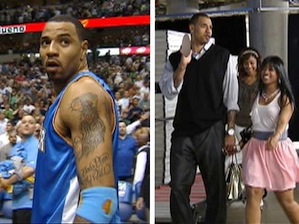 Kenyon Martin got a little flip after Game 4; Fox4 blotted out his gesture Tuesday night before sports anchor Mike Doocy weighed in.
By ED BARK
The Dallas Mavericks have made a lot of late night news this month -- and not primarily for their on-court playoff activities.
First it was star player Dirk Nowitzki's unfortunate brush with reported fiancee Cristal Taylor, whom he's now had the very good sense to brush off.
Lately it's the un-familial feud between Mavs owner Mark Cuban and Denver Nuggets bad boy Kenyon Martin. In the hyper-heated atmosphere after Game 3, Cuban informed Martin's mother that her son is either a "thug" or a "punk," depending on whose eyewitness account is more credible.
Cuban eventually wrote a post-midnight hour apology on his
blog
after Dallas won a pulsating Game 4 Monday night. (Note: that apology has now been all but buried by a long stream of recyled "Success & Motivation" posts that Cuban terms "classic in the sense that they are the most viewed and most personal to me.")
Fox4 made the most of the verbal fisticuffs Tuesday night, including video showing how Martin "responded in kind" by flipping off booing fans as he strode off in civilian clothes from the American Airlines Center. Reporter
Matt Grubs'
story also included "sports talk firebrand" Norm Hitzges of "The Ticket" gesticulating in a G-rated way as he criticized Cuban.
"Mark did nothing --
nothing
! -- to diffuse that situation before the game yesterday. Nothing," Hitzges said on Tuesday's edition of his late morning radio program.
Fox4, in addition to NBC5 and CBS11, also played video of LaLa Vasquez, fiancee of Nuggets star Carmelo Anthony, angrily leaving the arena Monday night after taking a swing at a security guard who was trying to escort her out. She said that continual racial taunting by Mavericks' fans had prompted her actions.
Veteran Fox4 sports anchor
Mike Doocy
, getting bracingly more opinionated of late, then agreed with Hitzges that Cuban should have urged fans before the game to behave themselves in the interest of good sportsmanship.
Doocy said he talked with a "typically defiant Mark Cuban" at the AAC before the Game 4 tipoff.
"His tone clearly changed after the game," Doocy told news anchor
Steve Eagar
. "I think what happened -- or what could have happened -- even scared him a little bit."
The oft-hyperkinetic Mavericks owner should have acted sooner, Doocy said. "But Cuban waits until after a victory, and at 1:30 in the morning, to blog the apology."
CBS11 sports reporter
Steve Dennis
also reported on the feud. Those who expected the Mavericks to bow out quietly should "just ask Kenyon Martin's family, whose members turned into a sideshow in the stands," he said.
But his illustrative video was of LaLa, who is no relation to Martin. Fox4's Grubs, for his part, mistakenly reported that LaLa was Anthony's "wife."
NBC5 also touched on the feud during its sports segment. The station's
Randy McIlwain
, subbing for
Newy Scruggs
, saved his opinions, however, for Dallas Cowboys quarterback Tony Romo, who failed in his efforts to qualify for both the U.S. Open golf championship and the Byron Nelson classic.
"I'm not a Romo basher," he said. "But it does seem that when the money's on the line, he seems to be coming up just
a little bit short
. Not just in golf either."
So what about WFAA8's loquacious
Dale Hansen
? He mostly holstered his mouth Tuesday night after taking Cuban apart on both his Sunday
Sports Special
and during Monday's 10 p.m. newscast. Instead Hansen asked rhetorically, "Has there ever been a better player criticized as much as (Dirk) Nowitzki?"
WHERE'S THE POP?
-- WFAA8's 10 p.m. newscast again was pretty listless Tuesday night -- and not for the first time during the ongoing May "sweeps."
News anchors
John McCaa
and
Gloria Campos
spent a good deal of time narrating a string of news briefs and introducing stories that also were covered by rival news stations.
WFAA8 usually differentiates itself from the competition with distinctive reporting that's often anything but same old/same old. On Tuesday, its best punch was
David Schechter
's piece on GE microwave ovens that exploded in the faces of two North Texans and a Connecticut resident. One area owner was injured; the other suffered cuts and bruises, and has filed a lawsuit. That's kinda scary, but these do seem like very isolated cases. GE has blamed customer misuse, but supposedly is investigating further.
ENTERPRISING WORK
-- Fox4's
Lari Barager
easily had Tuesday's best human interest story. She interviewed the Fort Worth mother of Army Specialist Zachery Boyd, who was
pictured in his colorful boxers
on the front page of that day's
New York Times
.
Boyd wasn't posing. He was helping fellow platoon members defend their firebase in Afghanistan after having to scramble from his sleeping quarters during a Taliban attack.
Barager showed Sheree Boyd the picture for the first time. His pink "I Love New York" boxers came from New York City and his red shirt from a North Texas ice cream shop, she said. He also wore flip flops, but otherwise wisely sported a helmet, a flak jacket and a rifle.
"He can play golf in his boxers, and now he's shootin' the Taliban in his boxers," Mrs. Boyd said, laughing.
Six more nights to go. Until the next time, here's Barager's story: