Male delivery: not so much with TV news
11/30/06 10:43 PM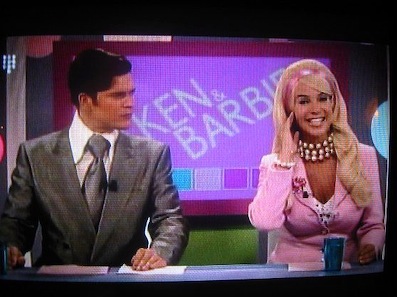 This just in: Women watch a lot more TV news than men.
By ED BARK
Men aren't big news eaters. That's what the November "sweeps" ratings tell us about D-FW's 10 p.m. late shows.
Ergo, that's why you see so many stories on shopping, cosmetics and cosmetic treatments, particularly on the two leaders of the pack, NBC5 and Belo8.
It's not for nothing that NBC5 reporter Brian Curtis took viewers on so many infomercial-esque bargain hunts. Or that Belo8 anchor Gloria Campos teased, "It's no stretch to say women hate stretch marks. Many try without much luck to rub them away with creams, Vitamin E oil or cocoa butter. But finally stretch marks may have met their match."
Nielsen Media Research numbers lay out the viewing disparities. Let's look at the key advertiser target audience for news, 25-to-54-year-olds.
Women in that age group turned out in big numbers for the 10 p.m. newscasts on NBC5, Belo8, CBS11 and Fox4. The combined average audience per night -- 273, 446 women within the 25-to-54-year-old demographic. Among women 18-to-49 years of age, the number is 241,187.
Guys 25-to-54 don't exactly boycott the late news. But the disparity is striking. Nielsen says that an average of 177,907 men in that age group sat still for one of the local 10 p.m. newscasts. That's nearly 100,000 fewer Kens than Barbies. In the 18-to-49-year-old demo, 161,679 watched.
Sweeps breakdowns for area cable viewing aren't available, but it's a safe bet that lots of men are watching
Sportscenter
or a game in progress at 10 p.m. When alternatives are fewer, the gender gap lessens. The local stations' quartet of 6 to 7 a.m. news programs is a good example.
An average of 116,784 women aged 25-to-54 watched during the November sweeps, compared to 91,123 men in that demographic.
The 18-to-49-year-old numbers look like this: Women -- 106,855. Men -- 92,612.
There's a big gender gap in the morning on Belo8's
Daybreak
, which finished third in the November "sweeps" among all 25-to-54-year-olds. But
Daybreak
was the No. 1 draw with women in that group, edging NBC5's morning show.
Daybreak
barely registered with men, though, finishing a distant third and barely ahead of CBS11.
All in all, men just don't watch as much TV as women. An exception, though, is
Jerry Springer
. The 2 p.m. edition of his show on Ch. 33 draws more than twice as many males than females, say the D-FW Nielsens.
We know what we like.