This just in: A night in the lives of D-FW's late night newscasts (Mon., May 7)
05/08/07 12:36 PM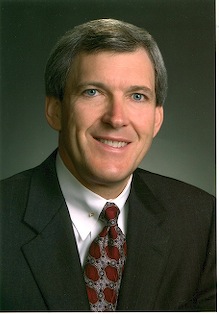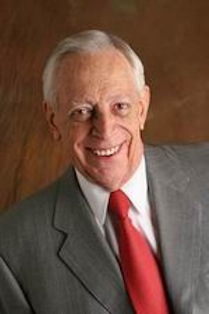 Invisible men: Dallas mayoral candidates Tom Leppert and Max Wells
By ED BARK
Local TV stations are happy to take their money, but the candidates for Dallas mayor just can't seem to buy any campaign coverage.
Commercials for Tom Leppert and Max Wells continue to run during the late night newscasts on Fox4, NBC5, Belo8 and CBS11. The election, after all, is on Saturday (May 12). So time is short and air time is precious.
Look in vain, though, for
any
TV news coverage of the campaign to succeed Laura Miller. Through the first eight weeknights of the ongoing May "sweeps," none of the four major providers has even mentioned a candidate's name during their most-watched newscasts of the day.
Why not? Basically, it's thought to be a viewer turnoff. Let the candidates pay for their 30-second exposures. But digging into their pasts, presents and issue positions is not seen as news you can use. An informed electorate is all well and good, but not on their time. CBS11's new reporter assignments have even dealt out the Dallas City Hall beat. But six reporters are assigned full-time to either the Dallas or Fort Worth police departments.
That's not a crime, but it is a shame. Serving the public interest? That's for geeks. Electing the next mayor of Dallas is an irrelevant nuisance when you have a pressing "Wild Dogs" story to pounce on.
That was NBC5's lead news bulletin Monday night, with Mistress of the Dark
Susan Risdon
holding a cat while reporting live from a terrorized Dallas neighborhood.
The Mistress knows her stuff. She appeared to have a vise-grip on the cat's front paws to keep it from squirming or lurching away from her during the opening and closing standups. Viewers learned that three dogs were on the loose, and they'd already killed "Big Boy" the feline.
Imparting great knowledge, an informed citizen told Risdon, "These dogs apparently don't particularly care for cats."
Now that's a stunning, shocking revelation. But here's something that might really drop your jaw. Unlike its competitors, Belo8 set sail with a crime-free newscast Monday night. And it won the 10 p.m. ratings in both total homes and among 25-to-54-year-olds, the main advertiser target audience for news programming.
Stories included reporter
David Schechter's
heartwarmer on long-lost but lately found photos of a deceased World War II Marine. And medical correspondent
Janet St. James
investigated the dangers of "skin resurfacing" treatments at some Medispa facilities.
Belo8 reporter
Craig Civale
also had an interesting look at an historic, but badly worn Oak Cliff house that's being offered free of charge to anyone who will pay the considerable costs of transporting it to another location.
These aren't sexy "urgent" stories, but they are worthy ones. On Monday night at least, Belo8 carried the ratings day with them.
Fox4, however, had the most arresting story of the day. But it, too, had nothing to do with crime.
Weatherman
Dan Henry
interviewed a woman who discovered old eight millimeter footage of the 1957 Dallas tornado. Taken by her late father, it had sat in a film cannister since that time. The woman took it to Fox4 after last week's serious storms peaked her curiosity. The station then shared it with viewers after transferring the amazingly well-preserved film to DVD.
Fox4 reporter
Saul Garza's
weekly "What's Buggin' You?" segment also again proved its worth. He came to the aid of a middle-aged woman confined to a wheelchair and forced to use her apartment complex's wobbly and clearly unsafe wooden ramp. One of the apartment's chicken-hearted managers held a manila folder over his face while he talked to Garza. A city inspector has ordered the complex to provide a safe ramp by next week.
Contrast this kind of consumer reporting with what passes for same at NBC5. In an all-time classic, even for the Peacock, anchor
Jane McGarry
urged viewers to stay tuned for information on how to "stop the stink of those spray-on tans."
Then came reporter
Meredith Land
with a peep show featuring two bikini-clad fans of fake tans. Alas, some of the spray-ons smell like bacon or over-cooked meat, said one. That might be a turn-on for Homer Simpson, but some find it icky.
Land found a new product that supposedly is odor-less. As evidence, she sniffed the arm of a woman who'd just tested it.
"Post-tan, she doesn't smell. And that's a good thing!" exclaimed Land, whose station recently won a regional Edward R. Murrow award for "Overall Excellence" in news coverage.
Over on CBS11, one of "The Investigators" finally emerged after a long hibernation under new news director
Regent Ducas
. The latter day mothballing of the station's gumshoe unit had been noted in a Monday posting on unclebarky.com.
Reporter
Robert Riggs
outed a doctor who had covered up a previous jail term for Medicare and Medicaid fraud. His official records on file with the Texas Medical Board failed to cite any criminal past. The doctor subsequently operated on an elderly man who eventually had to have part of his right leg amputated.
"Had I known about this (the doctor's criminal past), he woulda never done surgery on me," the man said from his wheelchair. "He would have never got near me."
Riggs' story didn't directly say that the doctor's criminal past made him a bad surgeon. It just left viewers with the impression that the guy was pretty shady. Was that really enough?
The story did have one magic moment, though. A Medical Board member in Austin told Riggs they didn't have enough resources to run background checks on doctors. The reporter then told him he'd uncovered the doctor's criminal past in just one minute's time on a Web site.
Riggs' prey gulped, nodded his head approvingly and finally managed to say, "That's good."
Meanwhile, the Dallas mayoral campaign marches on. Four more days to go and still not a speck of coverage on D-FW's late night newscasts. Will any of the stations at least stick a pinky in?
Possibly not, unless one of the candidates wants to talk about his new miracle diet.