This just in: A night in the lives of D-FW's late night newscasts (Mon., May 4)
05/05/09 12:28 PM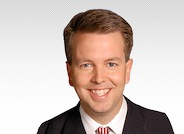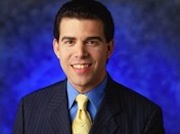 D-FW reporters Jason Whitely, Sophia Reza and Jack Fink
By ED BARK
Saturday's collapse of the Dallas Cowboys' practice facility continued to prompt questions about why it happened and who might be at fault.
Meanwhile, NBC5 embarrassingly continued to rely on footage from "The 33" after having no reporter or photographer on the scene when the structure came down during inclement weather. The li'l station's contribution again was acknowledged on-screen during Monday's 10 p.m. newscast.
WFAA8's
Jason Whitely
and CBS11's
Jack Fink
both reported that the facility had passed all inspections with one exception since being built in 2003. A new roof installed last spring by Pennsylvania-based Summit Structures was not inspected by the City of Irving, which is "not required to," said Fink. But the jury's still out as the blame game proceeds.
Fox4's
Sophia Reza
had a comparatively incomplete report at the top of her station's 9 p.m. newscast. She noted that a new roof had been affixed last year, but said nothing about the lack of an inspection. Instead Reza interviewed a pair of wide-eyed Cowboys fans, one of whom noted it was "whoa, kinda weird" not to see the "white tent with the big blue star" while driving by and gawking.
NBC5 had no reporter-driven story at all, but did offer anchor
Mike Snyder
's proclamation that "the legal ramifications of the collapse could be far-reaching." Pitiful.
Fox4's
Richard Ray
later offered the best explanation of how a "microburst" of wind had been pinpointed by the National Weather Service just before the structure collapsed around 3:30 p.m. Saturday.
BILL COLLECTOR
-- Fox4 launched its "Free Money Monday" gambit, which will run through May with consumer reporter
Steve Noviello
at the throttle.
"This is no spare change we're talking about," he noted. "We're talking folding money here."
Basically, Noviello is tracking some of the state's $1.6 billion in unclaimed funds. He surprised a recently laid off teacher with $2,000 that was rightfully hers and later dropped a $10,368.57 check on the widow of a husband who was owed the money by a Wall Street investment firm.
Never shy about promoting himself, Noviello distributed the cash in oversized sealed envelopes emblazoned with "Free Money" and a picture of him on a big fake bill. But some people clearly are benefiting in a major way from his legwork, so I guess it's all right for Noviello to cash in, too.
SOLID WORK
-- CBS11 gumshoe
Bennett Cunningham
dug into "stingy" health care reimbursements by some insurers, using aggrieved patient Michael Bailey as his point man.
"You are constantly paying more, more, more," Bailey complained. "They are paying less, less and less."
The report appeared to be on solid ground during the course of looking at the innards of the health insurance industry.
***
NBC5's
Scott Friedman
probed into possible "Hidden Danger" at North Texas swimming pools, some of whose older, high-suction drains can be lethal. He demonstrated how newer, safer versions can prevent both injury and death. Friedman is virtually the only NBC5 reporter who's occasionally allowed to extend his pieces beyond the station's usual one minute, 30 second allotment.
***
Veteran WFAA8 investigator
Brett Shipp
followed up on the recent mysterious explosion of an Irving home that imploded when a resident lit a cigarette. Shipp has won major national awards for his reporting on defective gas compression couplings. He raised that issue anew while Atmos energy continues to do its own investigation.
***
WFAA8 medical reporter
Janet St. James
had an interesting and informative look at a resurgence in liquid diets as a way to avoid gastric surgery. She responsibly pointed out the pitfalls, too, of "all fluids, all the time" regimens that should be closely monitored by doctors.
PASTY-FACED GEEK
-- Yes, that was your friendly content provider on CBS11 Monday night, captured in a fleeting sound bite for a story on the cable network-only presentations of the Dallas Mavericks-Denver Nuggets second round playoff series.
The Mavs' win over the San Antonio Spurs was shown on both TXA21 and a mix of cable networks. But TNT and ESPN have exclusive rights to the upcoming games, with local stations shut out.
"This is only going to get worse," yours truly opined, predicting that more and more marquee sports events will eventually be available only on pay TV. Stunning insight.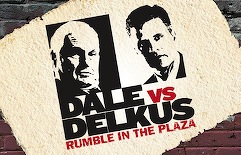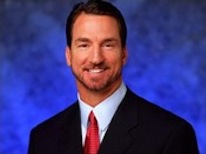 DALE HAS A STROKE, OUT-PUTTS PETE
-- WFAA8's heavily hyped, weeklong
"Rumble in the Plaza"
commenced Monday night with sports anchor
Dale Hansen
besting weathercaster
Pete Delkus
during what looked to be a very sparsely attended putting competition outside the station's Victory Park studios.
WFAA8 showed 36 seconds of the pre-taped clash, in which Hansen became the first combatant to sink the required three short putts on a carpeted field of play. Delkus managed to make one.
"That's really exciting television like you wouldn't believe," news anchor
Gloria Campos
artfully jabbed.
Meanwhile on CBS11, sports anchor
Babe Laufenberg
(above, right) could be seen chipping to the green while playing on a real golf course during the "Legends Pro-Am" preceding the upcoming Byron Nelson golf tournament.
Delkus and Hansen are raising money for their respective charities, and Hansen says that more than $4,000 has been pledged so far.
"I'm shocked, because I donated $3,800 myself," Hansen added, presumably joking.
They'll be shooting BB guns during Tuesday's 10 p.m. news.
"He kills deer for a living, so what chance do I really have?" Hansen wondered.
Twelve nights to go.