D-FW stations call different plays in their handling of Ezekiel Elliott's very public fumble (updated with comments from Dale Hansen)
03/14/17 02:01 PM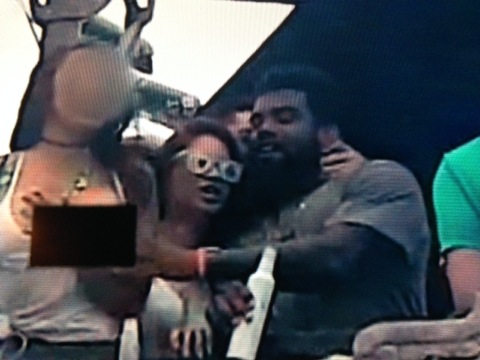 Fox4 easily had the heaviest coverage of Ezekiel Elliott's St. Patrick's Day parade activities. NBC5 in contrast had none. Frame grab: Ed Bark
By ED BARK
@unclebarkycom on Twitter
Ezekiel Elliott's very public display of bad judgment at Saturday's St. Patrick's Day parade in Dallas inevitably surfaced in video form Monday on
TMZ.com
.
But how would D-FW's four major TV news providers -- Fox4, NBC5, TEGNA8, CBS11 -- handle the story of Elliott exposing a woman's breast on a rooftop bar while holding a beer in his other hand? A second video shows that Elliott then went in for a second helping, but was fended off by a woman who so far has pressed no charges and seemed to be in a very celebratory mood.
Compounding matters: the Dallas Cowboys' star running back remains under NFL investigation for an allegation of domestic violence that otherwise has been dismissed by authorities. Elliott has said he wants "closure," but his activities on Saturday don't help his case and could be viewed by the NFL as a violation of its conduct policy even if not deemed to be any sort of criminal act.
Against this backdrop, Fox4 easily had the most extensive coverage of the incident on its featured 9 p.m. newscast Monday. On their 10 p.m. editions, TEGNA8 and CBS11 both offered cursory anchor "readers," although TEGNA8 sports anchor Dale Hansen later joked about Elliott's conduct during his nightly banter with weathercaster Pete Delkus.
NBC5 had no coverage at all. Asked about that decision, the station's vice president of news, Mark Ginther, candidly said in an interview Tuesday that "our TV folks missed it. Our digital folks had it. It was an omission."
Ginther said that NBC5 likely will follow up with a story on Tuesday's newscasts because Elliott is a "notable person in the community. And with some questionable stuff that's been done in the past and the NFL looking at it, it's worth getting on the record."
Fox4, whose weekday lineup includes two syndicated TMZ shows, made the Elliott video its second story Monday after substitute co-anchor Diana Zoga teased at the top, "Was this a St. Patrick's Day party foul? The Cowboys' Zeke Elliott caught on camera
not
keeping his hands to himself. What fans are saying and what the NFL isn't."
Reporter Natalie Solis later reported from Greenville Ave., where Elliott's activities took place on Dodie's rooftop bar. Josh Southard, manager of the nearby Blue Goose Cantina, said Elliott had patronized that establishment earlier in the day and was polite to everyone. He didn't think the later party scene atop Dodie's was any big deal.
Two women interviewed by Solis had mixed feelings. One said that Elliott "shouldn't have done it, but no punishment." The other termed his behavior as "rude," but only if the woman "wasn't OK with it." Elliott's representatives told TMZ that the woman "wasn't upset" and continued to party with Elliott. The Cowboys and the NFL have declined to comment.
Clarence Hill, the Fort Worth
Star Telegram
's Cowboys beat reporter, talked to both Solis and Fox4 sports anchor Mike Doocy in a later interview on the newscast set. "It's a bad look . . . He does have a lack of self-awareness," Hill told Doocy.
Mendi Simons, a participant in the newscast's closing "Viewers' Voice" segment, offered an apt summation. "Yes, he's only 21," she said. "But surely he knows he's in the limelight and needs to be extra careful of his public behavior . . . He needs to hang out with better people."
On CBS11, co-anchor Ken Molestina said, "Just all part of St. Paddy's Day fun" before anchor partner Kaley O'Kelley added, "That's what reps for Zeke Elliott are saying." That's pretty much all CBS11 offered, save for a fleeting glimpse of Elliott and the woman in what amounted to a tease for Bill Jones' regular sports segment. Jones made no further mention of the matter.
TEGNA8 also gave the story only brief exposure, with anchor John McCaa soberly telling viewers midway through the newscast that "Ezekiel Elliott's behavior off the field could get him suspended . . . The incident might be a violation of the NFL's personal conduct policy."
Delkus later noted that he was at the St. Patrick's Day parade and had a lot of fun. He encouraged Hansen to attend some year.
"I think I'll hang out with Zeke Elliott," Hansen rejoined. "See how crazy that party can get . . . I have no idea what he was thinking about."
Hansen repeatedly has blistered athletes' treatment of women in "Unplugged" commentaries. A full-blown Unplugged wasn't anticipated Monday night, but it was surprising to hear Hansen make light of Elliott's infantile conduct. He so far hasn't replied to an email sent Tuesday morning asking if he wanted to comment further.
(Hansen replied early Tuesday evening. "The fact that TMZ decided to run with the video doesn't mean much to me," he said via email. "I don't think it lessens my stance on the abuse of women, and it sure as hell wasn't me defending a Cowboys player, because I think you know I don't. But right or wrong, I don't see the story. Now had the woman complained and Elliott had done that without any implied consent, well, then I think I respond differently.")
Bottom line: In my view, this clearly was a story, and NBC5's Ginther was admirably upfront in admitting that his station basically blew it Monday night. Fox4's comparatively extensive coverage was well-handled while TEGNA8 and CBS11 could and should have done more than they did. As for Hansen . . . well, he certainly can do better than basically laughing the whole thing off, especially given his track record of previous pointed commentaries. Elliott's comportment clearly isn't anywhere in the same league as other athletes' physical violence against women. But what he did on that rooftop bar might have repercussions, as McCaa and others have noted.
Email comments or questions to:
unclebarky@verizon.net