Texan Bachelorette "bad boy" kicks back on Good Morning Texas
07/29/09 03:47 PM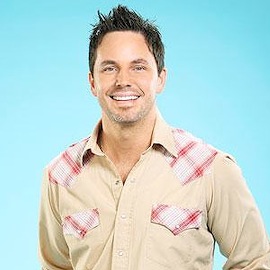 Wes Hayden with Bachelorette Jillian Harris -- and by his lonesome.
By ED BARK
Austin-based country singer
Wes Hayden
is makin' the rounds these days, tellin' everyone he's not the "controversial
Bachelorette
bad boy" depicted on the ABC show's most recent edition.
He visited WFAA8's
Good Morning Texas
Tuesday morning to both plead his case on the show and in a special "Internet extension" of an interview with co-hosts Robert McCollum and Pat Smith.
It was fairly edgy TV, at least for the usually soft-serving
GMT
. Particularly because Hayden's pointed allegations about
The Bachelorette
came on the ABC affiliate station that carries the show in D-FW.
Hayden now says he was "set up from the very beginning" to be the show's heel. His contract with ABC amounted to "pretty much signing my life away," he said. "It pretty much says, 'Hey, we can do whatever we want to you. We can distort your character in any way."
There's even a "suicide clause" in the contract, Hayden said, absolving ABC of any liability in case a contestant ends up taking his or her life after being humiliated.
Of course no one forced Hayden to wade into the reality show cesspool, which he didn't do to "get fame," he insists.
It hasn't stopped him, though, from offering a download of the song he did for Jillian Harris on
The Bachelorette
before getting booted. It's available on his
official website.
Here's
GMT
's Internet-only continuation of Hayden's back-of-the-hand to
The Bachelorette
.