Local Nielsen ratings snapshot (Mon., May 23) -- miracle Mavs win has big finishing kick in numbers, too
05/24/11 10:45 AM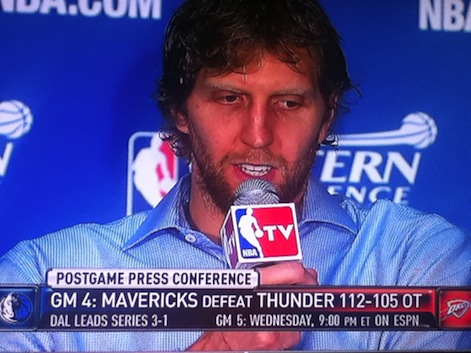 A self-effacing Dirk at post-midnight press session. Photo: Ed Bark
By ED BARK
A big surge in the last half-hour, both by the Dallas Mavericks and in the Nielsen ratings, made Monday night's Game 4 the biggest audience grabber to date in the Western Conference championship series.
Emerging from six feet under, Dallas dealt a grave blow to the young gun Oklahoma City Thunder by overcoming a 15-point deficit in the final five minutes of the fourth quarter before winning 112-105 in overtime. D-FW viewers flocked to their home screens for the big late night finish of a game that ran from 8:07 to 11:08 p.m. on ESPN. It averaged 824,158 D-FW viewers, surpassing the Game 1 high of 803,381. A peak audience of 1,073,484 viewers for the final minutes also beat Game 1's high point of 1,018,078 viewers.
Advertiser-coveted 18-to-49-year-olds made up well over half the audience. An average of 477,137 viewers in that age range watched the entire game, with a peak crowd of 654,829. In an industry built on "demographic" pulling power, those are absolutely killer numbers for both ESPN and the NBA.
Monday night's other erstwhile big attraction, the season's final
Dancing with the Stars
performance show, drew a comparatively paltry 491,725 viewers from 7 to 8 p.m. Well less than half the audience -- 141,496 viewers -- was of the 18-to-49 persuasion.
Meanwhile at 4 p.m., the three-part start of Oprah Winfrey's last big push for herself --
Oprah's Farewell Surprise Spectacular
-- commanded the time slot with 228,548 total viewers and 65,812 in the 18-to-49 demographic.
ABC's two-hour season premiere of
The Bachelorette
, which will slog on through the summer, fell off in its 9 p.m. hour to run third in total viewers behind Fox4's front-running local newscast and the CBS special
Clash of the Commercials: USA vs. the World
. But
Bachelorette
swept its two hours with 18-to-49-year-olds.
In local news derby results, competition from the Mavs-Thunder game again depleted the crowds for 10 p.m. local newscasts. WFAA8 won in total viewers with just 180,068 while tying CBS11 for first place among 25-to-54-year-olds, the main advertiser target audience for news programming.
Fox4 had yet another big day at 6 a.m., breezing to twin wins over arch rival NBC5.
Buoyed by the Oprah lead-in, WFAA8's 5 p.m. edition uncommonly had the station's biggest overall newscast audience of the day with 263,177 viewers. But it had to settle for a first-place tie with Fox4 among 25-to-54-year-olds.
WFAA8 also won at 6 p.m. in total viewers while Fox4 nabbed the 25-to-54 gold.