KERA's Nowhere But Texas 2 should be seen everywhere
09/12/08 10:49 AM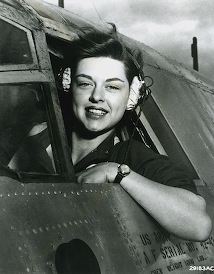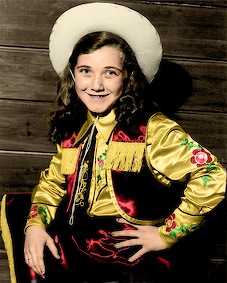 Unidentified flyer from Women's Airforce Service Pilots and Big D Jamboree star Sunshine Ruby. Pilot photo courtesy of the WASP collection at Texas Women's University. Ruby is pictured in an uncredited publicity photo.
By ED BARK
Pressing events -- too many TV premieres at once plus other stuff -- can sometimes leave worthy programs on unclebarky.com's cutting room floor.
So I'm fortunate to get a do-over on KERA's (Channel 13) brilliantly made
Nowhere But Texas 2
which will be repeated
at 1 p.m. Saturday, Sept. 13th.
(Note: this is a last-minute KERA change, made Friday afternoon, from the time previously posted in this review.)
It's likely to be a really lousy day weather-wise, so why not cozy up with this exceptional one-hour look at three timeless swatches of Texas history. Seriously, this is Peabody-caliber material. And as a former member of the national judging committe, it'll be a pleasure to bring this program to their attention.
Director Linda Stogner and producers Therese Powell and Rick Thompson blend archival footage and firsthand accounts from a dwindling number of "authentic Texans" who lived these stories firsthand.
The opening appetizer, easily the shortest of the three retrospectives, returns to the yesteryears of the Dallas Sportatorium, foolishly torn down in 2003.
Before the days and nights of professional wrestling -- yours truly once interviewed Kerry, Kevin and David Von Erich in their upstairs Sportatorium hangout -- the 4,000-seat Industrial Blvd. showplace was home to the Big D Jamboree. The likes of Elvis Presley, Johnny Cash, Minnie Pearl and George Jones played the place, as did child star Sunshine Ruby.
Long-retired as a singer, she's still talking a good game. Her reminiscences are vivid, funny, touching -- the works.
The second piece -- "High Hopes -- revisits the days of the pioneering Women's Airforce Service Pilots (WASP) program, established at the outset of World War II. Their training ground was in Sweetwater, TX, where thousands of women from across the country sought to earn their wings.
Out of 25,000 applicants, 1,073 eventually made the final cut.
Nowhere But Texas 2
has revealing interviews with several survivors, all of whom proudly wear their uniforms even though they at first weren't recognized as members of the military.
One survivor still wears the wedding ring of a deceased woman pilot who made the cover of
Life
magazine. You can see that same ring in her vintage picture.
This segment has a happy ending that won't be spoiled here. Let's just say that the Women's Airforce Service Pilots finally got their due from the government, but not until they rose in anger during the 1970s.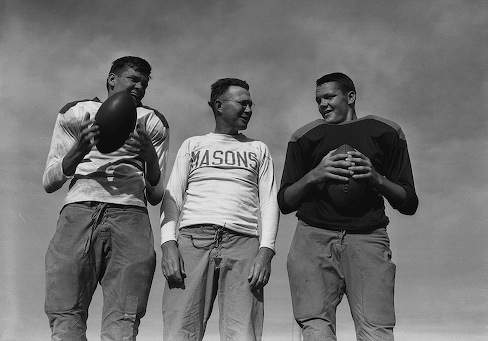 Mighty Mites players Ray and DeWitt Coulter, with coach Rusty Russell in the middle. University of Texas at Arlington library
Those long-ago airborne exploits could make a helluva feature film, as would the concluding tale of Fort Worth's "Mighty Mites" high school football team. All of the players were sons of deceased "Master Masons." Their parental unit then became the Masonic Home and School on Fort Worth's southeast side.
The team's coach, Rusty Russell, loved to go up against North Texas' powerhouse schools. He specialized in trick plays and speedy practitioners after taking over the team in 1927. The Mighty Mites became a statewide sensation, consistently outpointing schools five or 10 times their size. They were regularly in the hunt for state championships and played Corsicana for the title in 1932.
The Masonic Home and School was co-ed, so women are included in these reminiscences. One can still tick off her classmates' nicknames in alphabetical order. Just about every student had one.
Esteemed sportswriter Dan Jenkins, who watched the Mighty Mites play as a kid, testifies to the greatness of both the team and its late coach. It's an enormously rich story, and it's retold with considerable compassion and humor.
Maybe it's not considered cool to watch a collection of well-advanced senior citizens reminisce about what once was and can no longer be. But
Nowhere But Texas 2
should be a must-see classroom tool. It's a history lesson that bears repeating until every Texas kid old enough to be in school has seen and no doubt savored it.
Get busy, teachers. And teach your children well.
Grade:
A+