So long "Spirit of Texas," hello Gannett8
08/28/14 12:35 PM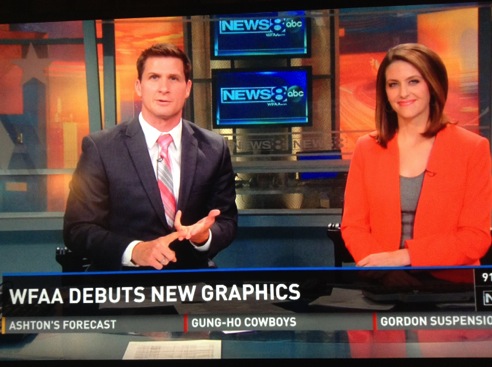 Anchors Jason Wheeler and Shelly Slater tout Gannett-mandated new look during WFAA8's Wednesday, 6 p.m. newscast. Photos: Ed Bark
By ED BARK
@unclebarkycom on Twitter
Dallas-based WFAA8, which will be re-christened Gannett8 later in this post, touted its new "Graphics" during Wednesday's newscasts.
Like them or not, it marks a further homogenization of local newscasts around the country. That's because the changes are mandated by WFAA8's new owner, Gannett Company, Inc., which is implementing the same basic look on most if not all of its TV stations with newscasts. The latest total count of Gannett-owned stations is 46. That's a lot of homogenization.
As you'll see in the video at the bottom of this post, Gannett-owned WHAS-TV, the ABC affiliate station in Louisville, KY, touted identical graphics in a recent viewer preview. Gannett officially took ownership of WFAA8 and 20 other Belo stations late last year. Layoffs of some off-camera personnel quickly kicked in after Gannett got acclimated. The new graphics look, including a revamp of the
wfaa.com website
, is another big shoe dropping.
On Wednesday's 6 p.m. newscast, anchors Jason Wheeler and Shelly Slater walked viewers through what he termed "the brand new look here at News 8."
There's a brief new opening visual that's replicated throughout the country on Gannett stations before the local news logo is shown. But the biggest changes are bottom-of-the-screen alerts that inform viewers of what they're watching -- via the dominant "Information Bar" -- and the next three stories in line. They're all color-coded, Wheeler noted. He then elaborated.
Blue is for news.
Yellow is for weather.
Bright red is for breaking news.
Dark red is for sports.
Purple is for "life" stories.
Green is for money.
Orange is for technology.
"You'll learn it as we go," Wheeler added before Slater quipped, "Kind of all-new looks all around. I feel like I need to dye my hair blonde or something to fit all the changes."
Weathercaster Ashton Altieri then joined in, telling viewers that his forecasts now will be 20 percent more accurate.
After he finished, Slater asked sports anchor Dale Hansen, "Are you going to be 20 percent nicer?"
"Nah, there's no chance of that," he assured her.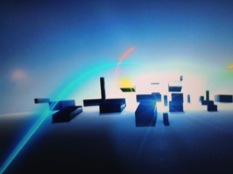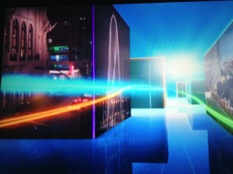 Gannett-owned news stations begin with graphic on the left before customizing a bit (right) using the same basic blue-hued visual.
WFAA8's new look is taking a beating on the station's Facebook page, although it should be noted that change is not always welcome at first sight.
It can be perilous, though, to alert viewers to what's coming next. Those who are turned off by the subject matter might well be tempted to switch somewhere else. More on-screen clutter can also be a detriment.
It remains to be seen whether the Gannett-mandated new look will affect other ways in which WFAA8 promotes and presents itself. Under Belo ownership, the station had some of the most distinctive promo campaigns in recent years, including the
Boston Legal
-style spots featuring Hansen and weathercaster Pete Delkus, and the comedy campaign launching Ron Corning as the new co-anchor of
Daybreak
.
NBC-owned NBC5 was briefly shackled in 2009 by its network's cost-cutting,
one-size-fits-all local promotions
before all concerned seemed to wise up and see what a disaster it was. The station currently has a homegrown campaign with the slogan "Texas Connects Us."
One more thing: WFAA8 management used to complain about being called Belo8 during the early years of unclebarky.com. So it was changed to WFAA8 while rivals Fox4, NBC5 and CBS11 are still identified by the network ownerships they prefer.
But now that WFAA8 is fully locked and loaded with Gannett, it seems time to make another change. So from here on forward, it's no longer WFAA8 in these spaces. It's Gannett8.
Here's the WHAS-TV graphics video as further evidence of Gannett's latest local news footprint:
Email comments or questions to:
unclebarky@verizon.net