Bypassed by briefing, but there are plenty in the street
09/08/08 04:56 AM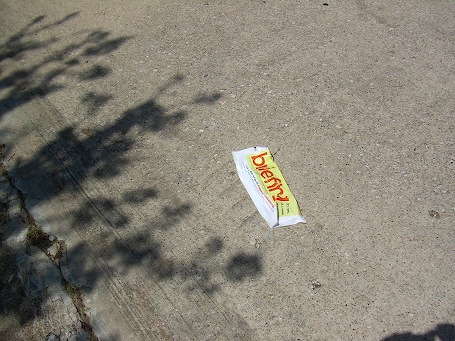 Taking it to the street, where briefings go to die. Photo: Ed Bark
By ED BARK
The Dallas Morning News
twice has promised (threatened?) to deposit its new
briefing
on our "doorstep" from Wednesdays through Saturdays each week.
The exciting notifications both came in the mail before the August 27th debut of the "power-packed" product designed for "people who are on the go."
Announcement No. 2 even included a free packet of powdered Powerbar brand electrolytes to "replenish what your body needs to help you charge through your day." You see, that's what
briefing
's supposed to do, too. It's symbolic.
So far, though, no
briefing
. Not a one dropped anywhere in the vicinity of our friendly abode in Garland, home of super-charged unclebarky.com since Sept. 17, 2006.
My wife's kinda pissed because Wednesday's
briefing
is supposed to include the coupon-packed
Neighborhood Shopper
that used to come in the mail. Now we don't get that either, in addition to missing out on "what's most important. Quickly. Besides updates on local, national, and world news, you'll find helpful, color-coded sections that address your world."
Right. Thanks for working us up into a frenzy.
No, our block somehow has been bypassed by
briefing
. But around the block, Club Meadow hasn't. On a late Saturday afternoon run/walk, I had noticed three
briefings
deposited not on doorsteps but basically as litter in the street in front of three residences. They were still in their eco-unfriendly plastic bags. I picked one up, took it home and saw that it was not Saturday's, but Friday's 12-page edition. So it had been marinating and gathering tire tracks for a day-and-a-half.
On Sunday I decided to explore further with a digital camera in tow. Up and down three blocks worth of Club Meadow, a dozen
briefings
were still untouched. Five were in the street, none were anywhere near a doorstep and no front lawns were hit either. Two made it as far as the sidewalk, though.
I picked up the
briefings
in the street. None was more recent than Friday, Sept. 5th, and one dated all the way back to Friday, August 29th. All had a full-page Rooms to Go ad on back. Talk about your long shelf lives, even if no one's seeing them.
There seemed to be no pattern to the distribution. Clearly not every home on the block was getting
briefing
. Nor were they getting it every day, as promised in those advertisements. Maybe just on Fridays? What sense does that make?
The Sept. 5
briefing
, with Republican nominee John McCain on the front page, included an ad that asked, "How about a Sunday morning No-Brainer?" To me this doesn't seem like an ideal way to promote the Sunday
Dallas Morning News
, which can be delivered to your doorstep -- yeah, sure -- for 50 cents less than the current $2 rate.
A.H. Belo Corp., which owns
The Dallas Morning News
, announced Friday that 270 of its employees had accepted a
voluntary buyout offer
, but that "an involuntary reduction in force will be completed by mid-to-late October to achieve the necessary remaining workforce reductions." Left unsaid is how many more bodies that'll be.
The emergence of
briefing
is supposed to be another brilliant way to exploit untapped revenues and help to avert more downsizing in the near future. But so far they can't even throw it in the general vicinity of doorsteps, let alone deliver it to some who were promised "the knowledge you need to power your day" -- plus valuable coupons.
So for now at least, I'll keep serving as nearby Club Meadow's unofficial garbageman whenever
briefing
s end up in the street. As a former
DMN
employee it helps me to stay connected, even though there's the sneaking suspicion that
briefing
already is well on the way to becoming Cue Cat II instead of the heralded Second Coming.
Meanwhile, share your
briefing
stories with unclebarky.com. Were you promised it? Are you getting it? Do you enjoy it? Or should Belo be cited for littering your neighborhood? Your comments are welcome and appreciated.