Local Nielsen ratings snapshot (Fri.-Sun, March 30-April 1) -- country again gets its kicks
04/02/12 12:54 PM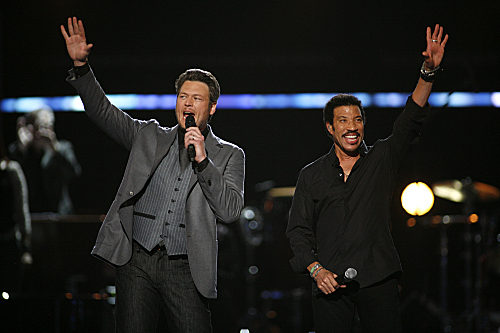 Co-host Blake Shelton and Lionel Richie at Sunday's ACMs. CBS photo
By ED BARK
CBS again got the ring, with rival networks getting the finger Sunday night. That's 'cause the 47th annual Academy of Country Music Awards shebang emerging as the most-watched program of the weekend.
The ACMs averaged 399,672 D-FW viewers in the 7 to 10 p.m. slot, with the closing hour (447,091) drawing more than twice the crowd of ABC's competing, Dallas-set
GCB
(209,997 viewers). Country likewise was king among advertiser-craved 18-to-49-year-olds, although not by quite as wide a margin.
On ESPN Sunday night, the Baylor women's basketball team moved to within one step of a perfect and unprecedented 40-0 season by holding off stubborn Stanford. The NCAA tournament semi-final game drew 149,030 viewers, with 60,844 in the 18-to-49 motherlode. Baylor will face Notre Dame for the title Tuesday night.
AMC's two-hour Season 2 launch of
The Killing
pretty much played dead in these parts with 20,322 total viewers in the 7 to 9 p.m. slot. a new
Mad Men
hour then had 54,193 viewers.
CBS also had Saturday's biggest audience draws -- although nothing as big as country -- with the two semi-final games of the men's NCAA hoops tourney. Kentucky's win over Louisville had 243,868 total viewers before Kansas' comeback win over Ohio State drew 270,964.
CBS swept Friday's prime-time parade in total viewers with its regular lineup of
Undercover Boss, CSI: NY
and
Blue Bloods
. The first two shows also won with 18-to-49-year-olds before
Blue Bloods
tanked as usual and fell to an out-of-the-money fourth place in the Big Four network arena behind ABC's No. 1
20/20
, Fox4's 9 p.m. local newscast and NBC's
Dateline
.
In Friday's local news derby results, WFAA8 won at 10 p.m. in total viewers while Fox4 ran first with 25-to-54-year-olds, the main advertiser target audience for news programming.
WFAA8 also took the 6 a.m. competition in total viewers, with Fox4 again on top in the 25-to-54 demographic.
Fox4 made it a clean sweep among 25-to-54-year-olds with wins at 5 and 6 p.m. The respective victors at those hours in total viewers were WFAA8 and NBC5.