Hannibal lecture? Fox's Prodigal Son hopes you'll take the course
09/22/19 09:57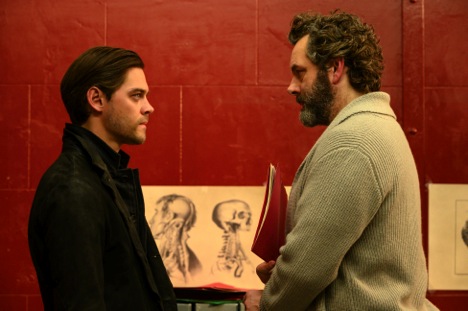 The apple of dad's eye wants to fall far from the tree in
Prodigal Son
. Fox photo
Premiering:
Monday, Sept. 23rd at 8 p.m. (central) on Fox
Starring:
Michael Sheen, Tom Payne, Lou Diamond Phillips, Aurora Perrineau, Frank Harts, Bellamy Young, Halston Sage
Produced by:
Greg Berlanti, Sarah Schechter, Chris Fedak, Sam Sklaver
By ED BARK
@unclebarkycom on Twitter
Having a serial killer for a father can be tough on a kid.
Fox's Exhibit A is prescription pill-dependent Malcolm Bright (Tom Payne), who remains so haunted as a young adult that he shackles himself Wolfman-like to his bed each night.
"You're my son. And I will always love you. Because we're the same," dad had told him back in 1998, grinning wickedly before being taken off.
If father knows best, that's a shame. Because Dr. Martin Whitly (Michael Sheen from Showtime's
Masters of Sex
) is better known to many as "The Surgeon," a monster who strung together a series of at least 23 murders before being apprehended, convicted and incarcerated.
Fox lately has tended to be darkly foreboding on Monday nights, with latter day entries including
The Following, Sleepy Hollow, Gotham
and
Lucifer
. In
Prodigal Son
, bloodlines are paramount. Does Martin's son, recently fired from the FBI before being recruited by a benefactor at the NYPD, have his dad's demon seed within him? Or can Hannibal, er, Pops, now simply be of help to him in solving some of NYC's darkest murders?
The Beatles' "Got To Get You Into My Life" is more than a little too cheery for this particular enterprise. But that's very much what Martin wants when it comes to Malcolm, whose childhood memories include discovering a nearly naked girl in a box down in the family basement. Whatever happened to her? Or was it just his imagination? Malcolm's inquiring mind very much wants to know. Dad just wants to be friends again
Sheen and Payne are quite good in their respective roles, which is helpful when
Prodigal Son's
trackdowns are fast-forwarded by some far-fetched intuitive deductions in the first two episodes. After not seeing each other for a decade, son and father reunite in the interests of crime-solving after Malcolm's domineering, secretive mother, Jessica (Bellamy Young), warns, "He is a cancer. He will destroy you." But Martin assures his only son that he just wants to be a helpful pal and confidante: "There's so much more I can teach you about murder. And maybe we can solve a few -- together."
A bearded and initially almost unrecognizable Lou Diamond Phillips is part of the ensemble as NYPD detective/mentor Gil Arroyo. Malcolm also has a kid sister, Ainsley (Halston Sage), a TV reporter who was too little at the time to be all that affected by her father's grisly deeds. Added as garnish are two other detectives, Dani Powell (Aurora Perrineau) and JT Tarmel (Frank Harts). Dani respects Malcolm's sleuthing abilities and is sympathetic to his demon-fighting. JT thinks he might be a psychopath, just like the old man.
The two lead performances make me want to see more. Although in Episode 2, perhaps an Emmy in some sort of new category should go to the actor who has to be completely still and "dead" for a prolonged period while seated at a dinner table with his mouth sewn shut.
This also is the hour in which Martin cheekily tells his son, "Remember, my door is always open." Might he someday escape through it -- just like Anthony Hopkins' Hannibal Lecter did in 1991's
Silence of the Lambs
?
Prodigal Son
is more than several cuts below that Oscar-lauded classic. Still, it's better than chopped liver, of which Dr. Martin Whitly has shown he knows a thing or two.
GRADE:
B-minus
Email comments or questions to:
unclebarky@verizon.net